How Much Worth Is It To Use WordPress In Building Your e-Store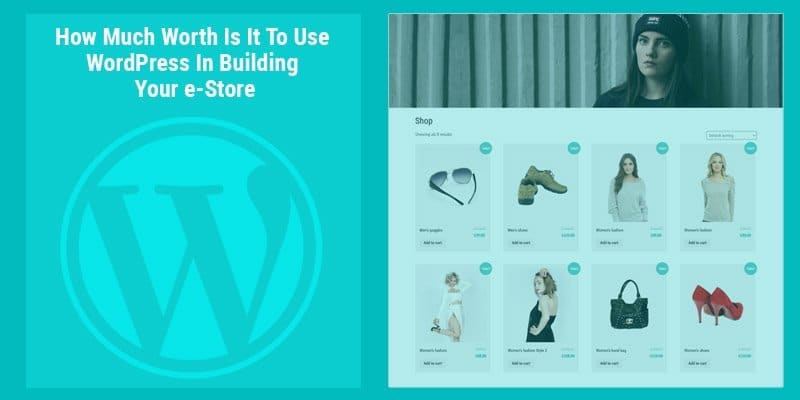 Ecommerce businesses rule over the industry with innumerable opportunities to offer accelerated growth rate & profits. No doubt, technology is a helping hand for those who aspire to make money online.
Besides several modes of flourishing your eCommerce business, a responsive and browser-compatible website is a primary factor to kick-start your business and multiply the sales rate in a lesser span of time.
You might be planning to introduce your own e-store but what are your preferences for a website development?
Majority of eCommerce web developers choose WordPress to use well-structured layout and advanced content management system. WordPress is generally preferred for Ecommerce web development because of:
Content management system
Easily customizable plugins & interesting themes
Minimal development costs
Solid capability & scalability
SEO-friendly factor
Simple & easy-to-use aspect
Millions of websites available online utilize WordPress which is also referred as the most popular content management system. In favor to this, here are few interesting facts regarding the usage of WordPress that will definitely surprise you:
Around 60 million WordPress installations are done till now.
Every sixth website that ranks on the top is customized using WordPress.
A rate of more than 50% of all websites utilize WordPress for content management & increased traffic.
The count for the number of WordPress plugins is more than 23000.
WooCommerce is the most used eCommerce plugin meant to boost the website's ranking.
The above facts are quite interesting and that's why, you must go in detail to explore the various advantages of using WordPress for Ecommerce website development.
Let's define why WordPress is an ideal option to build a performance-driven eCommerce platform for online shoppers, just check out the below-given factors:
Themes
WordPress comprises a wide range of themes available for free and you can easily perform modifications while using them. You will find a huge list of freemium & premium WordPress themes and you can use for Ecommerce web development.
With an appealing and eye-catching WordPress theme, you can display & sell millions of products on your e-store and make it stand out in the crowd of numerous eCommerce websites. Being an open source CMS, WordPress is a major choice of website developers as it is:
Simple & Easy-to-use- WordPress is a user-friendly CMS that makes it easier for website's content management.
WordPress themes enable developers to create tempting Ecommerce sites that can deliver the intuitive user experience to the online visitors.
Offers Numerable Options- Using WordPress means that you can pile up a number of choices to make a selection for themes. Among thousands of WordPress themes, you can choose the desired theme what your Ecommerce website requires.
Cut down Your Expenses- Pick any free WordPress theme along with a plugin like WooCommerce and start the development.
With minimal development costs, using WordPress is profitable as it doesn't charge for subscription & this simply means that you need to make a low investment.
Plugins
After knowing the advantages of WordPress for Ecommerce web development, you may understand that why it is popular among developers.
With an extended range of eCommerce plugins, WordPress can add glitter to your website & structure its content for smooth & lag-free accessibility.
Using a good plugin will improve the website's performance & deliver the outstanding shopping experience to online buyers and visitors.
Using plugins like WooCommerce is a good idea to build your own e-store & here are few of its benefits:
You can easily put more & more products and product attributes on display of your e-store.
Available at free of cost and runs on all devices.
Easy-to-control & user-friendly plugins with various options to customize different sections of your Ecommerce website.
You can easily manage your website while using WooCommerce plugin even if you are not specialized in coding or any other development process.
WordPress plugins allow e-store owners to customize their website for user ratings. It means that you can enable customers to mention their reviews and feedback on your website.
Final Words
WordPress plugins & themes allow users to build a professional-looking Ecommerce website with intriguing layout displaying a number of products in an extraordinary manner.
WordPress remains the most popular platform for Ecommerce web development that comes with lots of compelling themes & compatible plugins.
With the above-detailed overview, it is clear to say that WordPress offers numerous options for developers and that's why, it's favorable for Ecommerce web development.