How to Fix the Facebook and Instagram oEmbed Issue in WordPress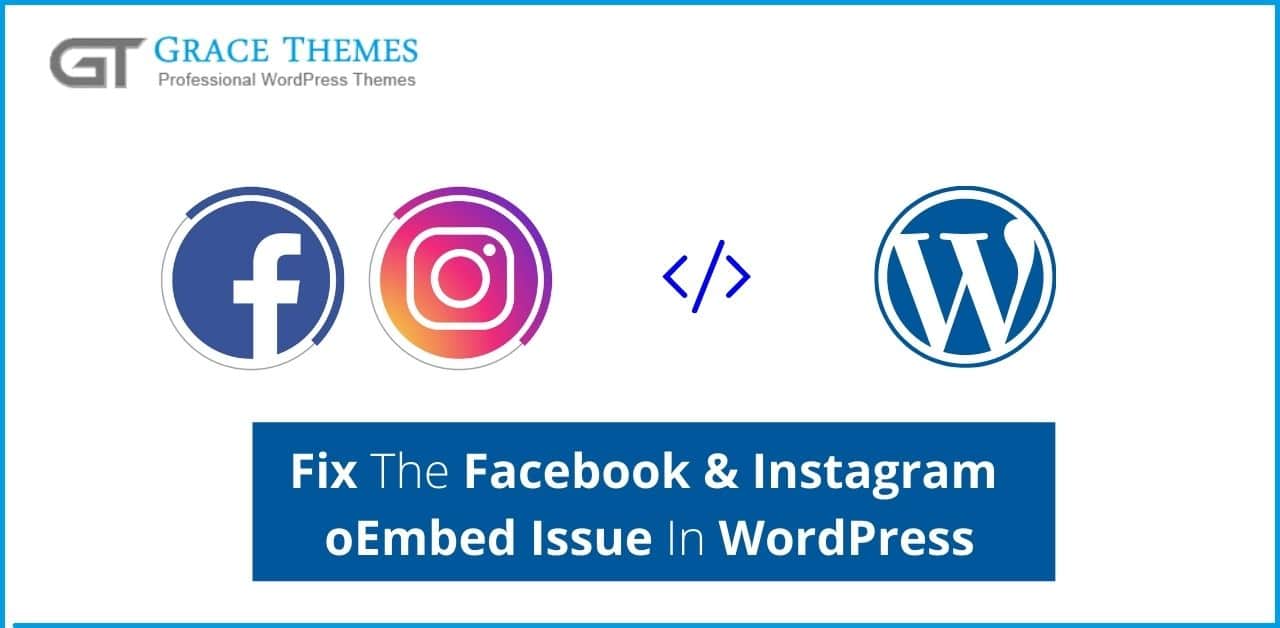 One of the most important things to note while working with a WordPress site is how to address the Facebook and Instagram oEmbed Problem. If you've ever handled the default embed features on Facebook or Instagram to embed content on your blog, you'll need to act quickly. Since Facebook and Instagram now support the oEmbed function, if you've ever used the default oEmbed blocks or oEmbed feature to embed social networking content in your WordPress site, stuff will break unless you repair it! In this post, we'll go over how to correct this error in detail.
Why Is There A Need to Fix the Facebook and Instagram oEmbed Issues in WordPress?
First, let's look at why Facebook and Instagram embed aren't running on WordPress pages all over the internet. The reason for this is a shift in the Facebook API.
Since Facebook has stopped supporting Instagram and Facebook embeds that are unauthenticated, its API can no longer respond to these requests, causing all embeds on sites with unapproved publishers to stop working. This API is essential to the WordPress editor's default embed function, which allows users to easily embed videos, photos, updates, and other Facebook and Instagram material.
This is why broken embeds appear on WordPress pages all over the internet. When getting data from Facebook's Graph API for oEmbed content, developers must now register an app and use a client token.
How to Fix the Facebook and Instagram oEmbed Problem in WordPress?
Since the execution is not measurable in the WordPress core, the site is eliminating Facebook and Instagram as an oEmbed source and letting third-party plugins manage this. Let us take a look at a few options that will help automate the process of recovering your old social media embeds. Here are some of the ways to fix the issues:
Social Photo Feeds

Previously identified as Instagram Feed, this plugin is super easy to arrange and lets you showcase Instagram posts from your Instagram accounts, either in the same individual feed or in multiple different ones. This plugin can just be able to connect with Instagram's API to support the user display Instagram feeds on their website easily.

oEmbed Plus

Using the oEmbed Plus plugin, you can restore Facebook and Instagram oEmbed functionality. The novel Instagram and Facebook oEmbed APIs are implemented in this plugin, and in the block editor, the Facebook and Instagram embeds are restored. Please notice that you will need to create a Facebook app for each client in order to obtain the API credentials that this plugin requires. If you've completed the setup, your current embedded content will operate normally, while new Facebook and Instagram content will use the new authenticated API.

Custom Facebook & Smash Balloon Feed Plugins

This plugin is also fully customizable, allowing you to view an infinite number of Facebook feeds from your social page or group while also matching the look and feel of your site through a variety of customization options. The best thing about utilizing the Smash Balloon plugins is that the user won't have to worry about making an app or registering for a Facebook developer account. They are suitable for beginners and do not necessitate any extra effort. All you have to do now is upgrade if you're still using them! Smash Balloon is a third-party company that recently launched two plugins that allow you to embed Instagram and Facebook content in your WordPress site. Both of these plugins come with a developer app pre-installed, making them a plug-and-play solution. In general, Smash Balloon allows us to embed Instagram in WordPress.

Jetpack

Jetpack makes embedding Facebook and Instagram posts on your WordPress blog a lot easier. They've teamed up with Facebook to make the transition as smooth as possible, ensuring that your Facebook and Instagram posts appear as intended. Jetpack 9.0 includes a shortcode oEmbed module that is in-built in response to Unauthenticated Instagram and Facebook embeds are no longer available on Facebook.

This plugin unlocks automatically after installation and enables you to insert Facebook accounts, as well as Instagram feeds and updates, into your WordPress site. It also allows you to effortlessly inject Loom videos, share posts as Twitter threads, and more.

It also includes all of the standard Jetpack features that have made this plugin so common. These include:

Automated Related Posts feature
Automated social media sharing to six platforms
Custom CSS editor
The Photon editing and acceleration feature
Enhanced security
Site statistics
Mobile optimization
Comments with social media login options
Final Thoughts
Well, there you have all the information that you needed to know about how to fix the Instagram and Facebook oEmbed issues on WordPress. Such occurrences of errors are inevitable. Among all these solutions that have been provided, you can choose any to curb the problem. However, this will entirely depend upon your needs and requirements. The most suitable social media marketing services can provide you with insights into such information.