Designing for Impact: How UX Designers Transform Web Development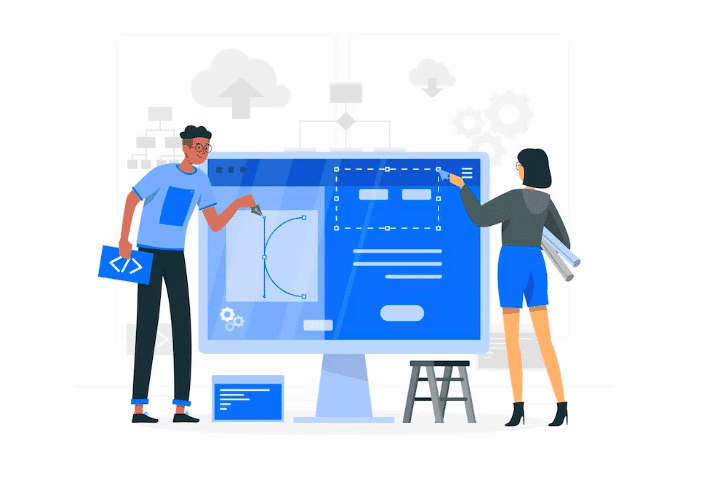 UI without UX is like beauty without brains. We need excellent UX designers who can transform and improve user experiences. We also need them because no one else can bring about a digital transformation in this overcrowded online landscape. A successful digital transformation will benefit businesses of all shapes and sizes.
In the past two years, many companies were forced to take their identity online as businesses have taken a hit due to the pandemic. In lieu, companies created websites to enable e-commerce and increase brand visibility throughout the globe. However, not all companies were fruitful in their effort, creating more demand for UX designers.
5 reasons why you need the best UX designer for digital transformation
Digital transformation is nothing but bringing in new digital technology to change how you offer services and your products operate. It's essentially focused on improving how customers and interested parties interact with the A-Z of your company. With digital transformation, businesses can survive the competitive market that focuses on embracing futuristic technologies.
When we say that the focus is on customer interaction, we also indirectly call for qualified UX designers. They are well-versed in creating successful experiences and accessing the current infrastructure for any gaps. For your digital transformation to be successful, especially in web development, these reasons justify the urgency to find the best UX designer:
Give you the competitive edge

There is fierce competition between the leading companies of today to dominate the market both digitally and traditionally. With this, they are also on the lookout for UX designers who know user experience designing by heart. They have the power to create memorable experiences for everyone associated with the brand and help differentiate the brand image.

Before getting started, here are some tips you can use in case you're stuck on how to recruit UX designers for your business :

Create a strong employer identity: Today, most employees first check the employer brand before applying for a job. If you wish to have the best UX designers working with you, you also need to build an image as a leader in the UX marketplace. Highlight your company's culture and use testimonials on social media to reach out to the best talent.
Curate an appealing call for the position: Thousands of job posts are uploaded daily. It's likely that people may miss out on or ignore your job opening announcement. Therefore, you need to highlight the unique parts fo your banner so it catches the attention of active job-seekers.
Define your needs: You need to have an accurate job post description that covers what you're looking for. Include the following:

– Qualifications
– Responsibilities
– Experience needed
– Expectations at the Workplace
– Project details.

Conduct thorough experience analysis: A wrong candidate hired will do you more harm than good and will cost you a fortune. Take your time to assess skills, especially when it comes to researching, collaborating and working actively with the team. You can use tests to understand the person's approach and understanding of UX intimately and see if that aligns with your existing methodology.
Schedule F2F meetings: It's always wise to conduct face-to-face meetings with the shortlisted interviewees. It's beneficial to build a connection with the person well before your final onboarding step. Also, where remote working is in force, you can schedule meetings online to build rapport and get a clear picture of the person's professional and personal behavior.
Check their skills via design experiments: Consider making a collaborative UX design exercise a must in your hiring journey. This helps you recognize the manner in which the candidate communicates and reacts to design decisions in the company. Their problem-solving skills, research processes, creative thinking and user experience designing will be examined in one go.
Offer attractive perks and compensation: If you want to get the best talents working on your projects, you also need to provide competitive offers that drive them away from other companies' offers. While salary is at the top, you must also promise things like flexible working hours, a supportive work environment, career opportunities, healthcare allowance, and other exciting perks.

Seamlessly integrate various systems

Digital transformation is not a one-day process. It needs a thorough evaluation of the systems in use at the company and the new ones to be implemented. Only a UX designer can work on this and integrate various systems in the shortest period of time, using the latest UX testing tools to ensure that visitors can navigate and interact with your products and services seamlessly.

Improve user engagement

Your UX design must strike the right cord with your audience, or everything you've worked on can go to waste. The UX designer identifies the need of the audience and their friction points and increases satisfaction among them. By making web designs meaningful and creating user-friendly websites, you will see an increase in user engagement rate and the number of people adapting to new technologies.

Increase productivity

Without a UX designer, you will be struggling with a haphazard workflow, higher levels of cognitive workload, a significant drop in the number of users, complicated tasks and much more. With a skilled UX designer, you can streamline operations and save both time and money for the company and your customers.

Future-proof your business with data-driven insights

Digital transformation is a continuous process that will keep changing as people's tastes and preferences evolve. UX designers are already futuristic in their thinking and can predict upcoming changes. They also use technology that gives them insights into the current performance and helps identify usability issues in website design. All it takes is one UX designer to save your company from succumbing.
7 ways UX designers transform web development
UX designers have a simple philosophy in their work, i.e., to create user-centered designs. In the world of the web, they envision website visitors having an intuitive and engaging experience without any hassle. Their greater role in web development is in the following ways:
Build user personas

UX designers start their work with user research where they get to know their target audience. User research helps in identifying the needs and understanding the likes and dislikes. Additionally, they also become aware of user behavior. All these factors ensure that your website is always built as per the taste of your core audience.

Set proper website architecture

A well-maintained website is user-friendly in a way that visitors know where to find what they want. A UX designer ensures proper hierarchy in how the content, menus, and other controls are placed. An example of a good UX design is Amazon, where each product has a segment that people can access by simply clicking on the drop-down menu.

Enable mobile-friendly designs

With the drastic increase in mobile device users, businesses are shifting their focus to building mobile-first designs. Here, the role of a UX designer is to build a responsive mobile design that fits different models, screens, and systems. To take web development a step further, the same website needs to also work with tablets, laptops and desktops which only UX designers are proficient in.

Prioritize website performance

Designing screen-compatible UX designs isn't the final goal. Another way to improve websites is by tracking their performances regularly. UX designers constantly analyze and use new practices if they're promising enough. These practices cater to a wider global audience, unhindered by the website structure and content. The latest development we see in websites is how UX designers make websites usable for differently-abled people.

Make websites compatible with different platforms and browsers

Apart from mobile devices, your website needs to match the requirements of different platforms and browsers. UX designers play their part by making the website accessible everywhere. This means that the same website on your mobile will also open and function in the same manner on any browser like Google Chrome or Mozilla Firefox and on any platform like WordPress or Shopify, to name a few.

Create UX design guidelines

There is always a handbook for different types of businesses, services, professions, and more. For the UX industry also, there is a guidebook that is updated regularly, especially for newbies in the UX world. They record design guidelines, web patterns, components of UX, and other vital information that serve as a reference in all web development processes.

Bring more users onboard

The hard work of UX designers pays off when they see an improvement in website performance and its visitors. By putting the spotlight on the website's features and functionalities, they can create an effective user onboarding experience. Additional things like User Support, FAQs, and chatbots also ensure that the website develops for its users in the best way possible.
UX design: the heart of web development
The key takeaway is that UX design is your sureshot way of achieving successful web development. UX design and designers must be placed front and center throughout the lifecycle of your website. Researching, ideating, designing, implementing, analyzing, improving and repeating are the steps your UX designer will use to design for impact and to keep your website relevant for the years to come.