Why WordPress Website Design is The Excellent Opportunity For You?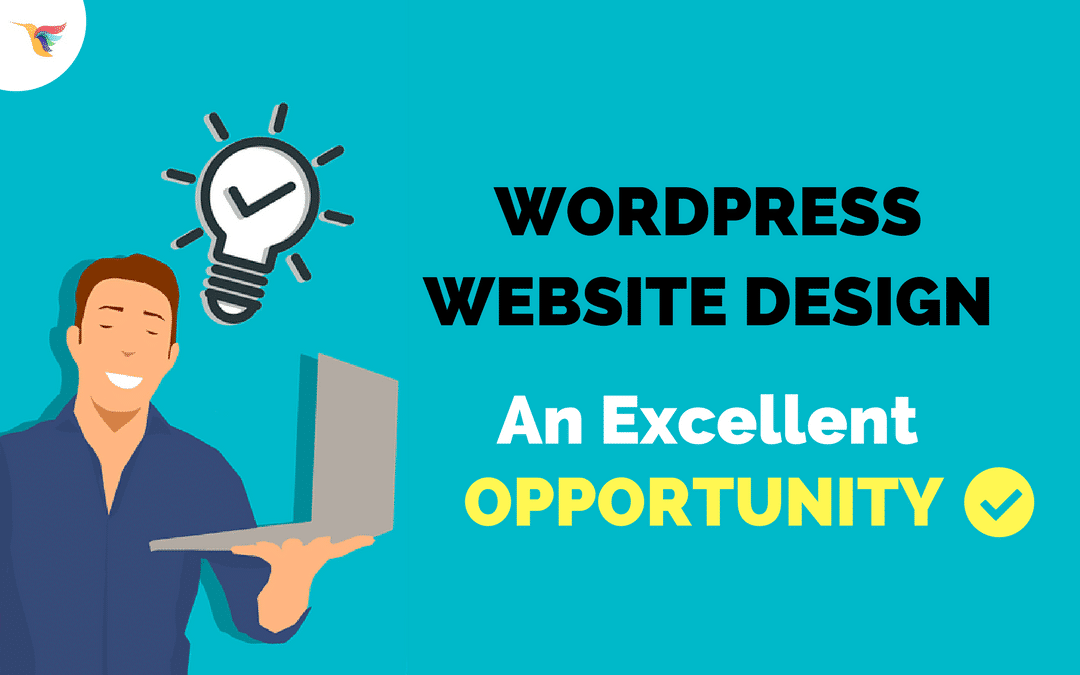 WordPress is the most popular Content Management System in the world, given the fact that it powers more than 20% of the world's websites. Right from a small personal blog to a big corporate website, WordPress is the most popular choice among the developers.
Also for the users, it is relatively easy to use without much hassle. It offers users flexibility and many features which may or may not be present in other CMS platforms. Joomla and Drupal are also other CMS present with lots of customization features, but WordPress is the most popular one among most of the users.
Here are eight reasons why WordPress is considered the ideal choice for your website design:
WordPress is an open source software
This means that WordPress is free software and its source code is available freely.
Developers can study and modify the system, and there is a whole big community of WordPress for any support required. This is the main reason that the WordPress source code is updated about 80 times every day.
Thousands of free WordPress themes and WordPress plugins are available, and thousands of them are being created every day. They are available for free download and installation for your websites. After becoming a part of this community, you can get help on any issues and also contribute to its open source code. This is the advantage of being part of an open source software community.
WordPress is very easy to learn

There are many CMS platforms on the market, but WordPress wins the competition when it comes to ease of use. Its reasonably interactive user interface gives it an edge when compared to other platforms built for blogging. Drag and drop options are available for every possible task. No need of programming language is necessary, and you can set up your blog within minutes.

Right from an experienced developer to a person who has not coded a single line in his life, WordPress is meant for all. The user experience is designed as such to provide an environment which is easy to understand and interact with. Right from the installation to adding up new plugins and updating themes, every single step is straightforward to implement.

Disadvantages-
Being so much user friendly also comes with its own cons. Not much core functionalities are present as compared to Joomla or Drupal which are more preferred by coders and developers.

WordPress is Highly Secure

WordPress has been on the market for a long time. Due to its large community of developers, it has been made very reliable and very difficult to be penetrated by the hackers. The WordPress code is updated continuously for security vulnerabilities by programmers around the world.

There are numerous plugins which are being developed continuously every day and many others which are being updated from time to time. The updates come as reminders to the users from time to time, and they are very easily upgraded. Moreover, there is a dedicated forum where you can clear any doubts and security issues arising anytime.

Disadvantages-
Although, WordPress gets updated about 80 times every day, new vulnerabilities always comes up. Many existing bugs are still needed to be fixed.

WordPress is SEO Friendly

Search Engine Optimization is the priority for better website performance, leading to a higher rank in google search and eventually making your business grow. The coding and markup used to build WordPress are SEO friendly.

Lightweight and highly optimised code are written to make the WordPress platform SEO friendly. Also, there are many plugins like Yoast SEO, All in One SEO pack which further enhances the SEO performance. These plugins are free and easy to use which means no extra coding knowledge is required to alter any codes for better website performance.

Disadvantages-
WordPress still needs to work a lot in this sector. It is not SEO friendly on a very high level and we have to install plugin like Yoast SEO for a better performance.

WordPress is Best for Mobile Usage

Nowadays, more and more people are becoming smartphone users. That directly means that the number of people accessing websites with their mobile is increasing at a much faster rate. WPTouch Mobile is a plugin used to make your blog or website mobile friendly.

Keeping this fact in mind WordPress is designed to be responsive when being accessed by any handheld device. Also, the admin dashboard which we use as an administrator of a website is mobile friendly and can be used with our smartphones. This feature gives WordPress an edge over many other CMSs

Disadvantages-
This feature is not much needed as people do most of their blogging from desktop. Also the WordPress mobile app is not that good when compared to its native desktop app.

WordPress has Large Number of Themes

We all want our websites to look beautiful and appealing. And why not because with a better user interface and usability of our website we can gather a large number of loyal customers for our business. If you know HTML, CSS, Javascript, and PHP, then you can also create your theme the way you want.

For this need, WordPress has thousands of beautiful, attractive themes available for free download. It also has paid themes which includes many extra features. There is a theme for every kind of business be it for a financial corporation or a mobile app startup. The issues are actively managed by the WordPress community, and many new themes come in the market every day.

Disadvantages-
Only a few themes are for free, rest others cost a lot. Also, not much flexibility is given in customizing the theme even after you own it.

WordPress has Plugins for Almost Everything

Not everyone is a coder who is using WordPress and running a website. After the installation there are many other things which need to be taken care of like SEO, getting email subscribers, website's security, etc. You can also develop your plugins if you know about software development.

For all these needs WordPress has a one-stop solution called plugins. They are the tool developed which can integrate with your website to carry out specific tasks. We have Yoast SEO for better website performance; WP Time Capsule is a plugin used for backup of all files in case of security breach. WP Smush plugin is used for compressing large image files before uploading it to your blog post.

Disadvantages-
Most of the plugins which are actually needed for the website are not free. For anyone with a limited budget, they cannot add many functionalities in their website.
Wrapping up:
These are a few important reasons as to why WordPress is considered a dominant CMS platform on the market today. However, there are also a few cons of WordPress. Not much flexibility is provided to the user regarding theme customization as compared to other CMS like Joomla or Drupal. Also, when it comes to E-Commerce, people generally don't go with WordPress as it has many limitations. But, overall it is considered a robust CMS which is perfect for developing any new blog or website in minutes.