WordPress is still the most popular CMS choice – top trends in 2021 and predictions for 2022
In the web development industry, WordPress continues to maintain its leading position, powering 43.3% of the most popular 1 million web pages. Why? Because it's user-friendly and allows users and administrators to perform updates, add content, and customize features without a hitch.
It also provides over 54,000 plugins and 31,000 themes to users, who can customize their website to fit their unique needs. And should we mention that it also allows administrators to pick a mobile-friendly layout to meet the market's latest request, all web pages need mobile-responsive features?
But to keep WordPress websites in top-notch state, the WordPress community is striving to stay up to date with the latest trends, and understand why some trends, become (well) trendy.
Someone lacking knowledge would think popular trends are arbitrary, but web developers understand that they need to deliver functional, modern, and aesthetically-pleasing web pages to satisfy users.
Why should you follow WordPress design trends?
With various factors influencing them, trends go as quickly as they come. In a world where the public's change of taste and advancement of technology profoundly impacts all industries, WordPress website developers need to know the latest changes to understand how much they can do with a web page.
This is why they consider both the users' demands and the latest tech innovations. Knowing the latest trends wins half of the battle because it allows organizations to stay ahead of their competitors.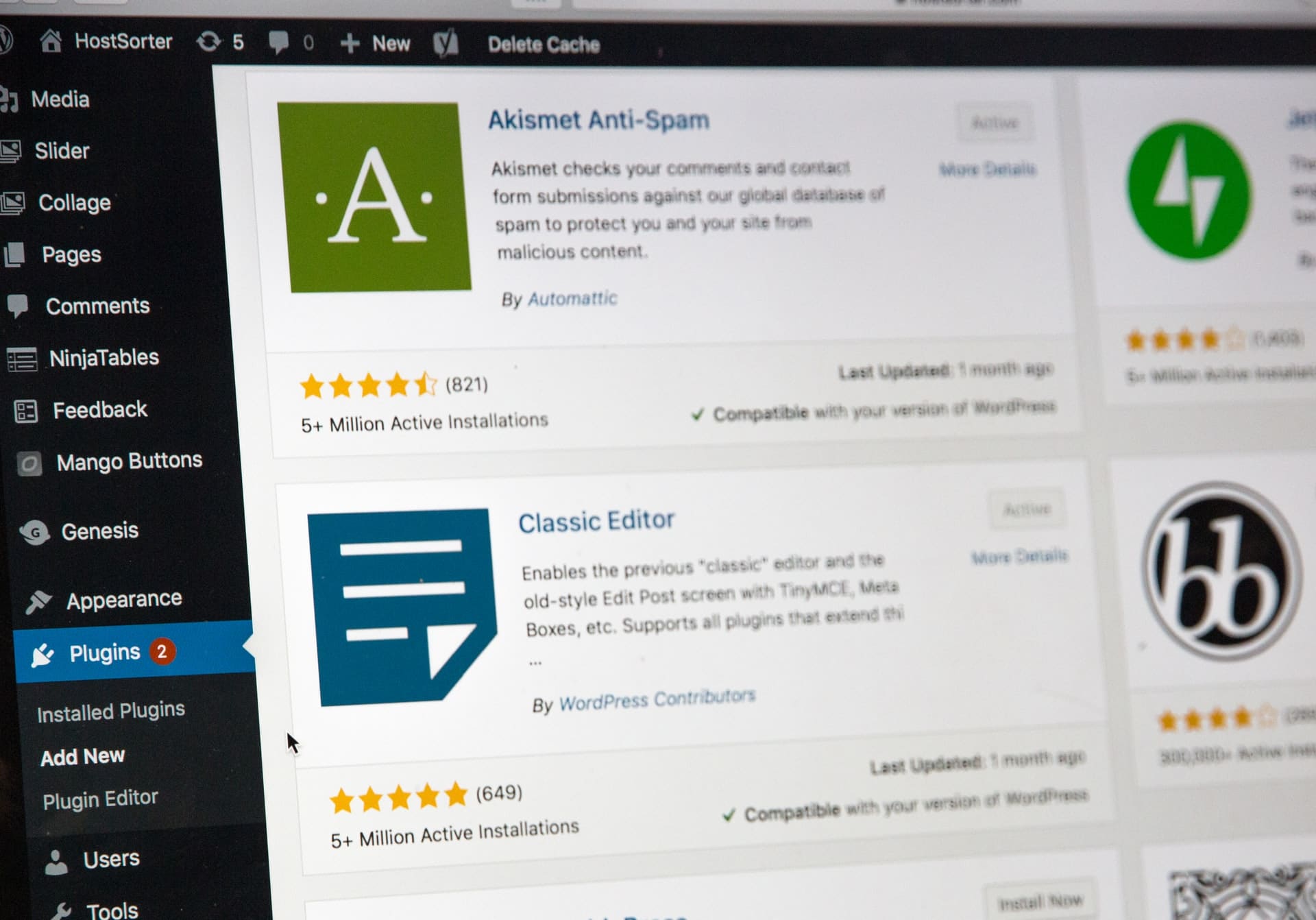 2020 is the year of the blocks
Strikingly, it looks like in 2020 and 2021 WordPress trends focus on blocks. Why? Guttenberg, the block-based standard editor, has started a revolution.
It's expected to see the same principle applied to all parts of WordPress interfaces because Gutenberg is continuously improved with new features to make it easier to use. It allows the user to add a background color to content blocks with no coding required. This makes it possible to highlight pieces of content.
The WordPress version 5.3 includes Gutenberg features like:
Navigation menu customization through text and background colors
Faster block navigation
Assistance to upload large images
Preview features to check how the blocks look before selecting a theme
Smooth block movements that allow the user to drag elements on the page
Group block
Drag-and-drop page builders are more popular than ever
Web developers see Gutenberg as the first step in a complex process to use WordPress-native page builders. However, Gutenberg hasn't reached this status; it's mainly a layout tool. But there are many other popular page builders in the market, and drag-and-drop ones are on the rise.
While nothing equals the performance of a professionally built page, drag-and-drop builders offer users the opportunity to create their website without acquiring knowledge in coding. Elementor and Divi are some of the most popular drag and drop page builders in WordPress.
In 2019, Elementor registered over 3 million active installs. And it's only one builder, but it shows how successful builders that address to people with no technical skills are.
With the number of websites on the rise, it's expected this trend to continue to rise.
The focus is on the user (and no one is surprised)
A stronger focus on user needs and preferences is visible in all domains. In website development and design, Google's emphasis on search intent has opened a road that encourages developers and content creators to write for humans.
For a website to reach people, it needs to rank in high positions on search engines, and Google cares only about the sites that provide a high-quality experience to users. Firefox also promotes websites that focus on the user, and it recently decided to block all third-party cookies to promote user privacy.
Users' standards are on the rise when it comes to creating websites. Developers commit to design thinking when they craft pages to create human-centered pages.
Design thinking focuses on the user and their particular needs. By empathizing with the users, developers can understand their requirements and fulfil them. Design thinking powers the identification of problems and solutions.
Minimalism is always hot in WordPress
Flat design is popular with all website platforms, and even if other trends come and go, it ranks high in people's preferences. Minimalism in WordPress focuses on simplicity, clarity, basic colors, and sharp forms.
Minimalism is also on the rise due to the increase in wearable tech. For small displays like the ones from Apple Watch, designers need to break elements down and stick only with the essential ones.
The websites that commit to minimalism hide their navigation bar by default. They also use less text, and more images, graphs, videos and content that enhances the clarity of the page. Minimalism for WordPress also improves performance and speed and helps with mobile optimization.
Asymmetrical and broken layouts
Minimalism is good, but some organizations need more complex layouts to resonate with their brands. For those users, designers push the boundaries of creation and come with asymmetrical layouts and deliberately broken grids.
The themes that accomplish this trend the best include sliding images, overlapping elements, twisted looks and colors that catch the eye and ask for attention. These websites promote the idea of art.
A variation of this trend focuses on the overlapping theme that includes broken grids and imbricated elements to achieve a unique effect.
Only an expert can pull this theme because it requires expertise to identify the fine line between a cluttered website and a useable page. Even if the content is spread all over the page, it still needs to be visible, readable and easy to read at a glance.
Hand-drawn designs
With everyone running a website, it's challenging to stand out on the web. Many sites use the same theme, stock photos, and design elements. To individualize pages, developers have started to infuse websites with handmade or hand-drawn items because what better way to drive charm, uniqueness and personality is?
In 2021 and 2022, expect to see WordPress pages with handmade illustrations, handwritten content, quirky icons, and memorable elements. The brands that want to stand out from the crowd work with artists to create unique elements that stay true to their values.