Unlock Your Online Potential: The Power of Choosing the Right WordPress Theme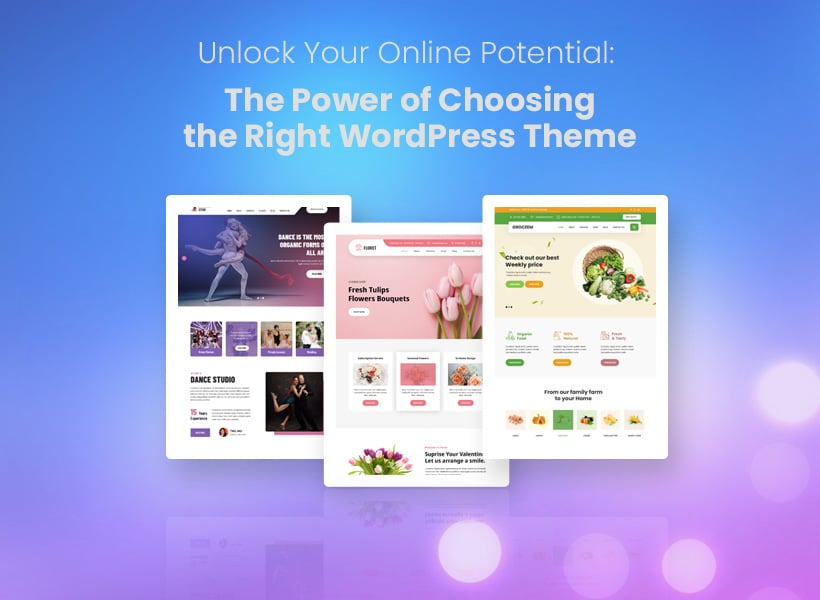 In today's fast-paced digital world, having a well-designed website is more important than ever. A visually appealing, user-friendly, and responsive website can make all the difference in attracting and retaining visitors, ultimately helping you achieve your online goals, be it increasing sales, building brand awareness, or growing your audience.
With an ever-growing number of people using the internet to discover new products and services, a strong online presence is crucial for standing out in the crowded market.
One of the most popular website-building platforms is WordPress, which powers over 40% of all websites globally. Its ease of use, flexibility, and extensive features make it an ideal choice for businesses and individuals alike.
However, to truly unlock your online potential and create a website that resonates with your audience, it's essential to choose the right WordPress theme.
Selecting the perfect theme for your WordPress site is not just about aesthetics; it also impacts the overall functionality, user experience, and performance of your site.
In this article, we'll explore the power of choosing the right WordPress theme and offer tips on how to make the best decision for your website.
Why Choosing the Right WordPress Theme Matters
Impact on website aesthetics
The visual appeal of your website plays a crucial role in creating a positive first impression on your visitors. A well-designed, attractive site can capture their attention, encourage them to explore your content, and ultimately convert them into customers or subscribers.
On the other side, a poorly designed site can deter potential users and reflect negatively on your brand.
Effect on website functionality
The functionality of your website is another critical aspect affected by your choice of theme. Different WordPress themes come with various built-in features, such as customisable layouts, widget areas, and navigation menus.
By selecting a theme that offers the functionality you require, you can create a more engaging and user-friendly website that meets your audience's needs.
Additionally, a theme with robust coding and compatibility with popular plugins will ensure that your website runs smoothly and without glitches.
Influence on website performance and user experience
Your WordPress theme can significantly impact the overall performance of your website, including loading speed, mobile-friendliness, and search engine optimization. A fast-loading, responsive theme will provide an excellent user experience, which is essential for retaining visitors and reducing bounce rates.
Moreover, a theme optimised for SEO will help your site rank higher in search engine results, driving more organic traffic to your content.
Key Factors to Consider When Selecting a WordPress Theme
Define your website's purpose and target audience
Before diving into the vast pool of WordPress themes, it's essential to have a clear understanding of your website's purpose and the audience you want to reach. This will help you identify the most suitable theme that caters to your specific needs and goals.
Your business purpose and target audience should determine your theme choice.
To be more specific, some themes are designed to work best for some types of websites or industries.
For instance, an eCommerce website would require a theme with shopping cart integration Elevation PRO, while a photography portfolio would benefit from a visually striking, image-focused theme like PhotoStat PRO.
On the other hand, if you look for a professional theme that fits almost any generic website you can decide to use DigiSell Pro.
Assess theme customisation options
The ability to customise your chosen theme is crucial for aligning your website's appearance with your brand identity.
Look for themes that offer a variety of customisation options, such as colour schemes, font choices, and layout possibilities.
Balance Between Free and Paid Features
While free themes can be enticing due to their cost-effectiveness, they often lack the advanced functionality, customization options, and dedicated support that paid themes provide.
On the other hand, premium themes may come with many features that may not be necessary for your specific project.
To find the perfect balance, it's crucial to evaluate your website's requirements, goals, and target audience.
Identify which features are essential for your site's success and determine if a free theme can fulfil those needs.
If not, it's worth considering investing in a premium theme that offers a comprehensive set of features, better flexibility, and regular updates.
Ultimately, the decision should be based on the value that a theme brings to your website, rather than solely on its price.
Personally, I would not consider a free theme, unless you don't want to monetize your website.
Evaluate the theme's responsiveness and mobile-friendliness
With the increasing number of users accessing the internet through mobile devices, it's vital to choose a theme that is responsive and mobile-friendly.
This ensures that your website looks and functions optimally across all screen sizes and devices, providing a seamless browsing experience for your visitors.
Check theme compatibility with plugins and browsers
Your chosen theme should be compatible with popular plugins to enhance your website's functionality, as well as work smoothly across different browsers.
Make sure to test the theme with various plugins and browsers before making your final decision.
Examine theme performance and loading speed
A fast-loading website is crucial for retaining visitors and improving your site's search engine ranking. When selecting a WordPress theme, pay close attention to its performance and loading speed. If necessary, use all required steps to optimise the website for speed.
Opt for a lightweight, well-optimised theme that won't slow down your website, ensuring a better user experience and higher conversion rates.
Before making your choice check the speed with Google Page Insights.
In conclusion, the easiest and best way to have a good feel of a theme is to create an empty WordPress website, load a theme and test its functionality.
If you don't like it, check the next one and the next until you find what you are looking for.
Making the Most Out of Your Chosen Theme
Customise your theme to align with your brand identity
Once you've selected the perfect WordPress theme, it's time to customise it to match your brand identity. Start by adjusting the colour scheme, typography, and logo to reflect your brand's personality and style.
Pay attention to the layout and design elements, ensuring they create a cohesive and visually appealing experience for your visitors.
Implement SEO best practices to optimise your website
A well-optimised website is crucial for driving organic traffic and achieving higher search engine rankings. To make the most of your chosen theme, implement SEO best practices throughout your site.
This includes using relevant keywords in your content, optimising meta tags and image alt tags, and creating a clear and logical site structure.
SEO optimization should start while you create a website, so you can long-term benefit in the future.
Most of the basic SEO settings you can do by yourself, but if it gets too complicated, seek assistance from an experienced SEO company.
Enhance website functionality and user experience
Your WordPress theme comes with a variety of built-in features designed to improve the functionality and user experience of your website. Be sure to explore and utilise these features to their full potential.
For example, take advantage of customisable widgets, navigation menus, and page templates to create a user-friendly site that's easy to navigate. Similarly, integrate social sharing buttons, contact forms, and other interactive elements to engage and connect with your audience.
Common Challenges in Choosing a WordPress Theme
Overwhelmed by the number of available themes
With thousands of WordPress themes available, it's easy to feel overwhelmed and unsure of where to start.
I suggest you focus on one, well-known theme company and examine a variety of their themes first.
Usually, they offer theme solutions for any purpose and the best part is that for a small price, you can get access to the full bundle of themes.
Balancing Aesthetics and Performance
Striking the right balance between a visually appealing design and a high-performing website can be challenging. To overcome this, prioritise themes that offer a combination of attractive design elements and optimised performance.
Look for themes with clean, lightweight code, fast loading speeds, and mobile responsiveness. Remember that while a stunning design may capture visitors' attention, it's the website's overall performance and user experience that will keep them engaged and coming back for more.
Ensuring long-term support and updates
Choosing a theme with long-term support and regular updates is essential for maintaining a secure and up-to-date website. To ensure this, opt for themes from reputable developers with a proven track record of providing timely updates and responsive customer support.
Before making your final decision, check the theme's documentation ion, support forums, and update history to gauge the developer's commitment to ongoing maintenance and improvements.
By selecting a well-supported theme, you can enjoy peace of mind knowing that your website will remain compatible with future WordPress updates and continue to function seamlessly as your online presence evolves.
Conclusion
Choosing the right WordPress theme is an essential step towards achieving online success. A well-selected theme not only enhances your website's aesthetics but also impacts its functionality, performance, and overall user experience.
Remember, investing time and effort into finding the perfect theme for your website can yield significant long-term benefits, from improved search engine rankings to increased user engagement and conversions.
So, take your time, explore your options, and consider the tips provided in this article to make the most of your WordPress theme selection. By doing so, you'll be well on your way to unlocking your online potential and creating a website that truly stands out in the digital landscape.