Truths About SEO For E-commerce Web Design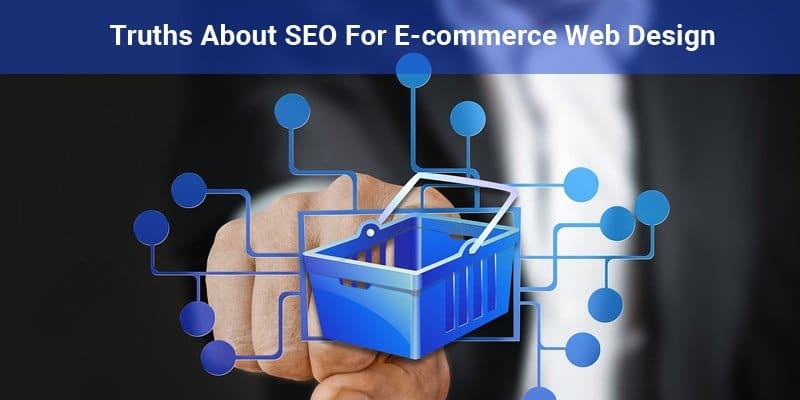 E-commerce can be a very profitable business for all companies. However, it is also extremely competitive. If a potential customer is searching for a specific product that you sell and your website does not appear in the search result pages, it's pretty obvious your competitor will get the order.
Therefore, it is fundamental that you invest in a sound E-commerce SEO strategy and a professionally designed website as these are the cornerstones of every E-commerce success.
Even though one cannot go without the other, the general agreement is that the most professionally designed best-looking website will unavoidably be invisible if no effort is made to secure it is visible to the public and to help visitors come and learn more about your business and products.
Undoubtedly, traffic is the key, and as such it has to target visitors who are interested in what your website has to offer.
E-commerce SEO typically begins with the right programming of the code set, so every website page is optimized for the search engines.
Particularly crucial in E-commerce SEO is the on-page optimization. Without a suitable URL structure, your website's pages won't even be indexed by the search engines.
Dynamic Optimization Strategy
The main thing that differentiates an E-commerce website from others is usually the presence of lots of content. And a lot of content is there due to possibly thousands of categories and products.
Optimizing these can be a struggle and is more often than not quite time-consuming. Setting off a dynamic optimization strategy is elementary for a quick increase in organic rankings and a prosperous beginning.
And what dynamic optimization might be? It is the method of applying the code to generate and propagate content. The principal ingredients utilized in the dynamic optimization are the Meta tags and Title.
You may or may not want particular elements or databases variables shown in your tags, but this all depends on your performed keyword research and the industry in which you are.
The Visual Search
SEO is all about enhancing the shopping experience for your targeted audience. With well-optimized and high-quality images on your website's product pages, you will not only give a useful snapshot to the algorithm of a search engine but to the end users as well.
By adding a visual search to your E-commerce website, you are helping the users find the products of their choice much more comfortably. A visual search will assist them to visit the landing pages they need and save time instead of wandering around the website.
However, the inclusion of visual search does not guarantee higher conversions. As a distinctive attribute, it is not productive for everyone with certainty. Therefore, you need to fully measure the page views, page exits, cart abandonment and conversion rate.
If the results are not satisfactory, the full measurement will help you analyze the influence of visual search, and you will be able to take precautionary measures.
Simplicity and Functionality
Comprehensive and safe payment methods and dependable security system are what every successful E-commerce website needs, apart from being an online store.
In a nutshell, an E-commerce website that is professional and simple to use and handle, uncomplicated, with enticing action, functional and flexible for your user to manage will surely make your potential customers comfortable when buying from you.
When opting for developing an E-commerce website, you will also be developing an accompanying website design and launching a new online marketing campaign as well, which is a significant commitment.
In case you don't have an in-house web designer, you should choose a reliable creative web agency with plenty of experience to partner with, who knows what works and what doesn't when it comes to driving sales.
Unique Product Description
The real opportunity to strengthen your website's SEO as an E-commerce is when you introduce each of the products' page.
You should strengthen each of these pages with words, explaining the products in detail and cleverly blending relevant keywords in the description.
Although, keep in mind that you shouldn't overdo it. If your product description is unrealistic or if you're fiddling the result you will witness a loss of customers instead of increase.
Putting in some additional efforts to write unique descriptions for each product can consume a great deal of time. However, it can make a big difference in your search engine rankings.
Therefore, if you already have hundreds or thousands of product pages with pretty thin content, begin with the most significant products and supplement it with as much more descriptive text as you can. Ensure to give an original, detailed description every time you need to add a new product page.
Many reasons on why you should optimize your website for the search engines are out there, but the bottom line is – increase in sales.
If done right, SEO may boost the quality of traffic, which will lead to more conversions and return visits. It goes without saying that SEO demands a lot of time and commitment, but the advantages are worth it.