Top 5 WordPress Plugins for Content Creation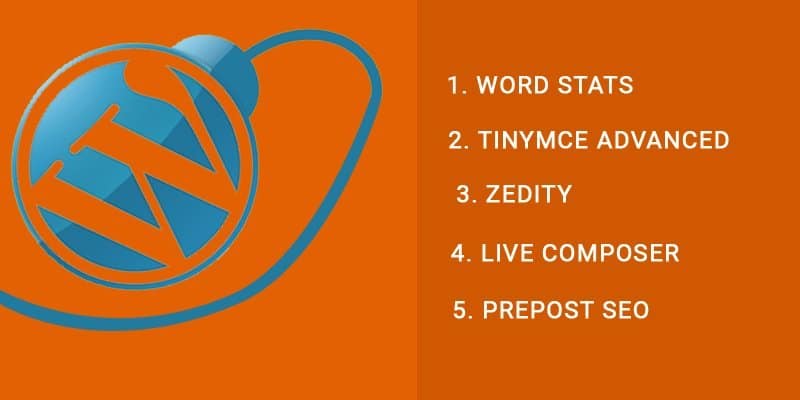 Did you Know? WordPress powers more than 25% of the websites over the world wide web.
With this statistic, it won't be much to say that WordPress is the one of the best content management system. As we know Content is an integral part of every website running on the web, be it a WordPress site, Joomla, or Java site.
Being said that, you cannot overlook the importance of a well-presented content on your website and for this you can rely greatly on the WordPress plugins.
However, this CMS offers an overwhelming no. of WordPress plugins for content creation, management, and other content purposes. Fear not, the goal of this post is to present you with top 5 WordPress plugins that can help you create killer content quickly and easily.
Here we are presenting the top 5 WordPress plugins for content creation
Word Stats
This is a dynamic tool that enables you to keep track of all your content, and improvise on quality as well. It offers many features including reports page that lets you analyze content from any author. It provides the following information such as:
An accurate total word count, total characters, words and sentences.
The relevant top 20 keywords and the no. of posts of each post type.
A graph that shows word counts for each post type monthly.
Users can also view diagnostic tables, an option to edit the posts that are too complex or lacks relevant keywords.
Users also have the option to conduct color coded readability tests
Besides, this widely used WordPress plugin also offers basic support for many scripts like hindi, greek, arabic, japanese and unicode scripts. You can also use the tool for translations including Spanish and Catalan.
TinyMCE Advanced
The list of top WordPress plugins will be incomplete without the mention of TinyMCE Advanced – the most popular and well-known WordPress plugin.
The tool is best known for improving the visual impact of your content and is loaded with some great features.
One of its excellent features is that users get an access to easy-to -use editor that they can customize it as per their needs. In a single click they can add, delete, and rearrange all feature buttons on the available toolbar.
Users can also create tables, adjust background color, pick their choice of font family, and font size and more such useful features. In addition, this tool also offers some advanced features that are not available in the standard WordPress install.
Zedity
If you are looking for a content editor tool that lets you create content quickly and easily without any need of technical skills then Zedity without a second thought tops the list.
This visual editor gives users real-time control over how final content looks on the screen. The other excellent thing about this tool is, it works as both content builder and editor and you can create visually appealing and professional looking posts instantly.
And as I mentioned for using this tool, you don't need to know CSS or HTML, a basic understanding of using WordPress tools is good enough.
The tool also offers drag and drop functionality, you can add images, videos, text boxes in different shapes, arrange them, add background colors or rotate them as per your liking. Another interesting thing is you can also embed some music into the page.
This WordPress plugin is available for free but if you are looking for more advanced features than go for the premium version.
Live Composer
Live Composer is another user-friendly WordPress plugin like Zedity, it is new to join WordPress page builder family and is quite popular for its dynamic interface and functionality.
It allows users to create custom layouts without any need of knowing coding or any web designing experience. This page builder gives you complete flexibility on how you want your posts to be presented.
The best benefit of using this tool is, pages or posts you create using this tool are fully responsive so you don't need to worry about the compatibility. All created content looks great on every device without any distortion.
Similar to Zedity, it also offers drag-and-drop functionality making it swift and speedy for users to arrange content in the most appropriate way.
If you have been hunting for a free page builder plugin then let your search rest here. With Live Composer, you can easily arrange content for your website or blog. To get started, all you need to do is, download it from the WordPress repository.
PrePost SEO
As the name suggests, it is another great plugin for SEO optimization of your content. To make your content climb up the ladder in the search engine results, PrePost SEO is a great tool, use it before your content gets published.
Besides, it also allows you to keep right keyword density for your posts, title optimization for all search engines including Google, Bing, Yahoo, automatically fixing typing errors, spell check, and even checking your backlinks, checking SEO score of your current post, analyzing meta tags.
This all-in-one content management tool helps you in providing best possible experience to your audience as you can manage SEO optimization of your content before publishing it.
Wrapping up-
Creating compelling content is always challenging. However, these content management tools can make your struggle a lot easier.
Based on your needs, you can pick the content creation tools that matches best with your content needs and you can take your content creation to the next level.
Feel free to check these top 5 WordPress plugins and up your content game. If you think some other plugin needs to be added to the list then let us know in the comments below.