The Ultimate Plugin for WooCommerce Order Exports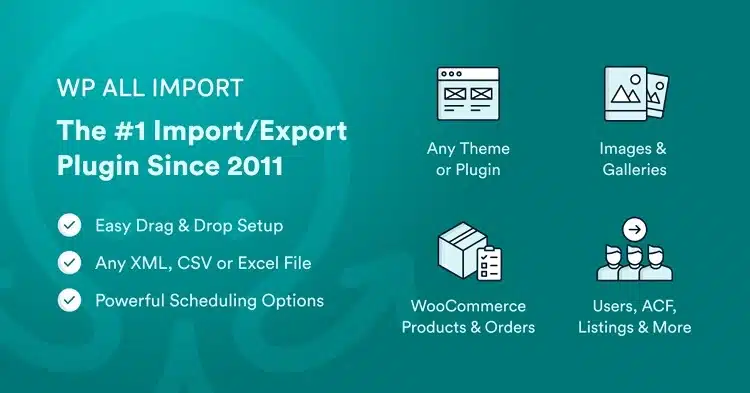 WooCommerce has been a very popular customizable and open-source platform targeted to solve problems of almost any enterprise. But sometimes, things can be complicated with WooCommerce, especially when ordering exports. Thus, to ease such problems, you will need WooCommerce Plugins.
You can add the latest features and expand your business with the best plugins for the WooCommerce store. But the options are unending, and you may find it difficult to choose the right theme and plugin. So, we have come up with the ultimate WooCommerce order export plugin.
The ultimate plugin:
The WooCommerce orders can be easily exported to a CSV or XML file with the help of an order add-on for WP All Export.
There are tons of plugins available out there, and you might have installed a lot of plugins as well. But WP All Export is unmatched when choosing a WooCommerce order export plugin.
Indeed, it can be easily used, and it genuinely exports every ordered field of WooCommerce and possess tons of advanced features. Besides, it has a superior support team.
This particular add-on functions with WP All Export for exporting the WooCommerce orders fast and quick.
Export in any format: WooCommerce orders can be exported to an Excel, custom CV, or an XML file with this WooCommerce order export plugin.
Choose the order data you wish to export: The Drag and Drop Interface of WP All Exports makes things easy to choose exactly the WooCommerce order data you want to export.
Structure the order export the way your like: XML components and CSV columns can be renamed, rearranged, and you can do whatever you are required to do.
Export every data: Custom data is added by tons of plugins to WooCommerce orders. Everything can be exported by having WooCommerce Order Export Add-On by your side for WP All Export.
Flawless integration having WP All Import: Exportation can be done with WP All Export, and you can import with the WP All Import. It is ideal for bulk editing and smooth migrations of WooCommerce orders within Excel.

Pro Version:

Powerful WooCommerce order export features can be unlocked when you upgrade to pro. The WooCommerce Export Package consists of WP All Export Pro and the WooCommerce Export Add-On Pro.

It provides the users with premium support, and you can enjoy the given below features:

Schedule order exports for running automatically: You can configure order exports for running on any schedule. New sales can be exported every month, week, etc. Things become very convenient while sending order data of WooCommerce to Zapier while working with this WooCommerce order export plugin.
Strong filters: Rules can be created to determine exactly what orders end up in export. Orders can be filtered with dynamic dates such as 'last 7 days', what are the products that were ordered, from which country the order was placed for the product, and a lot more.
Order exports can be sent to more than 1000 apps: By using Zapier's powerful integration, WooCommerce order exports can be sent or exported to services such as Dropbox, email, Google Sheets, Google Drive, and a lot more. Especially, it is super powerful with the scheduled exports.
Developer friendly: Many developer-friendly powerful tools ate there in AP All Export Pro, such as passing data via PHP, completely customizable XML exports, combine export fields, and a lot more.
Advanced WooCommerce order exports: Even more data of orders can be exported. It includes taxes, order items, discounts, fees, refund data, and notes.
Not only orders, everything: The package is not limited to WooCommerce order exports. Almost anything can be exported, including image galleries, WooCommerce products, coupons, and reviews. Also, products can be exported to the network of Google Shopping.

You can purchase with confidence:
There are several reasons to consider this WooCommerce order export plugin that allows you to purchase with full confidence. They are as follows:

Top-Class support: You get top-class support from an expert team having about a decade of experience in the fields of import and exports in WordPress.
Lifetime free updates: Once you pay for unlimited installs, you will not require to pay any renewal fees.
90-day money-back guarantee: If you are not fully satisfied, you can opt for a full refund within 90 days if you have this WooCommerce order export plugin.
What is automatic scheduling?
Automatic scheduling offers a plain interface to set exports for running on a schedule. This particular service makes sure that all your exports begin in time and completes successfully without any difficulty.
You can put it to use with WP All Import and WP All Export. As you like, many exports and imports can be set up on as many websites as you want.
WooCommerce orders export to XML:
XML is a machine-readable file format. Often it is used for sending data between two software. It is somewhat like HTML, and dealing with it can be not easy. When the services need you to upload the data in XML, they also specify a compact schema.
It described how it required to be formatted. There is no need for you to know anything associated with that order for exporting WooCommerce orders to XML with the WP All Export.
For setting up a WooCommerce order XML export, you will have to select 'XML' while configuring the export template. And similarly, like a CSV export, the XML report will let you customize the component names and arrange them the way you like.
WooCommerce orders export to CSV/Excel:
CSV is a text file. A comma separates every column. WP All Export lets WooCommerce order CSV export be easily set up, and the column's title and the order can be controlled.
Often you will like to edit the data with Google Sheets, Numbers, Microsoft Excel, or might be something else. Therefore, CSV exports are damn powerful. CSV files can be read, edited, and saved by spreadsheet software. You are allowed by WP All Exports to edit the WooCommerce order data by using your prioritized spreadsheet software.
Conclusion:
WooCommerce is a highly preferred platform by many businesses, especially for small and medium-sized businesses. And there are obvious reasons behind it.
It offers you some of the most robust functionalities and features. But often, you will need to consider the best plugins to work with it. For example, WP All Export has everything you need, but make sure that it suits your needs before using it.