Looking for WordPress Developer? Look At These Traits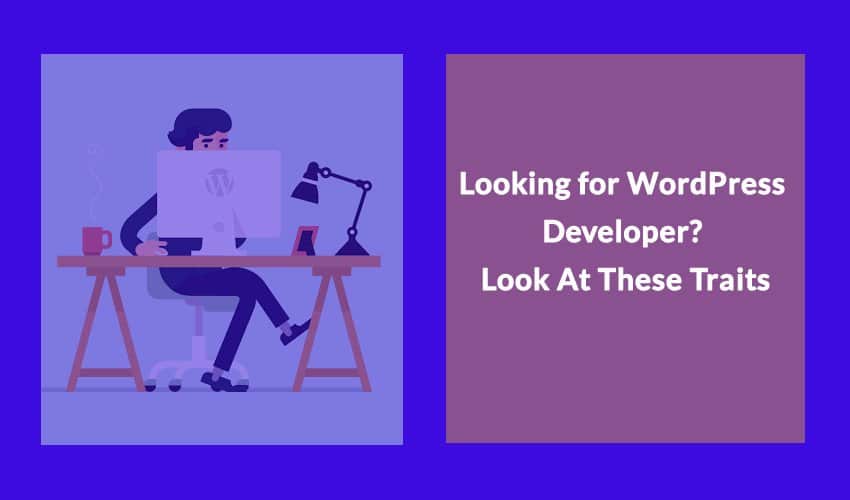 Whether you are a WordPress professional yourself or you are looking to hire one for your next project, expert WordPress Developers will have very similar traits.
As one of the internet's leading Content Management Systems (CMS), WordPress is used by millions of developers.
However, this article will investigate the typical traits that you should either have as a developer – or seek as an organisation on a mission to hire one for amazing results.
They have an impressive portfolio and understand the task at hand
When choosing a WordPress developer, check out their existing portfolio and see what projects they have been involved with in the past.
It goes without saying that you should be choosing the right freelance developers who has worked on similar projects to the one you are looking to implement.
Understand everything to do with WordPress and a website's infrastructure
WordPress is a CMS with many layers. Firstly, there is the server-side of things to get your head round. This includes choosing an appropriate host and package that ensures your site is on a solid platform with frequent back-ups – just in case something should go wrong.
A reliable developer is likely to have their preference of host and it is a good idea to trust them.
Secondly, you must choose a developer who has extensive knowledge of WordPress, the interface, security, restoring/backups and plugins.
There are a lot of features that make WordPress great but these features can cause problems if set up incorrectly.
Whist on the subject of understanding WordPress and everything to do with a website infrastructure, Memcached is an innovative tool that is proving to be a popular choice amongst WordPress developers.
Adrian Pietka found that whilst using Memcached "In complex, heavily loaded web applications, we were able to accelerate the generation of subpages for about few or even tens of percent.
By using multiple Memcached servers, our buffer size may greatly exceed the amount of RAM, available on a single machine."
Another advantage of the tool that Adrian mentioned was just how easy it is to configure. The paperwork that comes with the tool is easy to understand and covers plenty of programming languages.
Make sure costing is clear!
Nobody likes talking about money because let's be honest, it can be awkward at times. However, through experience, the best way of discussing money in regards to a WordPress project is by laying your cards on the table from the beginning.
You need to clearly state exactly what you are looking for and what needs to be done. If there are any areas of confusion – make sure you list them.
Are you prepared to pay per hour or do you need a fixed cost? This can often be the make-or-break of a project. If you pay a fixed cost, make sure you know the ins and outs of your project and that these are explained appropriately to the WordPress developer.
From the developers point of view – why should they do a load of extra work that was poorly explained at the beginning for what is effectively free-of-charge?
On the other hand, paying per hour can quickly result in a large bill racking up. This is where you must make sure the developer you are using is dependable.
An honest developer will provide you with an accurate estimate as to how long a project will take so that you can budget accordingly. These points are reiterated in an article written by David Attard on WP Newsify, highlighting the importance of estimating project costs.
View the project at hand from the clients, and the customer's viewpoint
A good developer will see the project from both your (the clients) point of view and the users (your clients) point of view.
Then they can work hard to ensure both your vision, and your clients' vision, come to life and work perfectly hand-in-hand.
After all, the connection you have with your clients is what makes your business a success and a good developer will be able to work with this and help grow the bond you already have.
They are looking for a long-term relationship and not a one-off project
An article by Zach Wills on Codivated hits the nail on the head in regards to building relationships with a WordPress Developer.
You want to make sure you choose a Developer for your next project who is not simply seeking "a quick buck".
Instead, you want to work with a professional who is looking to work with you long-term and on additional projects in the future.
Before you decide you are prepared to work with somebody into the future, they must have proven themselves. Have they gone the extra mile and offered a service that exceeded your expectations?
Have they found problems you didn't know existed and offered easy solutions? Are they friendly, knowledgeable and most importantly, trustworthy?
They have a network of professionals
If your chosen WordPress developer is not able to assist you with a specific requirement – don't worry. It is common for professionals to work together and discuss capabilities online via forums and other methods.
If they cannot help you, a good developer will almost certainly know another reliable expert who can!
Pick your WordPress developer carefully
With so many professionals out there claiming to be "the best", it is important that if you are seeking a WordPress developer, you find one who can back up their claims.
It is important to have a web development studio you can trust, offers excellent value and is looking to work with you long into the future. Take it from us, finding the right developer now will save you plenty of time and money in the future.