How to Fix Facebook Incorrect Thumbnail Issue in WordPress?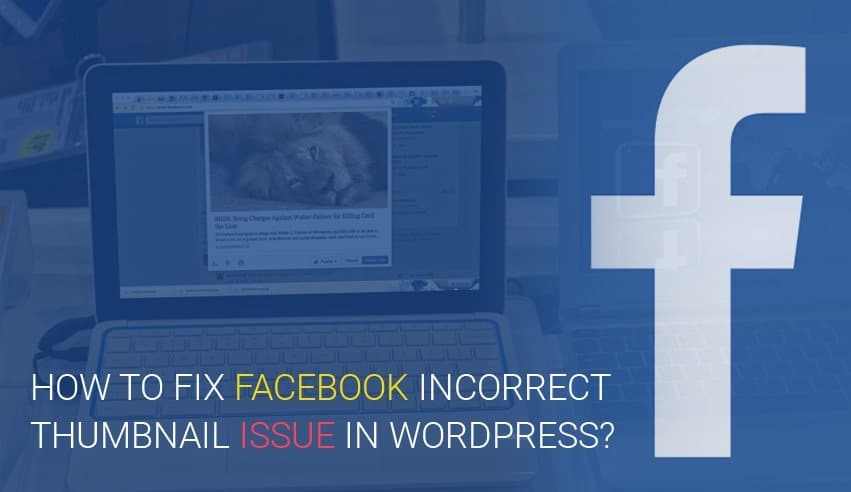 WordPress sites are great for a variety of purposes, especially blogs. They are easy to use, especially for non-technical people, which makes them a popular platform to build websites on. WordPress also lets you share your posts to social media like Facebook for more engagement, impressions, and traffic.
This usually works great, helping you tap into a larger audience through social sharing. However, as is usual with technology, minor errors crop up sometimes that need fixing. One of these errors is the wrong thumbnail showing up when you share your post on Facebook.
Incorrect Facebook Thumbnail Issue in WordPress
Let's say you are a blogger who just shared a well-written article on Facebook. You're hoping for some great engagement on this post. Suddenly you notice that the thumbnail showing up isn't the one you selected.
Crisis? Not really. A lot of WordPress users complain about this problem. This blog will help you understand why this issue occurs and how you can fix it.
Let's get right to the meat of the matter and discuss the why of this issue first.
Why Facebook Picks up the Wrong Thumbnail
Before you can fix the problem, you need to understand why it occurs. There are many reasons why Facebook may pick up the wrong thumbnail image for your shared post. Facebook usually "guesses" the image you want to use as a thumbnail for your post.
It does so using Open Graph or og tags. One of the most common reasons behind wrong thumbnail images is having multiple images in the og:image tag. If the other images are bigger than your featured image, chances are Facebook will choose one of them instead.
So we know that Facebook makes use of Open Graph tags. Plugins like Yoast for WordPress automatically add og tags to your website. This is so that you don't encounter a missing thumbnail issue. Unfortunately, this can lead to a wrong thumbnail issue instead where there are multiple images.
There are also a number of other, less common errors that include:
Issues with your content delivery network
Caching plugins
Missing og meta tags
How to Fix This Issue in WordPress?
For the purpose of this blog, our focus is on the wrong thumbnail issue. Let's start discussing how to fix it, now that we know what the problem is. There are three ways you can do that.
Manually uploading the image
Correcting through Yoast plugin
Correcting through Facebook debugging
Let's discuss each in detail…
#1. Manually Uploading the Image
Let's say you want to share your blog post on your Facebook page. As you are uploading it, you see Facebook has not detected the correct image. In this situation, you can simply upload the image you want by clicking on the upload link.
Facebook will also store this image in your photos section, but you can always delete it. Facebook will still show the correct image on your post, regardless of whether the image is saved.
However, this is an issue with this solution. It only works for you, not other users. Meaning the people sharing your article will still have the wrong thumbnail showing. Luckily, the next fix we will look at takes care of this problem as well.
#2. Correcting Through Yoast Plugin
If you have a Yoast plugin installed on your WordPress, you can use it to correct the incorrect Facebook thumbnail issue on your post. It allows you conveniently to set a specific image as the featured thumbnail for your Facebook post. Here's how you do it. When you're writing out the post for Facebook, click on the Yoast SEO meta box below the Post Editor button. Then click on the Social tab to see options for sharing posts on social media. The window that opens will have a number of options that include a:
Facebook title so you can use another title instead of the one you originally had
Facebook description so you can use another meta description in place of the original one for Facebook
Facebook image so you can override the image on Facebook by uploading an image or pasting its URL. Images you choose should ideally be 1200 X 630 pixels.
Use these options to tweak your post and add the appropriate image through Yoast SEO plugin for WordPress. In most cases, you can correct the problem using this method. However, if Facebook continues to show the wrong image, you may need to try the next step.
#3. Correcting Through Facebook Debugging
The Facebook debug tool is a handy tool to have to troubleshoot issues with Facebook on your WordPress website. What you need to do first is to copy the URL of your Facebook post. Next, paste it in the debug tool's field and hit enter. In most cases, the error that appears is:
"Provided og:image is not big enough. Please use an image that's at least 200 X 200 pixels. Image "random image in article URL" will be used instead."
We already know Facebook "guesses' the image to pick up from your article to use as the featured thumbnail. When there are larger images included in the article, Facebook wrongly guesses one of them to be the right image. This is why you see incorrect images as thumbnails so often.
But how do you debug this error? Sounds like a job for a professional, doesn't it? Not really. All you have to do is simply press the debug button again on the same URL. For some reason, this takes care of the error for you.
Summing Up
Hopefully, this article would have helped you fix your incorrect/no thumbnail issue on WordPress. The next time you want to post a user review article of Frontier Bundleson Facebook, just follow these instructions.
This will help you make sure your thumbnail is correct and you can also tweak the titles and meta descriptions as needed. Leave us a comment below if you found this blog helpful or have other ways you use to fix thumbnail issues. Keep following this blog for more common WordPress issues and their easy solutions.