How to Add Fancy Fonts in WordPress Themes
Have you just made your site on WordPress and trying to figure out each function to operate it successfully?
To build a fantastic site, one must work on a powerful theme because if the theme is up to the mark, it will help you proceed with other works wonderfully. The best theme also depends on the font selection. If you select the font carefully, then the theme will automatically be satisfactory.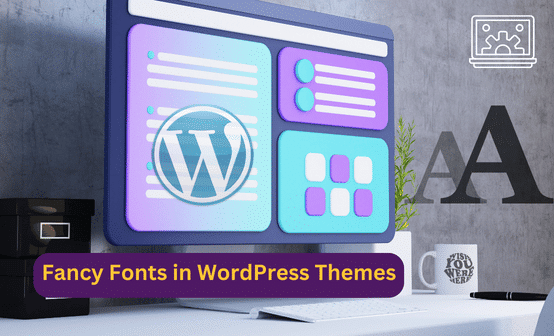 Below, we will thoroughly discuss adding custom or fancy fonts to the theme to make it pre-eminent. Stick around to facilitate yourself with maximum knowledge.
What are Fancy Fonts
These are the attractive fonts that are used in the design to get as much attention as possible. The themes of WordPress are custom based so that the user can add any font per your site's requirement and demand. Different fonts have already been installed in the theme, but if you are not good to go with them, you can add any fancy font that better fits the design of your eCommerce website.
The best part about the WordPress theme is that you can customize it from scratch. From headers to subheadings to body texts, everything can be done from the start so that things turn out exactly the way you want. Moreover, you can also use various free plugins in your WordPress site to install these fonts. After these plugins, you can adjust the size and style of the font as per the requirement.
Finding Fancy Fonts for WordPress Site
There was a time when fonts used to be costly, and designers used to find it hard to get their hands on the required font due to the cost feature. However, things have changed, and many options have emerged that have given the ease to all the designers. You can pick free fonts from different platforms, including TypeKit and Google fonts.
Learning how to make font pairing is vital because a combination of 2 or 3 fonts is required in a single design. If all three fonts suit you well, it will turn out to be a lovely combination. Below are a few methods that show how you can inject them into the theme.
Using WordPress Plugin

Let's start with the straightforward method of installing plugins, especially used in this regard. Different Google font plugins are already present in WordPress; you only have to install and activate them. The premium versions of these plugins are also available but opting for the free version is also beneficial. Once you have activated the required plugin, you must enter your email address.

Now go to the admin panel and click on 'Custom font,' where you will find a complete list of fancy fonts to use in the theme. The combination you will choose depends on the requirement of your website. Whatever font you select, you can also examine the preview to get an idea of how your font will look or how the public will perceive it.

Manually Adding Fonts

If you want to go for any plugin, you can add them manually. The process won't be as simple as the above one because it will require coding, so if you have a pro developer, hand over this work to them. Firstly, go to the Google font library, where you will find many options. Choose the font that you think is best for your WordPress theme.

Once picked, find the quick-use icon you will detect below for each font. Now go to the main page of that chosen font to notice all the functions, including size and style. Choose the required size and style according to the situation. Once done, click the 'Embed' option present in the corner. Once you click on the embed option, the code will be copied. You have to paste it later.

Adding this code also contains two different procedures; you can choose one that is more feasible. The first way is to paste this code on the header file of your WordPress theme, i.e., before the body tag. For this purpose, you must know how to edit the code. Any developer will assist you in this step. The second method is to use a plugin, i.e., WPCode, to simplify things.

Using TypeKit to Add fonts

TypeKit is another great platform for using free and premium fonts in the theme. To access different fonts on this platform, you must have an account with Adobe fonts. Once you have made it, sign up and go to the fonts section, where you will also come across many fancy font options. Click on the required font and then press the embed option. The code will be copied that you have to paste.

You must know how to add that copied code to the WordPress theme. The process of adding this code is the same as the one mentioned above. Either paste this code on the header file or use a plugin for this purpose. Choose any more feasible method. WPCode plugin is the best that you can install and activate easily in WordPress.
The Final Takeaway
Adding Fancy fonts in design or a WordPress theme is a terrific way to apprehend everyone's attention. Designers who want to do something uncommon with their designs always concentrate on such fonts and never regret it. It is vital to know how you can add them to the theme. It revolved around different methods, and a few are depicted in this guide for your convenience.
You can pick any way that better suits you and is easy for you to follow. Be selective when you create the font pairing because they must complement each other to make your designs successful. Moreover, I have also mentioned a plugin you can use to make the process uncomplicated. Add fancy fonts or custom fonts to your site's theme and get all the appreciation.