Modern website design tips and trends that can boost your ecommerce success!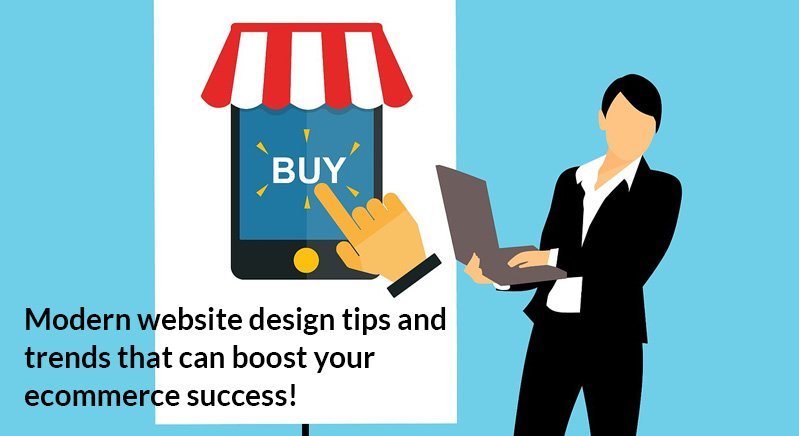 Similar to conventional business and commerce, e-commerce is also about attracting more number of potential consumers and get the best sales done online. To ensure this, one should put in the best effort to design a highly attractive and functional e-commerce platform, i.e., a high performing website.
Design plays a vital role in the success of an e-commerce website, no matter which platform you choose. Ideal e-commerce design is not only aiming at making your website visually appealing, but it also helps you to drag in potential customers to your site and make their process of buying from there an easy, enjoyable, and rewarding affair.
There are plenty of CMS platform available for e-commerce website building, which gives minute attention to every aspect of e-com site building; however, you need to be knowledgeable and innovative to sustain in this competitive market.
When a potential consumer landing on your site can easily:
Navigate through the pages to find their desired products
See all information about it in a snap
Understand the benefits of buying from you
Add it in one click to their cart
Easily complete the checkout, and
Make the payment quickly and safely,
You stand a better chance of more conversions.
The importance of design
The above priorities make it worth for the e-commerce site owners to spend some time to evaluate the existing design of your store and optimize it before investing in online marketing. Those who want to build a new e-commerce website should think of creating only an advanced, user-friendly e-commerce cart to get more results. If not, even if you can drag in traffic, visitors coming to your pages may instantly switch away from your website.
In this article, we will share some of the most successful web design tips, which had proven effective in e-commerce website design. Each element of your design ranging from the on-page images to the navigation menu plays a crucial role in the buying decision making of the consumers visiting your pages. Let's discuss the top components of design to keep an eye on.
Keep the e-commerce site design organized and clean

You cannot simply arrange the products randomly just due to the reason that you run an online store. Similar to that of a brick and mortar shop, one should think of the overall customer experience. The items you display on the e-commerce card needed to be properly arranged logically. A person visiting your website, being redirected from some other places, should be able to easily identify the product they are looking for then needing to do a lot of customized searches to get to what needed.

Another thing to ensure is that the product description and prices must be labeled appropriately, for which you can use a grid layout. This gives a clean and straight look for the web page, which makes things easier or the consumers. You should avoid congesting your pages with too many products of fitting many to a single row. The display effectively, you can take the approach of putting large images with fewer products on each page. Should give enough white space between items to get individual attention.

Make navigation easier

Any ecommerce website design company will tell you that menu is the most crucial part of any e-commerce site. This helps the customers who come on to the page to navigate to next intuitively to reach where they intended to. It is best to avoid too many links in the primary menu. Instead, you can opt for subsidiary drop-downs to the main menu, which will let you put more links which lead to various categories.

Another easy approach to make e-commerce navigation easier is to try a fly-out type hovering menu. It is suggested to visit many of the leading e-commerce websites to see what approach they adopt for menu and check which you find the most comfortable as a user.

Let the consumers to get in touch easily

On being serious about buying, the customers visiting your online product pages may have questions. Ensure that you have instant communication channels open for them to get in touch. It is a standard practice to add a Q&A about the product on the same page itself, but if you can show an instant chat window through which they can get real-time answers and clarifications to their queries, it can make a huge difference.

Showcase reviews

According to a recent research result by Gartner, about 60% of the online shoppers are keen about reading customer reviews before initiating an order. So, customer reviews will help you get more conversions.

The prospective customers will get inclined to buy a thing which other people have liked and rated the most. Even though there may be some kickbacks, adding customer reviews can surely boost the conversions by as much 5% extra.

Also adding reviews right below the product description can give more credibility both to the product manufacturer as well as the online store.

Putting search field

Many of those who land on your page from social media networks, blogs, or through PPC campaigns will be having a product in mind. However, if the product which dragged them on to your website is not instantly visible, they may be more likely to switch away from your page and look for more options.

So, don't leave this to chance and think that the customers will take on the tedious effort to find it out on your site to buy it. In fact, the new age busy consumers don't want to navigate from category to category to find a product, but they want to find out if you offer it or not quickly.

For this, the designer should ensure that there is a custom search bar on to the top of the site, always visible to the consumers to conduct a quick search.
Along with all the above, e-com web designers also should ensure the quality of the product images used. It is also important to optimize the e-commerce site for mobile users and also simplifying the check-out process with minimal steps.
Along with adopting appropriate design practices, if you ensure search engine optimization compliance too, there is a fair chance that you can reap the best results from your portal.