How Does the All-in-One AI Writing Copilot HIX AI Help You Craft SEO-Friendly Articles?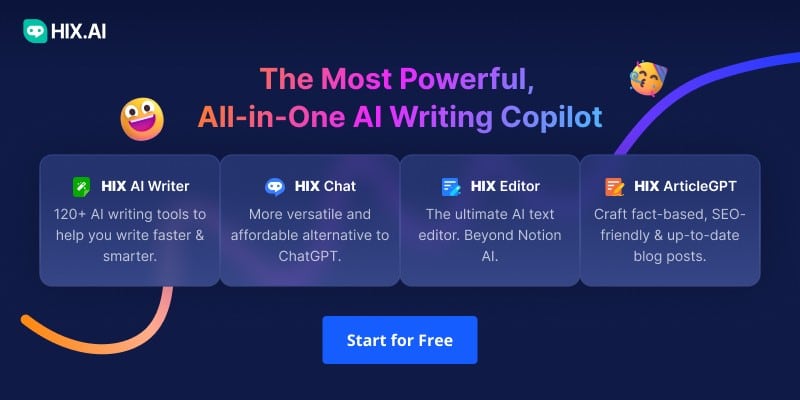 What is HIX.AI?
HIX.AI is an AI writing assistant that streamlines the process of creating, drafting, and editing all types of content, with a suite of versatile products powered by advanced AI technology.
The principal feature of the platform is an AI Writer, a powerful AI tool that can craft up-to-date and plagiarism-free content such as ad copy, articles, blog posts, copies, and emails, in seconds.
With over 120 AI writing tools and templates that offer functions such as rewriting, summarizing, and grammar checking and supported by more than 50 languages, the AI Writer is a valuable tool for domestic and international writers.
HIX.AI is continually updating its database to provide the latest information and can generate custom graphics. The long-form Article Writer produces up to date, plagiarism-free, and SEO-enhanced articles by using online insights from sources like Google News and customer reviews.
For added convenience there is also a versatile Chrome extension, which places the entire AI toolkit directly on your browser to make it simple to craft content for social media, to send emails, research the internet, or work in Google Docs.
With a huge range of tools for content generation and editing, HIX.AI is the perfect all-in-one AI writing co-pilot, and is a leader in the field of AI content creation.
The key products available from HIX.AI are:
HIX ArticleGPT, an AI writing tool for all a professional writer's needs, which can create a variety of content in seconds.
The HIX Editor to compose, edit, refine, format, and export your content, with advanced technology that assists in the creation of high quality content.
HIX Chat, the best alternative to ChatGPT, offering content generation, question answering, and guidance. HIX Chat constantly updates its data sources to provide the most current information.
HIX Translate to accurately translate your work into whatever international language you require so your work can cross all borders.
HIX Bypass that rewrites your content and transforms it into humanized text that ensures it is undetectable to any AI checkers
There is also an extensive range of templates for every purpose such as summarizing, paraphrasing, writing emails, hashtag generator, sentence expander, Instagram caption creator and many others.
How to Craft SEO-Friendly Articles Using HIX.AI?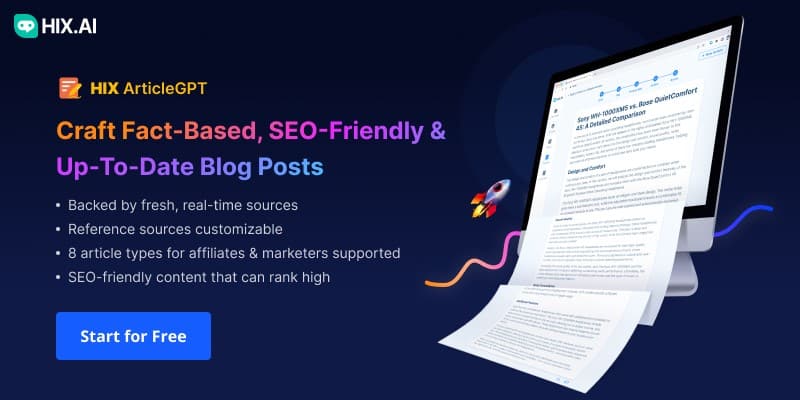 Designed specifically for producing fact-based SEO-friendly articles that rank higher on Google and meet the criteria of platforms such as Amazon, HIX.AI's ArticleGPT effortlessly creates well-researched articles that are optimized for search engines using your target keywords throughout.
ArticleGPT's access to the most current information on the Internet enables HIX.AI to guarantee the trustworthiness of the AI generated content, and confirms it as a leading article writer in delivering fact-based content. Although ArticleGPT utilizes online resources all articles are 100% plagiarism-free and are safe to use anywhere without any concern.
The HIX.AI ArticleGPT is fully customizable with regard to the tone and style requirements you need to convey your message to your target audience in the most effective way possible, and is versatile in its ability to handle the different types of articles required for publication by Amazon such as product descriptions, reviews, comparisons and how-to guides.
Crafting an SEO-friendly article with ArticleGPT is a simple process requiring just a few steps through the HIX.AI intuitive AI writing interface:
Step 1: Provide a Brief: From the drop down menus select the type or style of article you want, along with tone of voice, word count, target audience, and language.
Step 2: Input References and Keywords: In the input box, write or copy/paste your preferred online sources for reference and the keywords to be included.
Step 3: Generate Outline: ArticleGPT will then generate an outline and a title according to the brief and the keywords/references. You can review and manually edit the title and structure of the outline, and add subheadings if desired.
Step 4: Generate the Article: When you are satisfied everything meets your requirements, just click the Generate button and the completed article will be created in a few seconds.
Step 5: Export the Article: HIX ArticleGPT makes it very easy to export the AI generated article to an MS Word.doc, a PDF document, or an application such as Google Docs or WordPress.
Benefits of HIX.AI
HIX.AI has a simple and smooth user interface, the platform is very responsive, the tools are highly efficient, and the quality of the final results is always reliable, making it a perfect choice for all users regardless of technical knowledge or experience.
The other key benefits and advantages of HIX.AI are:
Comprehensive Writing Features:

With over 120 AI tools and templates, HIX.AI is definitely an all-in-one platform that can provide exactly the right tool for any content creating work, whether it is long of short form articles, SEO marketing, academic essays, creative writing, emails or social media posts, HIX.AI can effortlessly optimize the process.

Fast Content Generation:

Utilizing the most advanced AI algorithms, HIX.AI ensures that the content you need is generated with one click in a few seconds, allowing you to complete your tasks faster, improving your overall productivity, and creating more time for other important tasks.

Natural, Error-free Text:

All generated content from HIX.AI is natural-sounding and human-like, and free from any mistakes in grammar or spelling, with minimal editing needed for top-notch quality writing.

HIX.AI has an in-built plagiarism checker to make sure all the generated content is fresh, authentic and original.

Data Privacy:

HIX.AI takes your privacy and confidentiality very seriously, and any transmitted data is secured using 256-bit encryption, keeping it safe from any unauthorized access by unknown third parties.
Final Thoughts
HIX.AI is more than just a tool, it's the ultimate AI writing co-pilot, designed to work alongside you on your desktop, helping you to elevate your content creation to new heights.
Whether you're a blogger, marketer, editor, or publisher, Hix AI is a game-changer that can free you from mundane writing tasks and is not just about just getting things done – it's about getting things done intelligently, so get started with HIX.AI for free today!