The 8 Eye-Opening Advantages Of Having A Responsive Web Design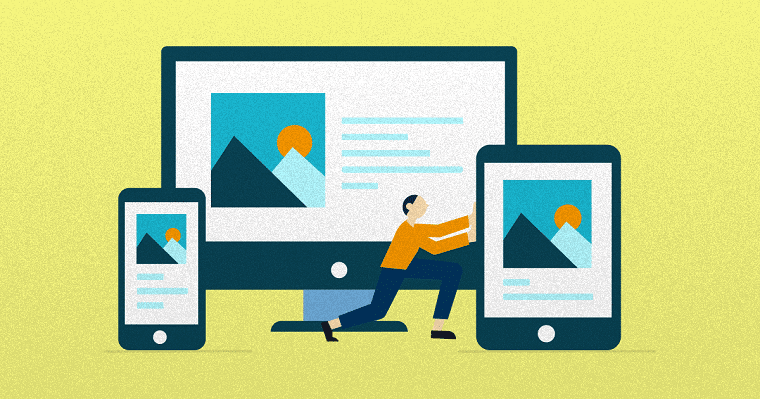 Building a responsive web design relates to making a website accessible on different devices, i.e., mobile, tablets, desktop, etc. Businesses with a responsive web design can deliver an optimal experience to the audience on different devices.
Let's dive into some of the details of website design, like from where it all begins. Audi.com was the first company who launched a website design that was based on its layout.
Before the inception of modern phrases used for website design, terms like fluid, flexible, and elastic were used to define a responsive website.
Later on, Ethan Marcotte gave the phrase "Responsive website design" to describe an appealing website. He used this term in an essay he wrote in 2010.
The title of the book in which this term was used was named "Responsive Website Design." However, there are some principles that a website should fulfill to be called responsive.
Since we're living in the digital world now, several businesses have thoroughly understood the art and science of building a responsive website and the benefits it reaps.
Several web design companies in NJ are building responsive experiences for businesses because, nowadays, being accessible on more than one digital channel is crucial for digital success.
So, if you're someone searching for the advantages of having a responsive web design, this article is curated for you.
From increasing sales to rocking an impactful presence on the internet, your website can unlock several possibilities with a responsive web design. Some of the innovative web
So, dive in as we tell you some of the greatest benefits of responsive website design.
The Top 8 Unavoidable Benefits of a Responsive Web Design
1. Increased Traffic
Nowadays, most companies want websites that perform well on computers as well as mobiles and other devices.
More than half of the traffic on some of the top websites comes from mobile devices.
The importance of a responsive design came into play here. Therefore, having a responsive web design has become imperative for businesses.
Hence, a responsive design is becoming increasingly popular. It offers greater visibility and more opportunities to get traffic from other sources.
2. Faster Development At Lower Cost
Making a responsive website takes considerably less time. Since time is money, a website that works perfectly on mobile will cost you less than a mobile application or an alternative of it and, off-course, reap more benefits than a conventional website.
Even if it turns out to be expensive concerning the development phase, you will be saving money in the long run. How will you be saving money in the long run? Well, you will be getting more traffic that will convert into more leads.
The more business you'll conduct online, the more you'll earn revenue, so eventually, a responsive website will improve your business.
3. Less Time-Consuming Maintenance & Support
If you want a performance-oriented website on both mediums, you will need extra testing and support if you have a different website for different devices. 
In comparison, creating a responsive website design includes testing methodologies to ensure that the website's layout is standard and optimal on every screen.
Having separate websites will necessitate double everything like content strategies, marketing strategies, and administrations. 
Therefore, having a "one size fits all" responsive design will not become a headache for you. So, the best course of action here is to make your website responsive. Your website will be delivering the same goal-crushing experience on the user's mobile in no time.
You will also be spending less time on maintenance, so you will be open to focus on more important concerns like marketing (inbound/outbound) and content creation.
4. Faster Loading Speed
Internet users tend to spend less time on any particular website when they are visiting it through mobile.
Studies have confirmed that most people leave website pages that take more than 3 or 5 seconds to load.
More loading time also increases the bounce rate, which means that the users are more likely to skip your site simply because it took too much time to load.
Hence, while ensuring that your website is responsive, you should also ensure that it is speedy on mobile and desktops. Several articles will guide you on increasing your website's speed on mobile so, I'd suggest your start working on them.
Ensuring that your web design uses the best techniques and strategies to increase its performance can improve your website's loading speed.
5. Consistency in design and brand
Ever heard of the phrase "consistency is the key?" Well, if you haven't, it is the key to success when it comes to digital branding and designing.
Several businesses miss the opportunity to maintain consistency, so their audience tends to skip their website and bounce off to the competitor's site, which provides a consistent experience on multiple devices.
Your website should reflect your brand's core values and essence on multiple devices to ensure a similar experience on both the web and mobile devices.
So, when you have a responsive web design, you offer a similar experience to your customers on both mediums. You're providing the same look and feel across all devices. This is yet another core advantage of having a responsive web design.
6. Easier Analytics Monitoring
If you have different websites for mobile and web, you'll face the hassle of monitoring the analytics of both of them differently. Having a responsive website will help you streamline your analytics monitoring.
When your business website is responsive on mobile, too, you'll be monitoring the analytics of both of them at the same time.
7. Strengthens Your SEO Efforts
Responsive website design is very important for search engine optimization as it is seen as a ranking factor. 
Google is not fond of indexing a scrappy website; hence, if your website is optimized for better performance, leveraging modern technologies, has quality content, and is highly responsive, it will rank higher in the SERPs.
Moreover, SEO is perhaps the most important aspect of your website that needs to be considered as important as the business itself.
SEO is generally the organic way of optimizing websites to appear higher in the SERPs results. The higher your website is, the more it will get exposure, gain traffic and cultivate leads.
Although stronger backlinks, quality content, and keyword optimization contribute to making your website rank higher, there are some extra SEO benefits that Google gives to mobile-optimized sites.
A few years ago, to improve mobile users' results, Google prioritized mobile responsiveness as a key ranking factor. So, here's another advantage of getting a responsive web design. You'll increase your chances of getting ranked higher in the SERPs.
8. More Social Sharing
When you have an optimal website that performs exceptionally well on mobile devices, you can unlock new business opportunities. One such opportunity is the drastic increase in your content's social shares that you'll get once your website is responsive.
While making your website responsive, make sure that you have integrated social media buttons to make it easier for users to share the relevant page with their connections.
Having a responsive design will make it easier for your audience to share the content. This will expose your business to a new audience which will eventually result in more traffic and conversions.
Moreover, these social shares also tend to send positive signals to search engines. Hence, you'll get an advantage over the audience in terms of SERPs rankings.
Over To You
That's all, folks. Here are all the primary advantages of having a responsive web design. I've told you all about its benefits, technical advantages and more. I would recommend that you implement a strategically planned approach towards designing your web design to get the most out of your designing efforts.
By streamlining the designing process, you will easily determine which pages you need to keep, how much content will be preferable, and which pages you need to fix on the mobile display.
Once you're clear of the directions, you can begin redesigning your website to make it mobile responsive.
Moreover, if you're willing to go the extra mile to excite and impact your audience, here's a great article on "The Top 5 Web Design Trends" that you can checkout to integrate the latest design elements into your website.
Author Bio:
Jane Collen is a creative content writer and digital marketer at TekRevol. She works closely with B2C and B2B businesses providing blog writing, video script writing, ghostwriting, copywriting and social media marketing services.