7 Ways to Make an Outstanding Video for E-Commerce Sites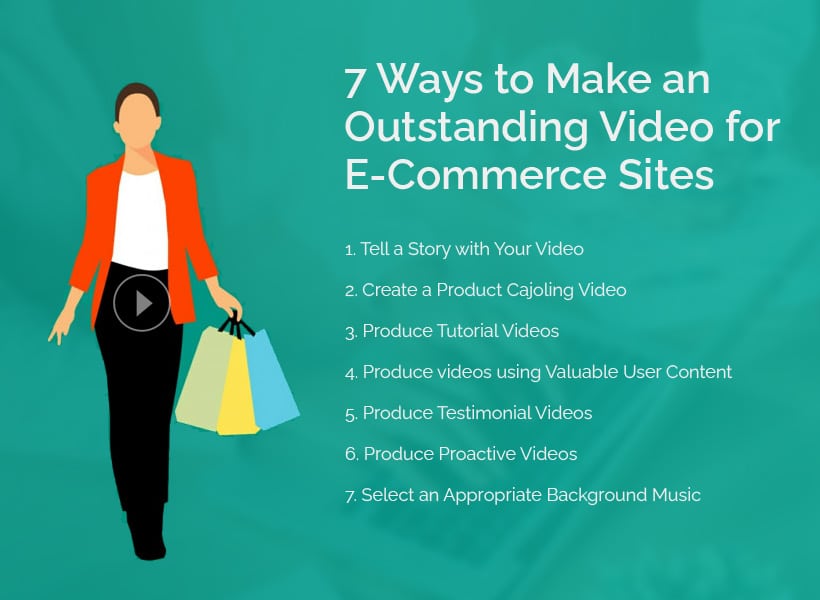 A good video for your e-Commerce site is an excellent way to gain the trust of your customers. Read on to learn how to make a fantastic video for your e-Commerce site.
Due to the high competition for online traffic, e-Commerce businesses have looked for novel ways to attract customers to their websites.
Video marketing is one strategy that has proven to be effective. It not only drives traffic to e-commerce sites, but it also fosters strong relationships with customers.
In this type of marketing, e-commerce businesses must create videos in which they discuss their company. They could make these videos using a free online video maker.
In today's article, we'll go over seven tips for making a great video for E-commerce sites. But first, let's look at why videos are so popular in marketing today.
So, why are videos so popular in marketing today?
The best way to answer this question is to look at the advantages of video marketing.
As a result, video marketing is preferable because:
Companies can use video marketing to educate their customers on how to use their products.
Videos are an excellent way to dispel consumer concerns about specific e-Commerce products.
Videos assist e-commerce platforms in developing rapport with their customers and, as a result, trust with their customers.
Businesses that use video e-commerce may rank higher in search engines.
Finally, videos are more engaging than images, making them more popular for marketing today.
Now that you understand why businesses prefer to use videos for marketing, let's go over some tips for creating a better video.
Tell a Story with Your Video

Prospects may struggle to connect with articles about your company on the internet. It is because of distractions like pop ads that they may leave your site.

As a result, making a video to tell your story is preferable to reading because watching a video is more engaging than reading.
Using an online video maker, you can easily create a video in which you tell a story. The best thing about video is that it allows you to create a touching mood for your audience. You can also convert image to video for your product page, which will include all of the product specifications.

A touching and relaxed mood will entice them to hear more of what you have to say and will keep them watching the video until the end.

Create a Product Cajoling Video

Most customers do not want to go through a difficult process to understand how your product works.

Creating a video for each product is thus strategic in order to help them understand what you are offering.

Furthermore, your video should include instructions on how to use the product and why it is superior to competitors' products.
It is a simple way to persuade them to buy your products and even become loyal customers in the future.

Making your product video as appealing as possible may result in very high sales. Therefore you should consider using enticing language to convince your prospects that your product is for them.

Produce Tutorial Videos

Tutorials demonstrate to your client how to get the most out of your products. As a result, your tutorial should explain how to use your products.

If you are unsure about what to include in your tutorial, solicit feedback from your clients.
The feedback you receive will reveal what they are struggling with. As a result, your tutorial should address consumer concerns about your product.

You should be aware that even new prospects who are considering purchasing your product will be watching.

It would be beneficial if you took them into account in order to get the most out of your videos. You can also create a new video to address them to make things easier.

It will make them feel special, and they will opt for your product rather than your competitor's.

Produce videos using Valuable User Content

Customers must be convinced that watching your videos will provide them with value. Nobody wants to waste time watching ineffective content.

It would be beneficial if you began with an excellent introduction to demonstrate to your clients that your video will provide them with value.

According to research, many online users only watch the beginning of videos to decide whether or not to continue watching.

A good introduction should introduce the problem your customers are experiencing and assure them that they will have a solution by the end of your video.

This phenomenon is what makes videos the most engaging form of content. You could use an online video maker to create your video.

Produce Testimonial Videos

A testimonial video includes testimonies from previous satisfied customers.

When other customers confirm that they have not been disappointed by your products, it immediately dispels potential customers' concerns about the same.

Testimonials can sometimes increase the desire to buy your products and services. As a result, you should try to create testimonial videos to persuade your customers.

You can obtain testimonials by contacting some of your most loyal customers and asking them to speak about their experience with your products.

Produce Proactive Videos

You should make videos that are highly interactive with your customers. It is one method of engaging them with your content.

To create proactive videos, consider asking your prospects open-ended questions that will encourage them to actively participate in your video.

You could make a lot of videos with an online video maker and listen to them to see if they are interactive.

Following your analysis, you should select the most proactive video.

Select an Appropriate Background Music

Having great music playing in the background is a great way to make your video more appealing to watch.

A little background music can help you explain certain concepts about your product. However, not all music is appropriate for your topic.

As a result, it's best if you spend some time analyzing to find the best overall music for your video.

So, here are seven pointers to help you make a great video for your e-commerce website.
Conclusion
Video is being used by e-commerce businesses to market their products and answer consumer questions about the company.
To make the most of video marketing, create a video that provides value to your customers.
Creating a video with Testimonials from other satisfied customers could be a great way to gain the trust of your potential clients.