Why Create eCommerce site WIth WooCommerce Development Service?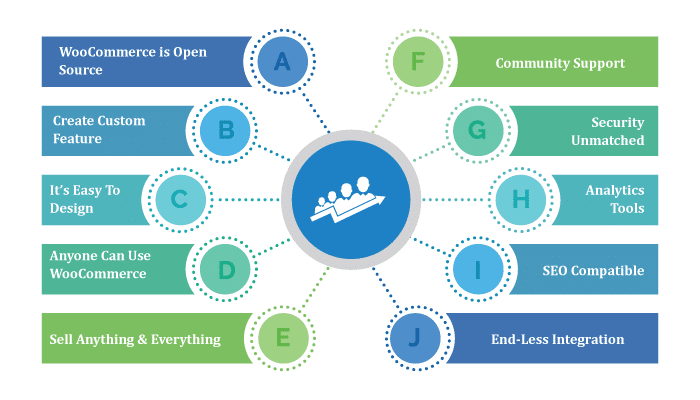 Ecommerce market is one of the largest in the world. And WooCommerce development service with it.
Here's Why:
By the year 2025, it will be worth approximately $7.4 trillion. Platforms like Amazon, eBay, and others have been generating millions and even billions in revenue.
Moreover, the number of online stores are also increasing, as there are anywhere between 12 and 24 million online stores today.
But why sudden rise in eCommerce stores across the world? Well, there are various reason behind it. You see, amazon the world largest eCommerce marketplace was handling over 3.68 Billion Monthly Visitors in 2022 alone. Build a eCommerce website
This clearly shows the amazing audience loyalty and traffic these websites get. And this has attracted a lot of businesses want to develop their own eCommerce store.
So, what technologies or platform should you use to develop an eCommerce store? Well, there is only one right answer to this question and that is WooCommerce Development Services.
In this blog, we shall be discussing what WooCommerce is and why you should use it for your project. Therefore, with this being said, let's get right into it:
What is WooCommerce? eCommerce Development Platform
Before you use it, let's first understand what this ecommerce development services is.
Have you ever heard of WordPress? Yes the CMS platform. WooCommerce is a wordpress plugin, well sort of. And it's a big part of today's WordPress development projects,
The platform is open-source and it's designed for merchants looking to create and handle small to large web stores.
WooCommerce Development Service were first launched in September of 2011, making it older than a decade. With the simplicity it offers and how easy it is to work with, the market for the WooCommerce sky rocketed in no time.
So, now you know what WooCommerce is it's time to look at it's benefits in the next section.
Benefits of WooCommerce Development Service
It goes without saying that there are a range of benefits that comes with WooCommerce development services. And these are also the reason why you should use a WooCommerce to develop eCommerce website.
Therefore, enough said, let's look at the benefits below:
WooCommerce is Open Source

WooCommerce, the most popular eCommerce platform is open-sourced. Being open-sourced it's free for everyone to use.

The client doesn't hae to pay any sort of fees or charges to use it in their website. Considering the fact that it delivers unparalleled eCommerce store development and management, it's quite a deal.

Create Custom Feature

WooCommerce's one of the biggest benefit is that, it comes with a range of plugins that are readily available.

Some of them are paid, most of them are free. The point is, you can use these plugins on WooCommerce to create a custom feature for your online store.

In fact, you can create any feature that you think one, without any hassle. This is what makes WooCommerce stand out of the est.

It's Easy To Design

We are talking about an plugin of WordPress to Make eCommerce website. Therefore, it goes without saying that, it's very easy to design the online store.

In fact, apart from custom designing you can also use free theme or buy the same. It's a big benefit as well as a reason to use WooCommerce.

Let us tell you why:

User Interface and user experience drives user engagement and thus lead generation or sales of the platform. So, with right feature you can attract a lot of customers and convert them in loyal clients.

Anyone Can Use WooCommerce

Not every business owner is tech savvy or knows every line of code ever written. And this means a lot of them don't know what's going on in the back-end when it comes to website development.

However, you don't need to worry about such things when it comes to WooCommerce. Reason being that, it's a low-code platform.

There is little to no involvement of coding. And with the plugins of WordPress, it's even easier. In fact, this is the whole point of a CMS system like WordPress that you don't require any development help.

Sell Anything & Everything

There are some platforms like Amazon which allows merchants to send physical products and other like LinkedIn and Freelancers where users can commercialize their digital offering.

However, with WooCommerce development service you can create an online store where you can do either or both of those.

For instance, you can build:

Membership site
Make appointments and bookings online
Sell subscription-based products
And more

The versatility the platform offers is one of the biggest reason behind it's popularity and wide-spred use.

So, if you want to create an eCommerce platform, we recommend you hire a eCommerce website developer who are familiar with WooCommerce.

End-Less Integration

Calling WooCommerce flexible is an understatement.

It's super flexible and also very, and we mean very compatible with API and other third party integrations. You can find an almost infinite number of third-party software systems via webshop.

Moreover, based on WordPress you don't have to even worry about CRM systems. And other tasks like order management tools and Third-party WooCommerce Shipping Services are also easily managed. All in all, this is quite an option for CRM Development

SEO Compatible

There are millions of blogs on the internet explaining how to make your website or online store SEO friendly.

But why is it important? Well, if you want your website to be search and be found, you need to optimize it.

While there are some platforms that are so rigid that they don't allow SEO optimization at all, there are other with very little compatibility to SEO.

However, when it comes to WooCommerce development services, it's absolutely SEO compatible. This is one of the big reasons to use it in your next online store. Don't you think?

Analytics tools

Here, why you should choose WooCommerce over Magento development company.

WooCommerce development service gives you something no other platform does. And this is analytical power via tools of course.

There are various tools that allows the business owner to analyse client behaviour in order to understand them better and optimize the online store accordingly.

Security Unmatched

Well, in 2023, security is one of the biggest concerns, won't you agree?

But with a WordPress plugin like WooCommerce you have nothing to worry about. The platforms help you with everything including maintaining the security.

Much of the credit goes to available plugins that make it possible. But in any case, it is yet another top reason why you should create eCommerce site with WooCommerce development service.

Community Support

Last but not least, the community support.

You see, when you want to build a eCommerce website, it goes without saying that you want to use the best technologies.

And here, one factor you should consider is community support. Because consider that your developers can experience problems in development process, community greatly helps resolve it.

So, this is one of the biggest reason to consider WooCommerce for your ecommerce site.
Conclusion
WooCommerce development service is popular and in this blog we discussed 10 reasons behind this popularity. So, if you are someone who wants to develop their own eCommerce store and contact website development company for it, we recommend that you do it via WooCommerce.