7 Great Plugins for WordPress Web Designers to Custom Create Website Features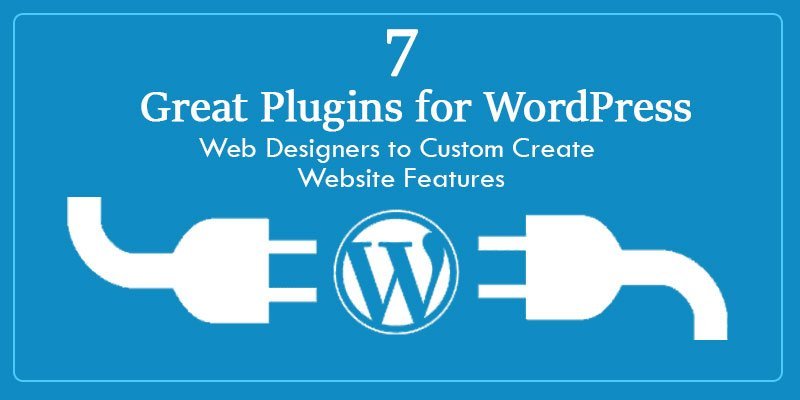 Along with being the most popular blogging platform for many years now, WordPress is also the broadest used CMS platform lately. Many of the corporate websites are now built on this highly user-friendly and feature-rich development platform. One primary reason why WordPress is the most popular platform is that it amply supports custom template and plug-ins.
With its latest features and web designing templates available, it is proving to be a highly flexible and customizable web designing suite to fit the various needs of website designers and developers. Below, we have listed some of the top WordPress plugins which will help add a lot of features and functionality to the website. All these suggested by the top designers from across the Spectrum are free plug-ins.
Akismet

If there is a provision for posting comments on your blog or review website design, then a primary requirement is to make spam-proof, and Akismet will help you to take necessary action against spam. This innovative plugin will help in comparing each comment posted against a pre-set database and will instantly remove those who look like spam. You have the option to review the process and reinstate the genuine comments and add those to the database and restore them.

WPPARSE Lazy Load

This plug-in can load the necessary images quickly during page loading and help save the bandwidth. Lazy loading is a concept in web design, which enables download of images only when the users need them. This considerably reduces the server bandwidth utilization, and the users can start getting the content as soon as they hit the web pages. WPPARSE Lazy Load plug-in can help instantly implement this feature on your WordPress website.

Google Analyticator

Google Analytics is an essential requirement regarding assessing the performance of a website and also to device online strategies of a site. Google Analyticator is a plugin, which can be integrated into your website to be shown on your WordPress dashboard. It will help you understand the keywords visitors used to search for to find out the type of products and services online.

Google Analyticator will add the JavaScript codes as necessary to enable analytics on your WordPress site. The administrator can go to Google Analytics login page and enter the UID to authenticate Google Analytics account and get all the stats.

Instagram

Alongside Facebook, Instagram is the leading image sharing social networking app now, which can be integrated into your WordPress site with the Instagram feed plugin. This enables direct feeds into your website. With this simple integration of Instagram service, you can import images from a user or use images based on a particular hashtag campaign. The designers can also decide whether to display the thumbnails grid of image slideshow and the plug-in also has features as to customizing the color themes, background, borders, the pace of the slideshow, etc.

Events Calendar

This is an essential add-on to any website, especially the social networking kind of websites. The calendar module can extend WordPress posts with a specific Event class, which will allow the users to create different events and add features such as list rendering, event search, calendar view, etc. It also enables to integrate maps. As per the omegaseo.co experts, Events Calendar plug-in is a real boon to those who are building a website of social organizations, clubs, or for someone with regular events running.

Pricing Table Builder

For e-com or other trading sites, it is essential to have pricing tables online, and this unique plug-in will help the WordPress designers to create attractive pricing tables and publish it on the WordPress sites. This is a universal plugin which will work well any of the custom WordPress themes you choose. On installing this plugin and making your first ever pricing table, you can publish it anywhere on the page by simply adding a shortcode. You can also easily edit it from time to time as needed.

HTML5 Audio Player

If you plan to design an entertainment site, then embedding audio may be an essential requirement, for which this brilliant WP plugin will be handy. This can create an entirely featured audio player on your page. This audio player supports different formats and tracks. As in case of the above, HTML5 audio player plugin also can be inserted into your site content with easy shortcode embedding. This HTML5 plug-in can work on all the available browsers. The Lite version of this audio player comes free. There is a premium version also available at a minimal cost, which has a lot of additional features.
The options are not just limited to above, but here we have discussed only a few major ones. To name a few other featured, but free plug-ins are WPTouch, JetPack, NextGen Gallery, etc., which all helps easy integration and optimum functionality to your website.