Building a Social Network App Using WordPress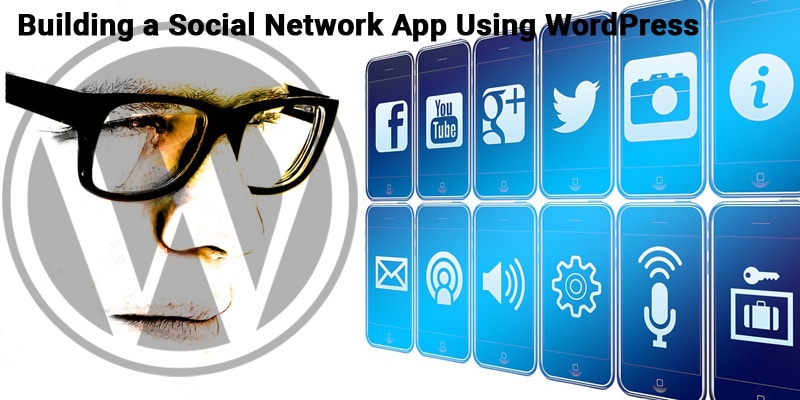 WordPress is popular as being the most easy-to-use platform for building your own social network. Users can register, login, create extended profiles, connect with friends.
Share status updates and follow site-wide updates, send private messages, and much more, just like any other social network using the WordPress social network. To build a social network app with WordPress you need to use the free BuddyPress plugin.
What is BuddyPress plugin and what does it do?
Not only is BuddyPressa powerful social networking solution that is flexible in working with any standard compliant WordPress theme but also integrates seamlessly with WordPress.BuddyPress is an open-source platform that is extendable through add-ons.
It provides an intuitive and user-friendly interface. It helps build social networking sites for online business, institutions, niche communities, and other organizations.
They can create their own personalized social network for team members, customers, and friends for communicating and sharing content.
Why you need to build a social network app for your site?
As apps provide greater convenience of use over sites and services, people spend 95% of their time on mobile using apps, according to the recent stats.
Apps offer easy access to their favorite content and services to smartphone users and several other additional benefits to you as the owner of the site.
Additional benefits for app developers in India include equipping them with a direct communication channel that allows you to send relevant push notifications to users, reminding users to log into your site with your app's icon acting as a constant reminder on their home screen, ensuring your presence in App Stores, allowing native social sharing and advertising, and providing offline access.So, after building your community site using WordPress, you can build a mobile app for it with BuddyPress.
How to build a social network app with WordPress?
Three basic steps help you build a social network app with WordPress:
First step
The very first step for building a social network app with WordPress is to choose a mobile optimized theme built for BuddyPress. BuddyPress has a simple setup using which the users can launch a social networking site within minutes.
On completing the initial setup, you need to choose a theme for your site. The layout and design of the chosen theme should be compatible to your site and mobile app.
Here we discuss some of the best BuddyPress themes, their mobile features and design to help you start.
BuddyApp theme
Mobile-first community WordPress theme that features a mobile-optimized design
Ideal for any public community – Intranet or Extranet
Has blazingly fast AJAX-based search, live chat, and live notifications
Allows easy upload and sharing of files with its file management functionality
Numerous customization options including three different menu locations
Boss theme
Fully responsive theme designed for BuddyPress-based sites
Fully responsive design that looks great on all devices
Flexible layout and wide range of customization options
Ships with the Paid Memberships Pro plugin
Integrates with all of the popular payment gateways including PayPal, Stripe, and 2Checkout
Makes it easy for users to join your network through social login integration
You can modify the theme using Visual customizer even if you don't know how to code
Allows you to extend your social network's online presence to other native mobile apps
KLEO theme
Multipurpose BuddyPress theme
Over 12,000 sales
Membership-ready from the start
Allows site owners to setup membership levels
Allows members to make friends, share ideas, and get live alerts
Mobile responsive and retina ready design
Various customization options available for the design
For easy customization it has a Visual Composer drag and drop page builder
Enhances UX with live AJAX BuddyPress notifications
Second step
The second step involves building your Mobile App with Canvas. You can extend your site's online-only presence by adding a native layer to your mobile website for creating a social network community mobile app for both the iOS and Android platforms using Canvas.
Setup a fully functional mobile app with your existing BuddyPress theme. Your design customizations and branding remain secure with this. You can configure, build, and publish your mobile app using Canvas.
The native layer added by Canvas to your mobile website that includes a customizable native launch screen, page preloading, native tab bar, push notifications inbox, advanced control panel for push notifications, support for user logins, support for geo-location, and a built-in notifications inbox.
Thus, it combines the best features on offer with the mobile web and mobile apps which gives your app the advantage of having a strong presence in the iOS and Android apps stores.
Other advantages include caching the content, quick navigation UI elements, options for native mobile advertising, animations, and front and center screen on the viewer's mobile device.
Third step
The third step involves previewing the final result. After completing the configuration of your app, you need to test your app to make sure it works and looks as per your expectations.
Check that the interface is rendered by a beautiful theme and is easy and fast for users to navigate between the main sections of the site.
Conclusion
You can rely on BuddyPress to provide a robust, feature-rich solution that helps you build communities and social networking platforms.
These can then be used for wide range of functions such as collaborating your massive network of employees across the globe for a project or help your local sports team get together.