6 Best WordPress Plugins for Bloggers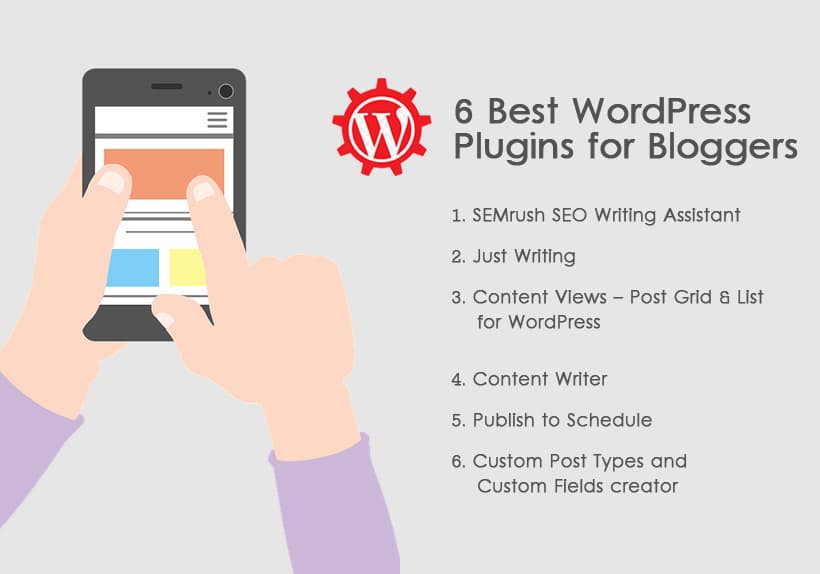 If blogging is something you take seriously, then this blog piece is for you. For blogging one of the needed ingredients are tools to connect with a large audience and safeguard your website from frequent risks.
A good blogging platform is WordPress. You can choose from a wide variety of themes and WordPress plugins for bloggers, which makes it simple to increase the functionality of your website. Additionally, social media plugins may be necessary to expand your audience and speed up your website.
Let's now understand which WordPress plugins are very essential for bloggers in particular.
SEMrush SEO Writing Assistant

One of the top-rated WordPress plugin for author and blogger-based websites is SEMrush SEO Writing Assistant. It offers premium-quality features and gives every author or blogger superior WordPress performance.

This plugin allows you to categorize your target audience so they may register for your online presence and have access to the authoring and management of your content. It was designed and developed to fulfill all the high demands and criteria.

SEMrush SEO Writing Assistant is incredibly user-driven and easy to use, so even users with limited WordPress and programming skills won't encounter any insurmountable challenges.

Just Writing

With the help of this simple-to-install and use product, you can edit your work, check your spelling, and change the paragraph style in the quickest and most professional way possible. You require the Just Writing plugin to operate a precise and pleasant writing platform that will be quick to respond and free of any flaws or distractions.

Along with the most essential functions, such as the ability to disable the fade effect, conceal the word count or editor mode bar, localize the toolbar to the center of the screen, add the Preview button, rearrange the button list, and, lastly, add DFW links to pages and posts. With this if you want to make website in WordPress then you can hire a WordPress development company.

Content Views – Post Grid & List for WordPress

With its sophisticated structure and writer-optimized nature, Content Views – Post Grid & List for WordPress is a modern and highly dependable plugin that is available if you want to assure the easy and successful operation of the right to left language mode in your website.

This plugin is very useful for authors and publishers who wish to include content written in different languages with both the traditional left-to-right and right-to-left writing directions on the same posts or pages.

Content Writer

One of the most practical and effective WordPress plugins for bloggers and writers that can be fully grasped during the entire process of any WordPress-powered website content display and management is Content Writer, which has been checked and verified time and time again.

Content Writer can easily handle your content and provide you with alternative word choices anytime you pause. In addition, the Content Writer will highlight the necessary words and their forms, identify the writing tone, and provide additional advice about it.

Publish to Schedule

A well-organized and expertly designed written content scheduling strategy called "Publish to Schedule" can be used to begin reader engagement and establish any writing- or blogging-centric web platform. It is powered to generate simplicity and outstanding performance in contrast to any author- and writer-based and WordPress-enabled website.

You only need to write excellent, thoroughly researched content for your website and choose how much and when to post it with this plugin. The plugin will handle the rest, scheduling the necessary content for publication in the future.

Custom Post Types and Custom Fields creator

Another highly regarded and extremely useful WordPress plugins for bloggers is Custom Post Types and Custom Fields Creator. It combines technologically cutting-edge design with excellent and flexible functionality.

A useful tool at the disposal of any writer to display current and target word counts for the ongoing works and update them whenever it is necessary has been carefully designed with all the features of lightweight nature and user-friendliness in mind. Additionally, you can work on several writing projects concurrently and have the draughts of those projects published. With this more services like PHP, Laravel, Asp Dot Net then you can contact a leading software development company in USA.
Wrapping Up
A great experience can come from blogging, especially if you are passionate about the topic. Even better, you can make it your company. You'll probably need a few WordPress plugins to help you get the most out of your site, whether or not your objective is to monetize your content.
Hope you liked the article above and the list of top 6 WordPress plugins that every blogger should have.
Happy Blogging!!