5 Ways to Improve your Businesses Web Design in 2023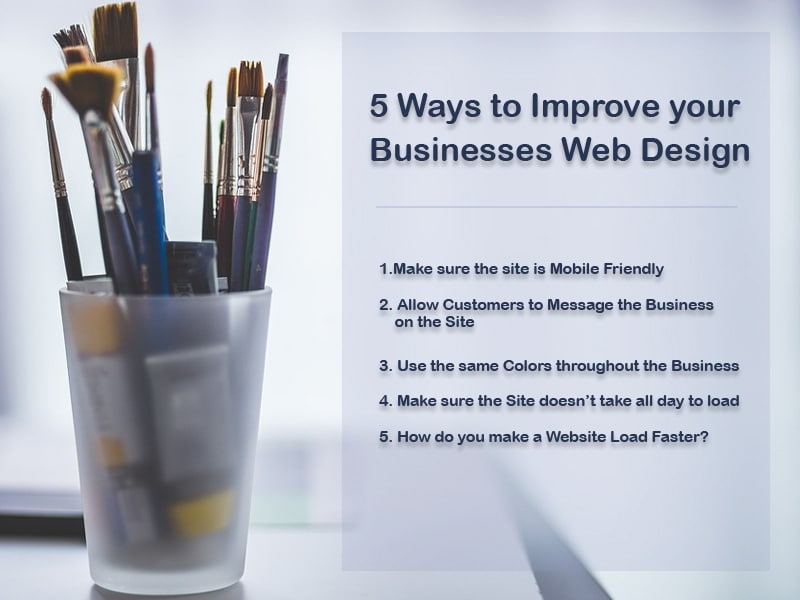 Nowadays, it's hard to find a business that doesn't have a website. A website can be used for many different things like to sell products and services, to let people know about promotions, and to allow new and existing customers to engage with the business.
Making sure the website looks good and that users can easily navigate through the site's pages is vital. A poorly designed site can have a damaging impact on a business. So keeping it up to date and making sure visitors can find the content they want is critical. A badly designed site will not only affect the way people look at your business, but it will also affect where your site is ranked on major search engines. For businesses that want to stand out, their ranking on sites like Google should not be underestimated.
If you want to save money there are plenty of apps, software, and websites that will help you create your own site yourself, however, most successful businesses hire a professional web design company to do the work for them. So, to improve your website's design, we have combined these few tips so that can help you bring it to the next level.
Make sure the site is Mobile Friendly

Keep in mind, that the majority of searches online these days are made from mobile devices. If the website is not developed so people can't access it on a mobile device, you've lost more than 50% of your visitors straight away! Although most people will be able to gain access to these sites with a mobile device, it won't look good on their small screen. This will make it extremely challenging for the visitor to navigate themselves around the site.

When people talk about mobile-friendly websites, it means a site that manages to grow and shrink depending on the size of the device the visitor is using. In web design, this is known as responsive design. Many predict that down the line will be implemented into all websites, but it might take some time. However, it seems like all big businesses these days are already using mobile-friendly websites.

Making sure your website is mobile-friendly can have an effect on your Google ranking. Google is constantly making changes to its algorithms, and making sure your website works well on mobile devices is one of the biggest alterations they have made in recent years.

Just because the website looks good on your smart device, consider checking it out on other devices to make sure it appears the way you want it to look.

Allow Customers to Message the Business on the Site

Most businesses publish their contact information on their website. There is normally a "contact" page displaying the company's telephone number, email address, postal address, etc. However, creating a text field that allows customers to input information and send it directly to the business encourages customers to engage with the company.

Although these text fields have been around for years and it is a simple change that can easily be made, it can prove extremely effective. When potential or existing customers interact with the business, it can provide the company with critical information. This information can be used to understand exactly what their clients are looking for. Customers can use these text fields to discuss problems they have with a certain product or service. Providing good customer service will help grow a business.

If you do decide to add a text form to the contact page of the website, don't forget to add an extra text field so the visitor can provide you with their own contact information. Make sure you ask for the person's name and email address so one of the people working in the business can follow up.

Use the same Colors throughout the Business

Most businesses understand the importance of branding. By implementing the company colors into the design of the website can help create awareness. This will help your company stand out, and help people to recognize it.

Most successful companies use the colors of their business's logo throughout the design of the website. This is often used in the background of the site, the header, the footer, or even in the navigation bar. Make sure that the colors used still allow the content on the site to remain legible.

Make sure the Site doesn't take all day to load

We have all clicked on a website that takes too long to fully load so instead of waiting around to see the content we just click the "Back" button instead. In web design, first impressions are key. Having a sluggish site can have a terrible impact on a business so web designers have to understand the importance of a fast loading site.

The users' experience on a website will have an effect on the site's ranking on major search engines. Recent studies showed that 53% of mobile users will leave a website if it takes longer than three seconds to load. Although load speeds are important for any website, having a slow-loading website for a business could prove extremely costly.

Websites that are slow to fully load tend to have a very high bounce back rate. If your site has a very high bounce back rate you can expect it to drop on Google.

How do you make a Website Load Faster?

To help increase the speed of your website, here are a few tips:

Avoid using animation: Items on a page that use flash technology can cause the user all sorts of issues. Not everybody has flash on their devices, and even if they do, it can still slow down the site.
Coding errors: This is a common problem people face. Consider sending your site to another experienced designer before you publish it to the web to see if there are any coding errors.
Images: Consider cropping or resizing any large images on the page. Also, avoid using multiple images as they can take a long time to load.
Do not use background music: Although very few sites use background music anymore, if you are, perhaps it's time to delete it, it is 2023 after all!
Avoid using pop-up boxes.
Consider changing your web hosting company: Not all web hosting companies offer the same service. If you think the reason why your site is taking ages to fully load, consider changing your web hosting provider. There is lots of competition out there, so you are bound to find a company that can provide you with a faster service.
Avoid using long pages: If most of your pages are long, especially the homepage, visitors are unlikely to read all the content and it might cause your site to take a long time to load.
Not everybody has a fast internet connection so consider testing the site out on several networks before you officially publish it to the internet.
Conclusion
Along with a well designed website, having a social media profile for the business is also very important. It is a great way to get your customers to interact with the business, it helps you find new customers and it can be used to increase the amount of traffic your website gets. By providing content on your social media profile with links pushing people towards the company's website can have help.