5 Essential Reasons You Should Be Using A Responsive Website Design Nows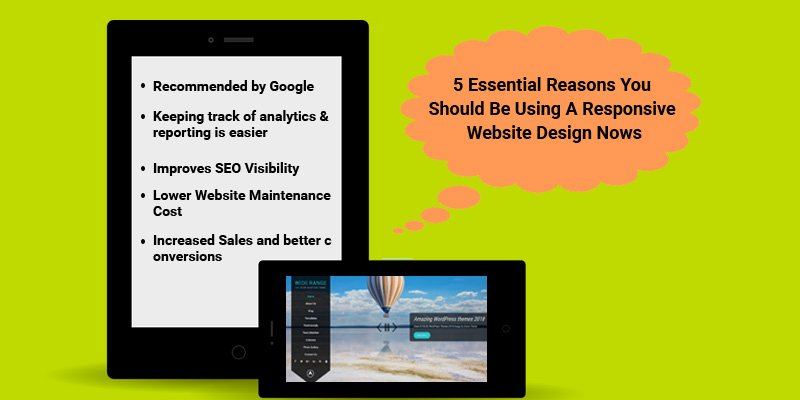 Just like a book is judged by its cover, the credibility and reputation of a business is judged by its website. Thus, it is important to have a professional website design that is impressive, clean, and keeps up with the latest web trends.
A good way of doing this is, having a responsive website design. But what is a responsive website design?
A responsive website adapts to all devices irrespective of the screen size and gives users an optimal experience without any interference.
So, users can view your website on any device be it tablet, ipad, mobile phone etc. without any distortion or change in site's general appearance.
With the increasing use of mobile devices and proliferation of web applications on ipads and tablets, investing in a responsive website is not an option rather a must-have. Take a look at some statistics:
Metrics don't lie:
As per searchenginewatch, 67% of users claim that they would prefer purchasing from a mobile-friendly website.
By the end of 2018, mobile devices are projected to reach over 79% of global internet use.
Further, 57% of internet users stated they will never recommend a business with poorly designed mobile website.
83% of mobile users stated that a website must provide a good user experience across all devices without any interference.
Lastly, it has been observed, average smartphone conversion rates are up 64% as compared to desktop conversion rates.
Based on the above statistics, we can say that a responsive website design is a necessity to survive in the present competitive digital market. Still not convinced?
Take a look at 5 essential reasons why using a responsive website design is essential:
Recommended by Google
As per the Google, responsive web design is the most recommended mobile configuration and has been referred as the industry best practice.
The reason for this thing is, all responsive design websites have one URL and the same HTML opposed to a separate mobile site that has a different URL than its desktop site.
In case of a responsive site, it is easily manageable and efficient for Google as well to index and crawl through the various web pages and organize content.
Whereas in case of a separate mobile site, Google also needs to crawl and index multiple versions of the same site.
Besides, content that is available on one responsive site is much easier for users also to engage, interact, and share.
Keeping track of analytics & reporting is easier
Maintaining two separate website means you need to keep track of all website metrics separately. Again, when you have a responsive website design, you don't need to spend much time keeping the record of all your key metrics such as user behavior, customer journeys, conversion rates, bounce rate, and no. of redirections between your sites.
Thanks to website analytics tools like Google Analytics, wherein you can manage responsive reporting easily.
Besides, for easy monitoring and analysis, you also have the option to consolidate all your key metrics into one main report. Thus, having a single responsive website certainly simplifies your monitoring process and greatly reduces the time spent.
Improves SEO Visibility
As per the announcement made by Google on April 21, 2015, the search engine giant will be marking mobile-friendliness also as a ranking signal.
Thus, having a responsive website also increases your website visibility in the search engine results. To climb up the ladder in the search results, quality content is of prime importance.
With a responsive website, you don't need to be worried about content duplicacy whereas when you tend to have a stand-alone mobile website for your desktop version, you may face this issue and this can have a negative influence on your search ranking.
Moreover, to manage your responsive website, a single set of hypertext links works well and this also allows you to focus on link outreach efforts with more ease as all your efforts will be focussed on a single site.
Lower Website Maintenance Cost
Another benefit of using a responsive website is, it offers a lower maintenance cost opposed to multiple versions of a single website.
Maintaining two separate versions of a website requires two administrative interfaces, different content strategies, different design teams thus resulting in more expenses.
In contrast, with a responsive website design,"one size fits all"approach works and provides an optimal experience on all devices irrespective of size.
A responsive website is more streamlined, easily manageable, and calls for less complications for designers, developers, business owners, and website users.
Again, testing across different websites also adds up the development, support and overall maintenance cost. Moreover, to keep up with the latest website design trends, having a responsive website design is essential.
Increased Sales and better conversions
Lastly, a single and secure professional website design can dramatically increase your conversion rate, as users get a seamless site experience across all platforms without any need of redirection.
On the contrary, when you have a separate mobile site, users get redirected to multiple sites and it is more likely to frustrate the users and result in an increased bounce rate.
Reason being, when users are redirected to device-specific sites, it takes them longer to process as they are not familiar with the navigation and there are more chances that it turns users away.
Whereas a responsive website with a unified design, easy navigation and functionality creates a consistent look and feel that results in better conversions.
Final Thoughts
Having a well-designed responsive website keeps you ahead of your competition, save you tons of your money, maintenance time, performs better and is also helpful in converting and retaining new customers. Have you invested in a responsive website design?