5 Awesome Plugins For eCommerce WordPress Stores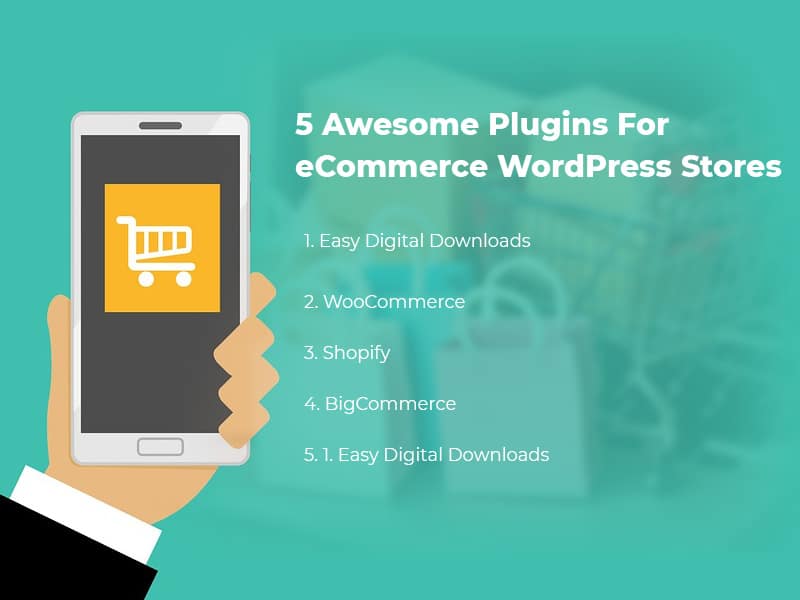 If you have an eCommerce site you are about to launch, be sure you have the best plugins to power that online store. But how can you tell which ones are the best for your needs? In this article, we will look at what requirements you should be looking for in a quality WordPress eCommerce plugin and the five best ones to try. We'll even review the pros and cons of each to assist you in making an informed decision.
What Features Do You Need?
As you can imagine, there are a ton of eCommerce WordPress plugins available. Some with more features than others. But what are the most important elements that will make your online store stand out from the rest? Here are the main features you should be looking for in a plugin to be integrated into your digital store.
Design/Customization
The visual look of your store is what will attract customers. It has to look professional and properly reflect what image you are trying to project. Since the first point of contact between you and a potential customer is your store, the way it looks is vital. From the standpoint of the eCommerce store owner, you will want a plugin that is customizable and contains several templates to achieve this.
Payment Solutions
This is probably the most important part of any eCommerce plugin. The one you select should provide easy access to your preferred payment gateways by default with the use of an extension. The most common payment options are the right way to go and if your site services specific geographic locations, ensure that the payment options used in that part of the world can be accepted at your site.
Apps/Integrations
One hurdle that some eCommerce store developers encounter includes issues with third-party apps (such as WooCommerce Etsy integration app). To keep things moving smoothly in your digital store, confirm that the apps you intend to use such as email marketing services or accounting software are compatible with your eCommerce plugin. Failure to do this could render your operation inoperable which defeats the purpose of an online store.
Support Options
Finally, the best plugins with the exact features you are looking for are only as good as the customer support service that comes with them. A strong support service that can be reached anytime, for anything will not only save you money but will ultimately keep your online store in business should a glitch of some kind rear its head. Good quality support reduces downtime and prevents huge losses.
The Five Awesome Plugins You Need For Your WordPress Store
Easy Digital Downloads

This is a plugin that enables you to sell digital downloads online with ease. It is very easy to understand and implement and has the features that can give your online store a unique and professional look from the moment a visitor lands on it.

Pros
There are many more pros to Easy Digital Downloads than cons. For example, the plugin is designed specifically to sell digital products. It is very easy to use, and has hundreds of extensions, including ones for marketing. It will work with any WordPress theme and has an amazing support service.

Cons
This is not the plugin for you if you intend to sell non-digital goods. A third-party add-on is required if you are thinking of adding external products or affiliate products.

WooCommerce

If you've already heard of this plugin, there is a good reason for that. WooCommerce is the most popular eCommerce platform on the planet. In addition to having a full library of available add ons and themes, WooCommerce has a developer community behind it.

Pros
As mentioned, there are a lot of extensions and themes available for full customization of your eCommerce store, you can sell both physical and digital products, as well as external and affiliate products. WooCommerce has a complete inventory management system, built-in support for popular payment gateways, shipping options, and a solid support network.

Cons
It is a bit overwhelming with the volume of options and add-ons available. The theme selection is great but sometimes complicated to get the right theme to work right. Scalability is possible but requires moving to a managed hosting provider.

Shopify

This is another well-known eCommerce platform that is technically not a plugin but a standalone solution. This means that when you add Shopify to your WordPress eCommerce site, it will do virtually anything you need it to do.

Pros
This platform is also too easy for beginners to use and it supports both physical and digital products. There is a full inventory management component, plus payment and shipping features which permit acceptance of credit cards either online or in person. This platform also integrates with Facebook and Pinterest so you can launch stores on both sites.

Cons
There is a monthly platform fee and some pressure to utilize the in-house Shopify Payments platform.

BigCommerce

This is a completely hosted eCommerce platform that integrates seamlessly with WordPress. This makes embedding products in WordPress very easy and the platform creates several different pages automatically for you to choose to include in your digital store.

Pros
With extremely high-performance scalability, having your eCommerce apart from your other content means less maintenance. BigCommerce permits sales across many other social media streams, and there is no transaction fee.

Cons
There are only so many integrations available making this a limited platform. Plus, the plan you choose will have an annual sales threshold. Be sure to get the right plan or you may end up having to upgrade.

MemberPress

Looking for a way to sell subscription-based digital products and services online? MemberPress is your best bet as it happens to be the best WordPress membership plugin online.

Pros
This lets you sell subscription-based products and features a powerful access control panel you can completely personalize. There is also a built-in course builder that permits you to create courses to sell. There are content dripping options and easy integration to WooCommerce and more.

Cons
The main downfall to MemberPress is that it has limited payment options and the pricing options available are based only on annual rates.
Final Thoughts
There you have it! A quick look at five of the best WordPress eCommerce store plugins. If your goal is to either start up a new online store or expand your existing brick-and-mortar storefront into the digital world, these WordPress eCommerce plugins will get your business noticed online.