10 Excellent WordPress Plugins for New Websites or Blogs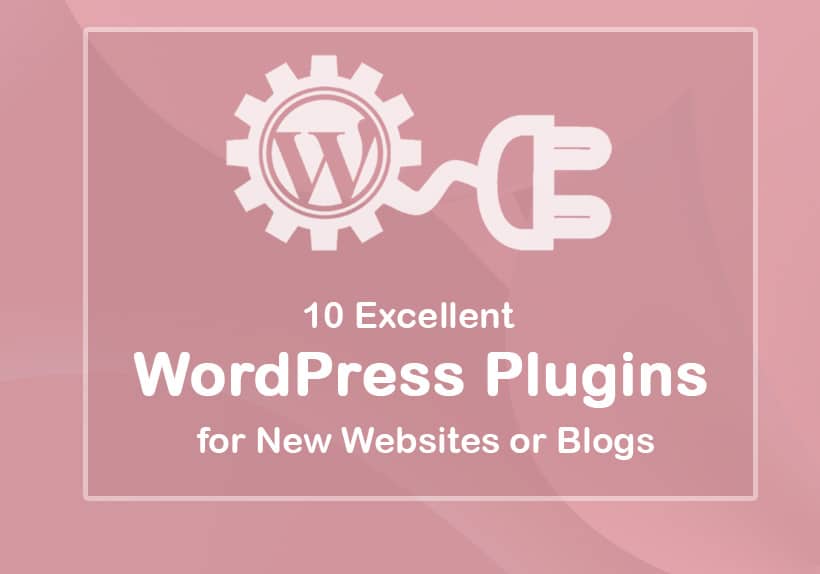 When starting a new blog, one of the most important steps is picking the best WordPress plugins. These plugins are what help your website run smoothly and provide you with all of the extra features that make your site stand out from other blogs. However, with so many different options to choose from, it can be difficult to determine which ones are really worth using.
There are several key factors to consider when choosing WordPress plugins for your website or blogging needs. First, you need to assess how much time and effort will be required to set up each plugin and maintain it going forward.
In general, the more complex a plugin is, the more work will be involved in setting it up and keeping it running properly. Therefore, you need to evaluate whether or not the benefits of the plugin are worth the work required to use it.
You should also consider what type of features you would like your plugins to provide. Some WordPress plugins are designed specifically for certain tasks, such as improving SEO or providing security protection.
Other plugins are more general and can be used in a variety of situations. The key is to find the right mix of helpful features and ease of use, so that you don't spend too much time setting up your site or dealing with technical issues down the road.
All of this and more will be covered in the article details below.
10 of the Best WordPress Plugins for a New Website or Blog
Ultimately, when choosing WordPress plugins for your blog, it's important to do some research and assess which options will best meet your needs. With the right set of plugins installed on your site, you can create an engaging, user-experience while also having full control over your site.
To get started in the process, we recommend you consider each of the ten plugins listed below.
WordPress SEO by Yoast

This plugin is essential for any WordPress blog, as it helps optimize your website's content and improve its ranking on search engines like Google. The plugin features an easy-to-use interface that allows you to edit your title tags, meta descriptions, slugs, canonical URLs, and more to help boost your site's search engine performance.

Akismet

As the name suggests, this plugin is designed to help filter out spam comments from your blog posts. It uses a complex algorithm to detect spammy comments and keep them from appearing on your site. In addition to helping protect against spam comments, Akismet also has other useful features like bulk moderation and detailed statistics reporting so you can keep track of everything going on with your comments.

Jetpack

Jetpack is a comprehensive plugin that offers a wide range of useful features to help improve the functionality and performance of your WordPress site. Some of its key features include security enhancements, social media sharing tools, image optimization, site stats reporting, and much more. Whether you're looking for basic blog functionality or advanced features like analytics and marketing tools, this plugin has something for everyone.

Yoast Google Analytics

As the name suggests, this plugin helps you easily integrate your WordPress site with Google Analytics so you can easily access detailed analytics data about how visitors are interacting with your site. The plugin makes it simple to set up custom tracking events as well as tracking goals and ecommerce data so you can get a full picture of your site's performance.

Smush Image Compression

This plugin is designed to help optimize the images on your WordPress site, reducing their file size without negatively impacting their quality. The plugin will automatically compress all images as they're uploaded to your site, helping reduce page load times and save space on your hosting account. And because it uses lossless compression techniques, there's no impact on image quality either.

UpdraftPlus Backup & Restoration

As the name suggests, this plugin helps you easily backup and restore your WordPress site in case of any issues or technical problems that might arise. It makes it simple to set up automatic backups as well as store them in the cloud for easy access. The plugin also features options for scheduling and restoring your backups, so you'll have everything you need to protect your site's data in case of an emergency.

Limit Login Attempts

If you're concerned about security on your WordPress site, this plugin can help give you peace of mind by limiting login attempts from potential hackers or unauthorized users. It essentially blocks a user after they exceed a certain number of failed attempts to log in, helping prevent brute force attacks that could otherwise lead to data breaches and other security issues.

WPForms

This is one of the most popular contact form plugins available for WordPress, making it incredibly simple to create custom forms with drag-and-drop ease. Whether you're looking for a simple contact form or something more complex like online surveys, this plugin makes it easy to create and customize forms so your visitors can easily reach out to you with any questions or concerns.

Google Analytics for WordPress

This plugin connects your WordPress site directly to Google Analytics, giving you access to detailed reports about how your content is performing on search engines and other platforms. It features options for setting up custom tracking events as well as filtering data from bots, search engines, and other sources that might otherwise impact the accuracy of your analytics data. And if you want even deeper insights into your users' behavior, there's also an option for connecting with MonsterInsights for even more robust reporting capabilities.

Akismet Anti-Spam

Whether you're looking for a plugin that helps with spam comments or emails, this plugin is designed to block unwanted messages while allowing legitimate suggestions through. It's incredibly simple to set up and use, making it one of the most popular anti-spam plugins on the WordPress platform. And as an added bonus, there's even an option for connecting your site with Gmail so that you can receive real-time notifications when unwanted content is detected. With all these features in one convenient package, it's easy to see why this plugin has been trusted by millions of users over the years!
Choosing the Best Plugins for Your New Blog
As tech experts, we highly recommend using WordPress plugins as an important tool for building and maintaining a successful blog. These handy tools can help you add extra features, improve site performance, and maintain security while keeping things simple and straightforward.
So if you're ready to start blogging like a pro, be sure to explore all of the great options available when it comes to WordPress plugins!