12 Best WordPress Plugins for a More Powerful Online Portfolio
Share samples of your work easily with prospective visitors, customers, and employers. Simply create an online portfolio and show off your work and your skills in one place. Out of the different ways to build a digital portfolio, always choose a plugin for your WordPress site.
That's because the addition of gorgeous themes, video integration, and other rich features present in WP plugins help you create a great online portfolio without any difficulty.
The question is, which WordPress plugin is the best when it comes to building an online portfolio? Check out the twelve best options available for WordPress users below.
Ultra Portfolio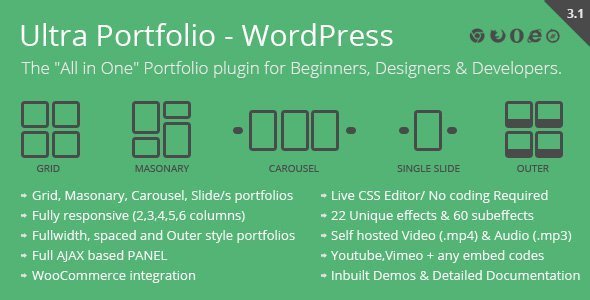 Get a flexible yet powerful portfolio plugin with Ultra Portfolio – one that provides lots of diverse design options when it comes to building the portfolio of your dreams. Create unlimited layouts for all your portfolios.
This plugin is the perfect choice if you want portfolios that are not only compatible but look great on mobile gadgets.
Integrating eCommerce capabilities into your portfolio items is easier than ever as the Ultra Portfolio plugin is compatible with WooCommerce. Use the one-click setup to begin your work quickly and easily.
Change the design and layout of the plugin according to your discretion, and use it to create eye-catching CSS effects. Improve the typography of your portfolio, thanks to the inclusion of Google Fonts.
Colio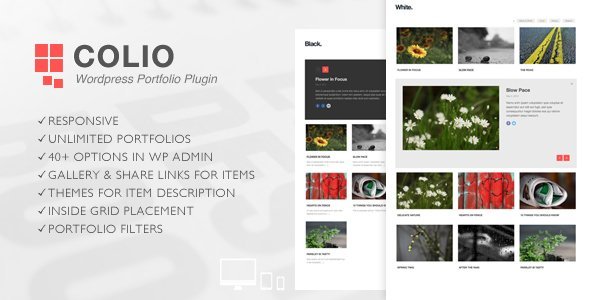 Create an unlimited number of portfolios, all tailor-made according to your specifications with the Colio plugin. Choose the number of columns and alter the design as per your will in this fully responsive and beautiful WordPress plugin.
Access the admin panel and use over 40 different settings to ensure your portfolio works exactly like you planned. Increase the usability of your portfolio by including a filter feature.
Manage things more easily by assigning separate post types to separate portfolios. This plugin makes your portfolio pop even on smaller screen devices
Nimble Portfolio


If you're not ready to use portfolio website builders you can transform a simple WordPress website into an amazing-looking portfolio for showcasing your styles and projects using this free plugin.
Easily put up your latest works, client logos and other media, including videos, on this portfolio to grab the attention of customers. Choose the option to group your content and present them on any page or past as per your choice.
Nimble Portfolio makes any media look great on all devices, irrespective of the size of the screen. Know that this plugin is supported by every kind of content, including custom posts, normal posts, or even WooCommerce product listings.
Go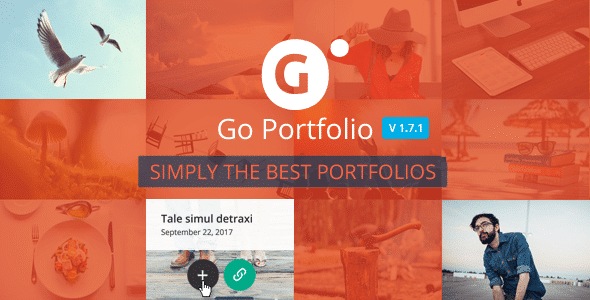 One of the most popular and powerful portfolio plugins for the WordPress platform, Go provides a huge number of features, all aimed at helping you create memorable portfolio pages. Create custom post types within this plugin.
Face no trouble when you begin using this plugin due to the inclusion of 38 incredible ready-to-use designs with demo data. This plugin is compatible with the Visual Composer plugin for WP, a drag-and-drop page builder.
Combine these two plugins for a stunning portfolio – one that comes with drag-and-drop features. Access an unlimited number of colors along with more than 600 Google fonts when styling your portfolios.
ZoomFolio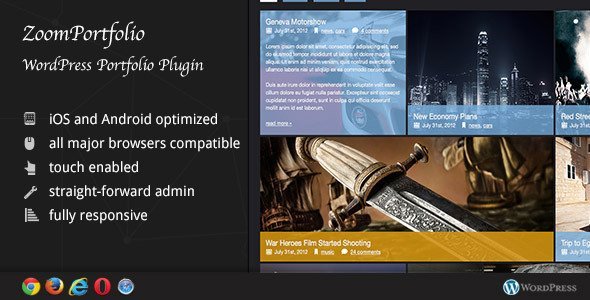 Tired of the same old, boring portfolio designs? How about something more contemporary? Pick ZoomFolio, a fully loaded and futuristic WordPress plugin.
What's unique about this plugin is that it makes use of the custom post type option found in WP to help you form a stunning portfolio directly on your website.
Access the shortcode generator found in this plugin to customize the design of your portfolio without any kind of hassle. This portfolio plugin makes use of CSS3 technology.
Use this to your advantage for showcasing some astounding 3D effects in the browsers that are supported by it. Since ZoomFolio is an SEO friendly plugin, use it to ensure the content you worked so hard to create gets the necessary level of exposure in search engines such as Google.
This plugin is properly optimized for all types of modern gadgets, which comes in handy when you want your portfolio page to look good either on your customers' iPhone, iPad, Windows OS, and Android powered devices.
Grid FX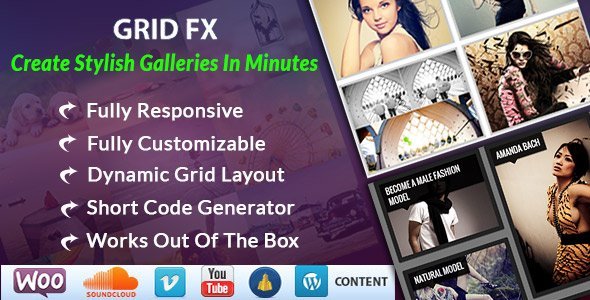 Sometimes it is good to deviate from the norm, and return to a more classical presentation. And that is exactly Grid FX lets you do. This plugin is fully responsive and stunning to look at.
Use it to create numerous great-looking, grid based layouts. No longer will you find any difficulty when it comes to creating a grid layout for all your content, including custom post types, blog posts, custom taxonomies, image galleries, custom products, WooCommerce products, product features, videos, team members, portfolios, screenshots etc.
Thus, almost all possible kinds of content types for the WP platform are covered by this plugin. The best part is, all these content will look great across every device, including mobile devices.
Overall, Grid FX is a highly comprehensive plugin for WordPress and it includes most of the features you expect in a top quality online portfolio plugin.
Essential Grid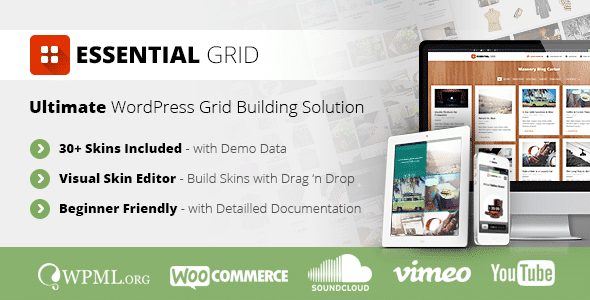 This is another great WordPress plugin that allows for a more powerful portfolio. The reason why it is so popular is because of what it allows users to achieve.
This plugin comes with lots of features. Take your site to the next level and create a great looking grid-based layout for all your work. This plugin promotes itself as "one plugin and unlimited possibilities", and they are not wrong.
From WooCommerce product listings to regular blog posts, you're able to convert all the content you have into a structured and pleasant-looking grid design. Use the great visual skin builder that comes bundled with this plugin to form new designs for your website.
This plugin makes the content grid stand out in any device, be it large screen or small screen. Get started at once with the demo data available with this plugin as well as the 30+ skins that are ready to use.
Read the documentation for this amazing tool if you have any queries because it is highly comprehensive and covers ever aspect in detail. No wonder lots of premium WP themes make use of this plugin!
Awesome Filterable Portfolio


This nifty WP plugin is available for free, and is a great favorite amongst photographers, developers, creatives – and with good reason.
After all, this plugin is responsible for helping to create stunning online pages that present all your finest work with elegance and style.
Use this great tool to create amazing filterable portfolios that visitors can easily filter through using eye-catching image hover effects and smooth animations.
Pick the animation and effect presets of your choice from a huge selection and then customize the entire look of your portfolio. Divide the portfolios into various categories as per your need, and add portfolio items whenever you want with this plugin.
CCR Portfolio Plugin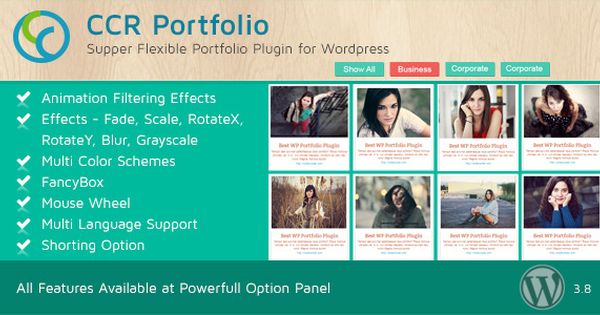 Having trouble understanding WordPress plugins and how you can use them to make your portfolio more powerful? The CCR Portfolio plugin is the perfect solution. Not only is it extremely simple and quick for beginners, you can use this to build superb looking web pages with helpful filter options as well as some great animation.
Make sure you understand that this plugin can be customized highly as per your needs, and users will have no trouble figuring out how to use it.
Achieve different kinds of effects with this plugin, including rotate, rotate, scale, fade, grayscale, blur etc. Customize the portfolio design and alter the color scheme according to what you've been assigned to do.
OTW Portfolio Light


This free plugin is available for the WordPress platform and features a great looking three-column design which allows you to present your work in a lavish fashion.
Categorize the portfolio items as per your requirement, and show them how user-friendly it all is, enabling users to use filters without any kind of difficulty.
Access lots of different settings for the portfolio products, including short testimonial, client website, content, title – all of this is going to be shown as a single portfolio item page.
Bean Portfolio Plugin


Combine beauty with power and what do you get? The Bean Portfolio plugin. Not only is this tool extremely powerful and beautiful, but the free portfolio plugin allows you to create stunning portfolio pages recently.
Create portfolio pages minus the tough custom coding bits with ease when you use this WordPress Themes-compatible plugin.
Amazing Portfolio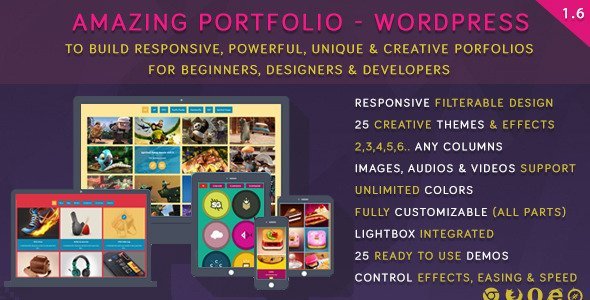 Look no further than Amazing Portfolio if you're in the market for a feature-rich WP portfolio plugin. With 25 amazing designs to look forward to, this plugin helps attract the attention of the users in all the right ways.
Highly flexible, this plugin provides full control over each element in the plugin section. Use the additional CSS editor to style and customize the portfolio easily without any code. Watch out for new themes to be added on a regular basis.
Easy Photography Portfolio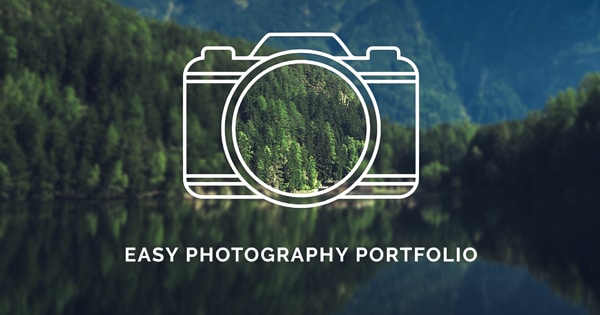 Easy Photography Portfolio is an opinionated plugin focused on photography, but not limited to it, in case you want to use it for graphic design or any other visual type of portfolio.
The plugin provides a clear portfolio structure – galleries of images are grouped together as "portfolio entries" and the portfolio entries can be categorized, but that's completely optional.
As the plugin name states – it's very easy to get started, and it works just like regular WordPress posts, so if you know how to write a WordPress blog – you'll be instantly familiar with the plugin.
No buttons to push, no knobs to turn. At the same time, it's infinitely customizable with a lot of hooks and filters for developers to tap into.
And if you're looking for help – there are a lot of resources to learn the plugin inside out, for example, there's an A-Z setup guide for how to setup a WordPress portfolio with a free theme and Easy Photography Portfolio.
The plugins mentioned above can help you transform your ordinary looking WordPress website into a highly functional and streamlined digital portfolio.
Now, your work can be presented just the way you wanted to attract the attention of visitors and customers.