Your Website Is Your Company's Digital Visiting Card!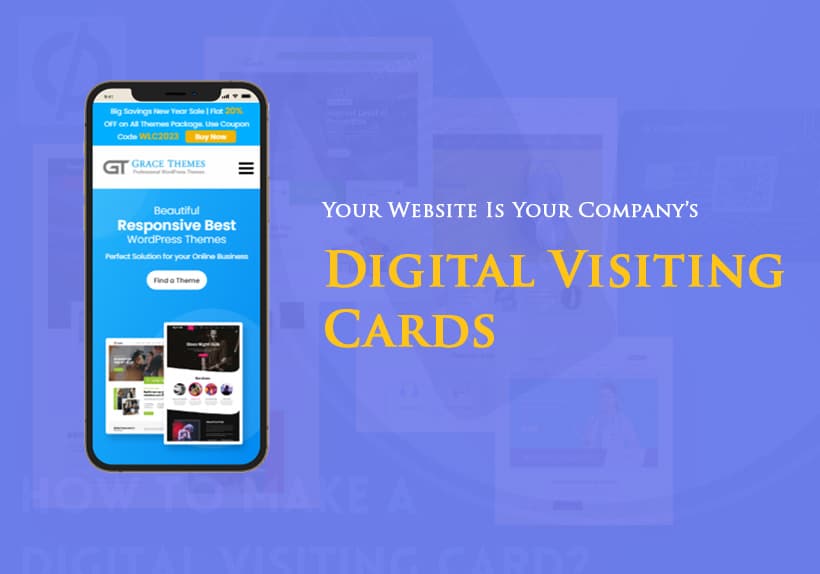 Your website is one of the essential tools for marketing your business to a targeted audience and can ruin the prospects of your business growth if designed poorly. It is like a central hub that gives visitors everything they need to know about your company and business under one roof. Here, visitors can get access to your products and services. Moreover, Google My Business, Yelp, press releases, etc., all need one link to your business, and this is where your website steps in to give potential customer everything they need to know.
Your website should be designed by professionals experienced in the field
Your business website should represent the brand with colors and unique image styles. The tone of the content should impact the customer experience so that they will be compelled to reach out to you for the products or services they are interested in. According to experts at Pop Machine Agency, many business owners need help understanding the significance of a website and how it can help them grab a competitive edge in the market.
How can you create a robust website design to boost traffic and lead conversions?
In order to create a solid and compelling website, you must first focus on the design elements. The display of services or products, the story behind us, the strategic messaging, the call to action, and other factors must blend to create a visually appealing customer interface. The elements of the site should be infused into the marketing message of the other campaigns smoothly.
The functionality of the site should be seamless
A good website must work fast and meet the expectations of potential customers. Imagine that you are checking out a website, and its pages take time to load. Will you wait for the content or images to pack or leave in frustration?
This aspect of your website is essential for your business. To enhance its functionality and use, you must test the site regularly. If you find errors in opening links or web pages, you must fix them immediately to reduce your site's bounce rate.
Proofreading the content of the website is equally important
Many business owners need to check the content of their blog posts. Blog posts are an excellent way to attract website traffic and increase lead conversions. However, before you post blog posts, ensure the content is free from grammatical and other punctuation mistakes. If the site visitor is interested in your products or services, these minor errors will reflect your unprofessionalism, resulting in the visitor's departure.
You need to have a uniform look
It is essential to ensure your logo, color palette, and other design elements are consistent with the website. According to research, the human brain finds it easier to recognize patterns when using websites. If the pattern remains unchanged throughout the site, potential customers will be able to identify and recall information faster.
Allocate some budget for SEO
Search engine optimization (SEO) is a great marketing tool that helps you to rank your website higher in search engine results. It includes technical aspects such as site structure, content, page speed and other factors to enhance the ranking of a website. Without proper SEO implementation, you will miss out on the potential customers who are trying to search for products or services you provide.
The loading speed of the website is crucial
The speed of your website is one factor that can make or break a customer experience. According to data, if your website takes more than 3 seconds to load, you are likely to lose 40% of your customers.
Make sure your website is mobile-friendly
Today, an increasing number of web traffic and searches come from mobile devices. So it is essential to make your website compatible with the various devices on which people search for information. If your site isn't mobile-friendly, potential customers may find a competitor's website that offers better navigation on their device.
Keep your website updated
It is essential to keep your website and its content up-to-date. Customers expect fresh information about your products or services whenever they visit the site. You can update your blog posts, change images or videos, and ensure the overall look of the site remains consistent with the ongoing trends in the market.
Monitor the website analytics
The last step is to monitor and analyze the performance of your website. This will help you identify which areas need improvement, and which ones are working according to your expectations. Website analytics provide valuable insights into customer behavior, allowing you to make informed decisions about improving the user experience on your site. By following these steps, you will be able to ensure that your website is delivering the best possible performance.
Your website's UI/UX design is crucial for visitors, as it helps them stay on your site longer. Customers are always hurrying, so its user interface must be engaging to keep them on the site. It would help if you never made them wait or work for the information.
Hiring professional experts in website and UI/UX design is your first step to keeping your visitors engaged. In this way, you can boost lead conversions and boost sales successfully.
Frequently asked questions
Q: What are the benefits of optimizing my website?
A: Optimizing your website offers several advantages, such as increasing web traffic, improving visibility on search engines, providing better user experience and boosting lead conversions.
Q: How do I monitor my website analytics?
A: You can use various tools such as Google Analytics to monitor the performance of your website. These tools will provide valuable insights into customer behavior and allow you to make informed decisions about improving the user experience.
Q: What are some common SEO techniques?
A: Common SEO techniques include optimizing titles and meta descriptions, improving page load speeds, creating backlinks, optimizing images, conducting keyword research and writing unique content.
Conclusion
By following these tips, you can make sure that your website is optimized for success. With a great user experience, improved functionality and engaging content, you can increase traffic and conversions with ease. Make sure to invest time and resources into creating a website that your customers will love.