WP Automatic – The plugin you need for your WordPress website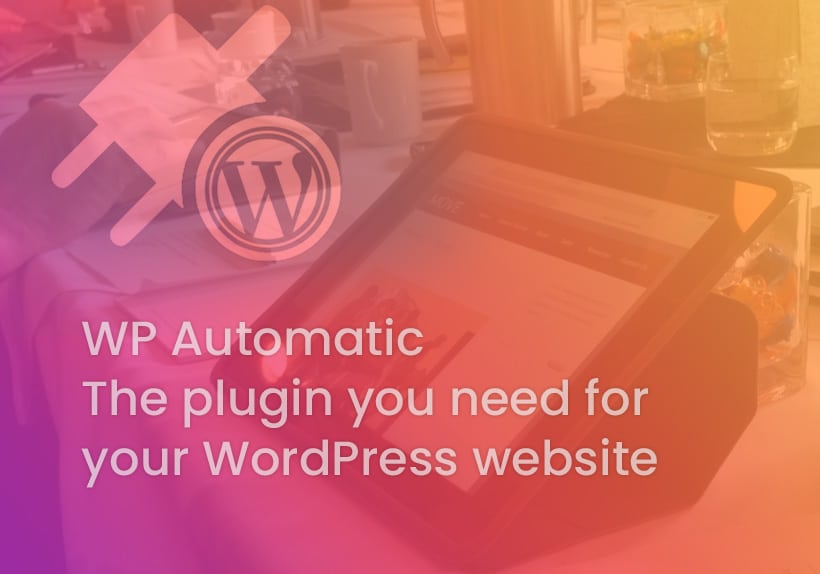 Are you looking for a plugin that will not only save your time but also decrease your workload? WP Automatic is the perfect solution to simplify the management of your website.
WordPress is a tool that makes it simple to create web pages and post material online. WordPress is popular because of its adaptability. It may be used to make websites for businesses, blogs, directories, forums, galleries, online stores, and more.
WP Automatic is one of the best WordPress plugins. This plugin has the power to post content from any website to your WordPress website automatically. It can be in any format like image, video, or text. Be it a social media site or an affiliate site, this plugin can import contacts easily from any site.
This plugin is extensively useful for people who started writing blogs or just started with a new blog website. Because of its immense functionalities in importing content and posting it automatically, it is listed as one of the most recommended auto-blogging plugins. You can also get quality content based on the provided keyword with its powerful APIs search. You can also translate your content and make it unique before posting if there is any duplicate content.
WP Automatic Plugin comes with different benefits:
Reducing the workload

WP Automatic is popularly known for its auto-blogging features. It not only helps you to reduce the workload but also helps you to spend your precious time. It gives you absolute clarity of mind with its automatic content generation method.
The plugin is very user-friendly and offers ways to reduce the difficulty and complication of blogging in a very simple and easy way. This plugin not only imports the content and helps you in your blogging path, but it also makes the content unique. This will help a blogger or a person come up with different and unique ideas and concepts for their blogs.

Auto-update

If a person is using WP Automatic, then he or she does not have to worry about doing manual updates. WP Automatic notifies the users about its recent updates and offers automatic updates to its users.
The user also gets a complete tutorial about its updates and the major changes so that they do not get confused. They will gain full knowledge regarding the update. With this plugin, the user does not need to worry about losing content or posts with newer updates.

Security

WP Automatic is one of the most secure plugins as it gets continuous updates. Which becomes difficult for hackers to hack any site. So, the site remains 100% secure due to this plugin. And this also enhances data security.

No site crash

With daily updates, WP Automatic is a smooth-running plugin created for WordPress. With the core updates of WordPress, the developers of the WP Automatic plugin are also working impeccably to make the plugin work as the best compatible plugin for WordPress. This will decrease the problem of the site crashing.

Demo version

The demo version of the WP Automatic acts accordingly to the original one. You will get an idea about how you can use the original one before making a purchase.
Features of WP Automatic:
Apart from having different benefits, WP Automatic also comes with extensively loaded features:
Get instant social media feeds with WP Automatic:
Youtube

Youtube is one of the most popular video searching and viewing site. With WP Automatic plugin, you can import and auto-post videos from Youtube on your WordPress website. With this plugin, you can filter the videos and get the videos you want by providing the keywords you prefer. You can also filter videos on different attributes like duration, specific channel, region, duration, etc.

Instagram

Nowadays Instagram has become one of the most popular image and photo-viewing platforms. It also comes with an online chatting option also. With WP Automatic plugin, you can import posts and content from Instagram to your WordPress. The posts are extracted using the inserted tags or username that has the complete and correct published dates, captions, tags, etc.

Facebook

You can import and post content from FB to your website with WP Automatic plugin. This can be images or videos or any text post from any feeds or groups. When any content or post is updated in any feed or group, you will be updated automatically. Then the post will get published on your website at the time when the original content was posted.

Twitter

With WordPress Automatic Plugin, import and post tweets on your website. The tweets can be posted on the basis of keywords. The keywords can be any hashtags, words or time, etc. Also, you can post these tweets in your preferred format using WP Automatic which can be as a Twitter card or in plain text.
Automatically import from WooCommerce sites with WP Automatic:
Amazon

With WP Automatic plugin, you can import your required products from Amazon using specific keywords. You can also extract product information like images, prices description, etc. After extraction, then you can publish those products on your website with their affiliate links. You can also set the search results in order by providing different attributes.

eBay

With this plugin, you can extract and post product details from all the different domains of eBay sites. After the extraction, you can post the products along with their details on your WordPress website. The details of the product may include its description, images, texts, product link, etc.

You can also set affiliate links using WP Automatic automatically for each product published on your website.

Walmart

With WP Automatic Plugin, you can import and post products automatically that are based on your specifications. You can also post the product details on your website. You will also get an option for 2 ad slots which will be between your product posts.
With this plugin, you can also get an option for customization of the product post that will make your WooCommerce site look clean, presentable, and attractive.
Who likes an unorganized webpage?
This question brings the most chaos among new web users.
Working and creating a website is not a very simple task. It requires immense patience as well as profound knowledge of programming. A very well-known platform famous for content management which is popularly known as WordPress brings in relaxing technologies to manifest the website paradigm. With WordPress, users can create many different types of websites for their business needs.
WordPress brings a platform comprising 50,000 well attribute plugins from which millions of users worldwide can create their websites.
WP Automatic Plugin as mentioned above is one of those plugins working dynamically to extend their hand in creating the most useful features to curate customer needs for blogging. This plugin platform has been showing determination to curate the most trendy features which are useful to the users.
This platform puts much effort into market research. Based on the current demands, they bring in the most useful tools required to create a useful website.
We already know that we can use WP Automatic Plugin to import feeds from Social Media to product links, descriptions, and tags instantly with URL links. This function works on Woocommerce websites. We also get options to use tunes from SoundCloud and images from Pixabay and Flicker.
All these features make WP Automatic Plugin the customer's first pick. It surely does turn out to be a unique site to create and organize the data.
Let's know about the other attributes of the WP Automatic Plugin:
Helps in translating Content: Easily translate your content with the help of various translating platforms which include Google, Microsoft, Yandex, and Deepl. This option extends hands habituated to different languages and easily gets access to content from across the world.
Aesthetic outlook on the website: The layout and aesthetics of a page can be created by using custom fields, allowing users to change tags like the author, and title from the extracted posts.
Textual Analysis: A suggestive list of the keywords gets instantly displayed whenever we start working. There we also get an option to search and replace the text wherever needed.
Plagiarism Detector: Google algorithms are very particular in giving ranks to those websites which contain very unique content. To avoid plagiarism this platform brings in the perfect choice for users to rewrite their extracted content and provide a better mode to use the content.
Customization Programs: These days quick customized work is the first choice of a perfectionist. This WP Automatic Plugin works to bring an option to curate customized formats in the post. This feature allows users to access unique tags, posts, and meta descriptions of the product.
Posts & timings: The frequency and limit of the posts can be made based on the requirements of the advanced program settings. We can generate multiple campaigns and also get to use several different keywords for each campaign.
Unique Content Creation: WP Automatic Plugin gives users full-time access to spin their content. It is easy-to-use access and also allows users to hyperlink specific words automatically. This platform also gives access to work on the layout of the videos and instantly arranges and provides a beautiful look to your webpage.
Why is WP Automatic Plugin the customer's first pick?
There are many auto-importing platforms available. They provide some very useful features which bring great results to their searches.
With WordPress Automatic Plugin customers find a trusted bond. They make the bond stronger by providing a support program that works 24*7 through their chatbot. This function gives users the ability to always get in touch with the technicalities and to save themselves from wasting time. This function also allows them to learn the technicalities of the program and get used to the new changes.
They also give them the option of lifetime free updates. As we all know that updates are so important as it provides security to our website from unpleasant activities like website crash or data loss. WP Automatic Plugin keeping all these parameters in mind brings to life a technique of automated upgradation to secure their customers from malfunctions.
They provide their customers with a 15-day money-back guarantee, and their support team initiates the best ways to understand the problem. Thereby if the problem is not solved they keep the promise aligned with their policy.
WP Automatic plugin now also offers a wide range of content spinners. This includes the Word Ai, The Best Spinner, and Spin Rewriter. These rewriters will help you to rewrite the content keeping the meaning of the article intact and changing the wording so that the content remains unique.
Are you interested in installing the WP Automatic Plugin?
After getting to know deeply about the plugin now we should discuss the pricing plans.
So if you wish to get a 1 domain license, then you will get it at $29. To avail of the five-domain plan, you will get $99. For an unlimited domain license, you will get that at $299.
WordPress Automatic plugin is one of the most popular auto-blogging plugins that is used by both new or fresher bloggers and also experienced bloggers. This plugin has got different options for import functions with which you can import any content from different websites. And for this, you don't need to have any coding knowledge. This plugin comes with a well-coded interface. Also, you can import specific content from a website and schedule the posting time as per your requirement.