WordPress WIKI Plugin for Increasing Website Traffic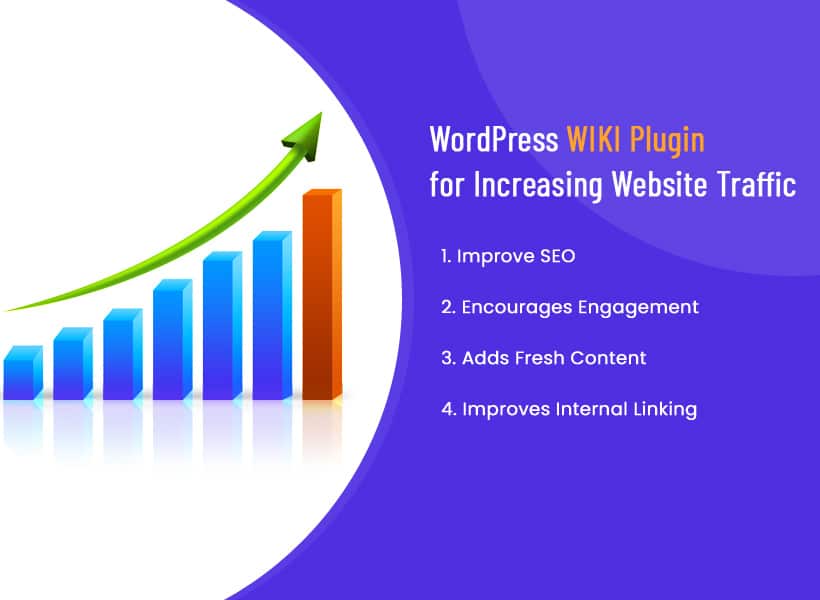 Want an Easier Way to Increase Traffic to Your WordPress Website? Alternatively, add a Wiki plugin! Wikis can enhance SEO and raise the involvement of visitors. How WordPress wiki plugin can help your website.
What is a Wiki?
Wiki is a set of interconnected web pages which users can edit freely. Foremost, the Wikipedia. Wikis encourage joint development and distribution of information.
You can make your wiki as part of the Website using a WordPress wiki plugin. It provides all the advantages of a wiki without having to use separate wiki software.
Advantages of Using a WordPress Wiki Plugin
There are many reasons a WordPress Wiki plugin is a great tool to increase traffic:
Improve SEO

You can index many new articles you upload via Wiki pages from search engines. The more pages are ranked, the higher the probability that a user will locate your website's information through the search. Every page, therefore, has a valuable role to play in ranking wiki pages. SEO is facilitated by the structure of wikis with many internal links.

Encourages Engagement

Wikis are interactive, allowing users to engage more with your site's content. Time spent on your website goes higher if the user can edit pages or say something. The user-created content creates that same sense of belonging. This encourages them to share more with each visit.

Adds Fresh Content

Regularly updating your website's content is one of the most crucial ranking factors. User-generated content can help achieve this through a wiki.

Adding even one page is not difficult as long as you are not the only Wiki contributor. This constant process will require search engines to log on at all times for new pages.

Improves Internal Linking

Creating Internal Links Through New Wiki Page Introduction. Users will have an easy time navigating through your website if you link related pages. An improved navigation may increase the linger times for visitors to your site, thereby lowering the bounce rates. The transfer of "link juice" to the topmost pages is also encompassed.
How to Optimize your WordPress Wiki for SEO?
To reap the maximum SEO benefits from your WordPress Wikipedia:
Create a sitemap: Search engines index pages through a sitemap. of your Wiki pages. It is quite straightforward with an XML sitemap plugin.
Make use of strategic internal linking: Connect your wiki pages strategically through proper internal links that underline your main web information.
Incorporate multimedia elements: Insert appropriate graphics, videos, and other media on your website wiki. Multimedia elements boost engagement.
Encourage user participation: Create more content with the participation of more users. Spam can be stopped by using moderation tools.
Promote your wiki's content: Welcome Visitors to Your New Wiki Area! Ensure that it is displayed on your website, on social media, and in email newsletters.
Conclusion:
A good way to enhance natural visitors to your website is by adding a WordPress wiki plugin. Take full advantage of all the user-generated content and affiliated sites that improve Search Engine Optimisation (SEO). Keep the visitors attracted. Wikis bring value to our WordPress site's life cycle through smart integration.
Frequently Asked Questions (FAQs)
Which is the best WordPress Wiki plug-in?
Ans: Some of the most preferred ones include WP Wiki, Wikijs, WikiWP, and WikiSuite. Have a look at the tools for collaboration, SEO optimization theming, and moderation capabilities.
How can I add an Online Wiki to My WordPress Website?
Open Your WordPress dashboard and get a Wiki Plugin in. Develop an Upper-level "Wiki" Page on Your Website. This plugin can construct the structure of the wiki by the parent page.
How do I alter my WordPress Wiki privacy settings?
Most Wiki plugins allow you to limit edit and view permissions to only registered users. This enables you to build your privately owned and personal Wiki.
What are the acceptable markup languages on Wiki?
Wiki plugins for WordPress usually operate within popular markup formats, such as Markdown, Creole, MediaWiki, and BBCode, to enable content creation on wiki pages.
What can I do to entice users to submit?
Provide an 'Edit this page' link so that users may be aware that they can edit any page. Allow for easy wiki submission by using the WYSIWYG editor. You can also give badges and reputation points for participation.
Should I update my WordPress Wiki?
Moderation guards against spam and inappropriate content. Ensure that you can see any edits before posting them. Re-roll the reported revision, or if you want to remove it, go ahead. Another option is automated moderation via AI.
How do I make my wiki Search Engine Optimization (SEO) friendly?
Use keyword-specific titles and heading tags. Add metadata descriptions. Connect other websites with the same. This includes image optimization too. Ensure you have XML Sitemaps that index all Wiki pages.
How do I link content from my wiki to other pages on the site?
Use a hyperlink to connect related content from your site when referencing it in a wiki. For instance, the names of products may be connected to a page of its category or other related information. This will make it easier to navigate the product.
Can I use Wiki's analytics?
The majority of Wiki plugins work with Google Analytics and/or Matomo. You can use an analytic tool to get the report for the sources of the traffic, pageviews bounce rate, keywords, and more which will in turn help you improve your wiki.