WordPress Vs Squarespace: Which Is Best for You in 2023?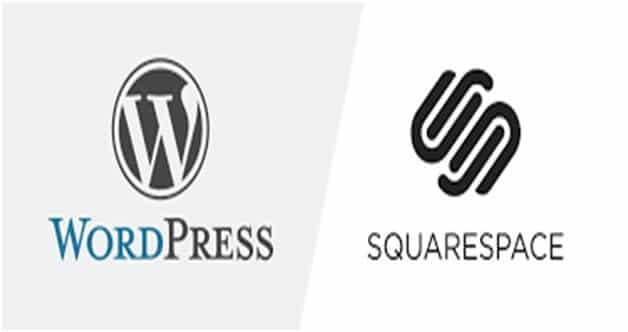 Squarespace and WordPress both are having millions of active user, and its number is increasing as time is passing. Both are very interactive and helpful for us.
WordPress is a framework of PHP programming language, and it is a CMS (Content Management System). At present, it is a popular platform for website development; here we can quickly develop and design of our website in a natural way.
It is transforming web world because this is having an interacting user interface and we can quickly update it, and due to having user-friendly, people love to choose WordPress.
While Squarespace is software based content management system that allows us hosting service, website services and blog services. Mainly it is hosting oriented services.
Squarespace is known as all in one service, and here you get services in a bundle format, mean all services you can take from one place and in this hosting assistance is necessary.
WordPress and Squarespace both are competition website of each other. Approximately 1000 new clients are a part of Squarespace but, WordPress is more popular than Squarespace.
In Squarespace, all services are entirely free like the theme, visual editor, responsive design and code editing.
But in WordPress theme is not free, we have to purchase it, and its prices are according to its features, and sometimes we have to pay for responsive design, so both are having a lot of difference.
We can see a lot of differences between WordPress and Squarespace-
Support Team

Squarespace has a great support team that helps a lot, even on a small issue. They are offering us live chat, Email support and community forum. By using any of them, we can contact them easily.

This service is fantastic, and they take our problem very seriously and help us to sort out it as soon as possible.

Like Squarespace, WordPress doesn't have any support team, but you will get a lot of material regarding this on the net. WordPress has a lot of video tutorials and blogs that help you to get a perfect solution.

Forum and blog are the best medium to create and maintain WordPress website, besides this, WordPress has no contact and Email for help services. But we all can know about reading blogs and watching the video, which is sufficient.

Price

Squarespace offers us two kinds of services like website and store. For the website, there are two plans like personal and business, and both are paid, you can subscribe them according to your uses like a monthly plan or yearly plan.

For stores, also like website there are two plans like the basic store and advance store, both are paid. So there is nothing free.

WordPress is free and in which we only pay for web hosting and domain names. There are also paid plug-in and templates, but you can also choose free tools.

Paid are just for advanced features. CMS is free in this. So in comparison both of them, WordPress is better in prices.

User Experience

Squarespace is much easier; if you don't know anything about that how to make your website online then it is best for you. Its user interface is so easy to use. In this, a user has no necessary to know about code.

This is totally coded free platform. In this you will get all at one place like design, development, hosting and domain name etc. so you can easily maintain a website at one place.

WordPress is a content management platform if y how to know that how to make your website online then it is the best platform for you. Like Squarespace all in one place you cannot get at one place.

If you want advancement in any field, then you can take help of a developer. You can easily edit your code and, make it according to your choices. It is also easy to update and maintain your website if you are a tech-friendly.

Both are best according to their uses, Squarespace is best for an entirely new person and for WordPress you have to know about that.

In WordPress, a lot of plugins is available that makes your path straightforward and best. WordPress is a rapidly growing platform with a rapid pace. Now a day's, all user are moving to WordPress.

SEO Friendly

If we come to SEO services then in WordPress we are having a lot of SEO plug-in and services like all in one SEO, Yoast SEO etc. you can easily install it in your web, and it quietly makes your website accessible, while Squarespace is not SEO friendly.

In WordPress, we can edit our site at any time and can make significant changes to our website that is fruitful for SEO services.

Plugin services in WordPress make it more useful and vital. In this, for all services, you will get a specific plugin. Squarespace is not SEO oriented.

Features and Flexibility

WordPress is healthy choice to build a blog, website and a portfolio. Here you can give a shape to your imagination. All kind of features you can create here flexibly and naturally.

Here you will get the plug-in for all variety of features that are easy to install and use. WordPress is more flexible platform comparing to Squarespace and its unique and natural services make it more comfortable and demanded.

In Squarespace, you can easily be customized your website with attractive feature because it is a feature-rich platform and give you total freedom to develop your web, according to your plan and choices.

Here you can bring your dream into reality by using Squarespace platform. It gives you many facilities such as E-commerce Website

In this, you can easily integrate all kind of payment method and ship station integration, customized order, email confirmation and add a store can be done easily by us.

Here managing your website is very easy and flexible, because it is totally user-oriented framework and using these services can launch own website here.

Blogging

We can easily use blogging services here, all kind of advanced features that are having in a blog is all available here.

Advance function like geo tag, multi author, tags, themes, category all are here. Your blog will boost up automatically by using its advanced functions that you will get only here.

Import and Export

You can easily import and export content from other blogging websites like Tumblr, WordPress, blogger and mostly from all other blogging websites.

Here you can also import and export products from other e-commerce websites. These are best services and it is essential to us and plays a vital role and save our times.

Connection Services

Here some inbuilt features really help and save your time a lot like the auto post by using this feature, when you will add new post then it will automatically share on social media platform like facebook, twitter and LinkedIn etc. and much more. Here you can also synchronization many features that will really help you.

Design and User Interface

Squarespace has limited templates for websites but you can switch to any other anytime, but before switching to other platforms to check it necessary because sometimes our all current features don't work there.

You can apply custom CSS to the template at any time. Here all designs have also an automatic phone version that really helps you a lot. At once you purchase themes after all thing become free with it and you do not need to pay extra.

WordPress has both free and paid themes, but when you customized it then it may take time. From official theme directory, you can download excellent quality themes.

If you are going to update some features in your theme then you should know CSS, HTML and for more in-depth improvement sometimes it demands knowledge of PHP.

Both of them are having a user-friendly interface, but when it comes to choosing one between WordPress and Squarespace, then we will recommend WordPress. From all above comparison, we can check out that why WordPress is an advance.

Even Squarespace also has some most beneficial features as it gives us free hosting, unlimited storage and bandwidth.

It cost is fixed, but sometimes it increases when you move to commercial websites, then due to advance functions it will be a high price.

Apart from the Squarespace, WordPress is totally free, but when we go with it long term and uses the special plug-in and hosting, then we have to pay for it.

As we see the ratio of the user then WordPress is in high demand because in this special plug-in and features are so advance and we don't have it in Squarespace.