WordPress Video Themes – Why you need it for your video marketing campaign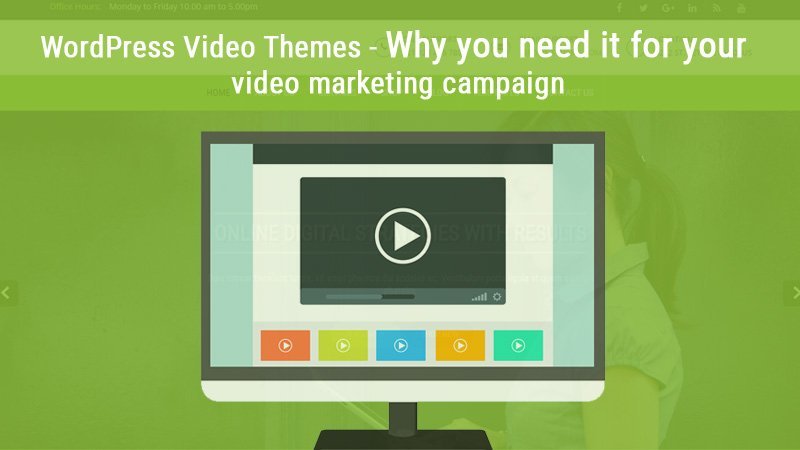 When you decide to include video on your website, you have to apply your mind well to select a suitable theme that encapsulates your business. Besides choosing the appropriate theme, another most important aspect is to choose a suitable platform for showcasing the videos so that it creates the desired impact on the audience.
A lot depends on the way you can display videos so that viewers derive enough pleasure to remain engaged with it. Even very high-quality videos created with a lot of imagination and effort can draw the flak of viewers for a poor display.
Moreover, to attract attention to your video, the quality of presentation plays a major part. Unless the video catches the eyes of viewers, your efforts of gaining visibility will not bear fruits.
Video themes are indispensable for marketing
Widespread use of mobile devices, especially smartphones and improved internet connectivity has resulted in the proliferation of video content. This has increased the demand for a suitable platform for displaying videos, and WordPress plugins have addressed it adequately.
WordPress themes provide a versatile platform for handling different multimedia formats including videos. Upload your video on the platform directly, or you can pick videos from other places like Vimeo and YouTube and embed it on the platform.
From creating your video website to displaying videos collected from various niches and from user uploads to hosting your video collection, you can use it in whichever way you want.
WordPress video themes are a rage today because it supports the video marketing efforts correctly. As video marketing gains popularity, the demand for video items keeps growing.
When you make web video, you can use the WordPress video plugins to propagate it across the internet or you can take help from http://visionsmash.com. The themes are nothing but easy to use plugins. Several video themes are available for business use, and some of the most popular ones have found a place in this article.
Inspiron
Inspiron is a professionally designed WordPress theme that focuses on displaying video content with the purpose of using it for business. The theme has a very modern design and a lot of features.
It is versatile and suits the needs for personal websites as well as business websites. If you are a professional who wants to showcase the portfolio, you can use the theme.
It uses full-screen videos and videos in the background very craftily and to facilitate the creation of any layout that you like; there is a page builder option provided with it. For displaying videos or portfolio, there is a
Swell
Swell is another WordPress theme that business can use for video marketing campaigns. The problem in describing WordPress themes is that the themes are so beautiful that you run out of ideas in describing its beauty.
There is a feature that allows the use of video in the background and you can overlay your company logo on it to create the right visual effect that moves the audience.
You can use text alongside the logo to create meaningful content. Whether you host your videos or videos sourced from other websites like Vimeo and YouTube, the theme can accommodate both.
The theme design is so beautiful that it helps you to tell a story. Choose your colors and use custom CSS to give the site a unique look.
Video Box
Video Box is a premium WordPress theme that is perfectly suited to display your video on any device. This is possible due to the responsive layout of the theme. The theme has wide acceptability of videos from other video sites, and you can use videos from any video site on this platform.
It has a digitized home page, and viewers can see automated thumbnails of videos to enable quick selection. There is a separate tab for displaying the most popular videos together with recent posts.
You can customize the favorite tab and use different options for selecting videos based on most views, most commented, etc.
Hero
The hero is truly a hero among WordPress video themes. Its minimalist concept in design layout provides the perfect platform to show off your products, services or portfolio. Among many features of the theme, the feature of parallax home page banner is truly unmatched.
It provides an option of displaying your key message in the most engaging fashion. You can embed videos on the platform that you sourced from YouTube and Vimeo. The theme appears equally stunning on any size of screen – thanks to its responsive design.
Video
If you have blogs that contain videos, then you will hardly find a WordPress video theme that is better than Video. The theme is very popular because of its remarkable features. There is the like/ dislike feature, playlist, watch later feature, and there is a feature for integration with YouTube.
The theme has high capabilities of driving more traffic to websites by using the features of social popups and there is an option of creating four types of home page. The theme accommodates YouTube, Facebook, Dailymotion, and Vimeo.
Video Touch
Video Touch is a theme built on Twitter Bootstrap that has enormous flexibility. The well-designed theme supports the creation of video blog and has many more features that support your video creativity very well.
You can create a video review, video tutorial, podcast or any other thing related to the video. The theme has many tools, custom widgets, custom page templates, cross-browser compatibility, ad management and front-end submission feature.
Besides excellent sharing options, there is a facility for embedding videos from other video websites. You can customize the layout in your way as also the colors so that you create a unique page that becomes your signature. Custom theme options panel that is easy to us adds value to the idea.
Review the themes to see which one matches with your ideas and business needs because the better is the integration with the theme; better will be the results.