WordPress Tutorials: There is plenty of support available to you!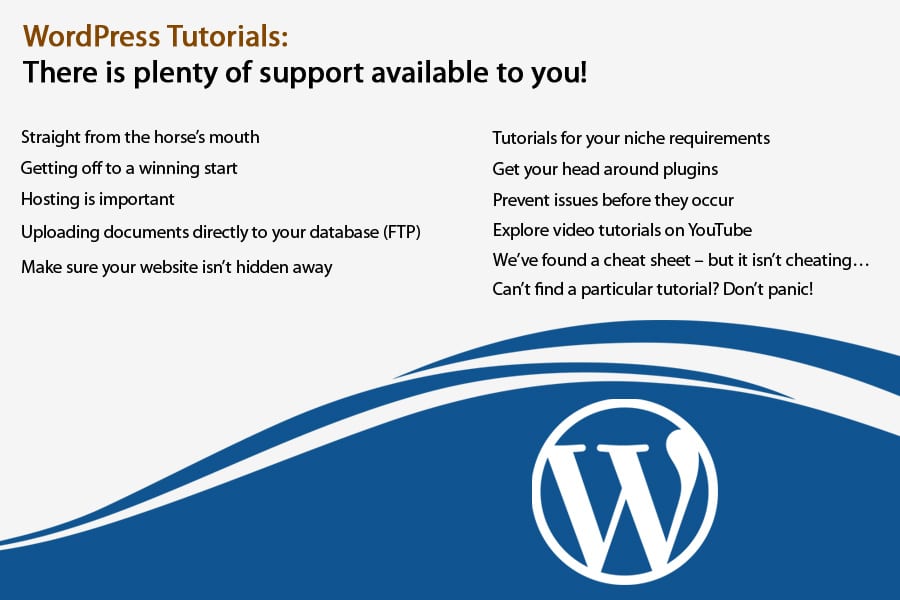 Since its launch in May 2003, WordPress has become the internets most popular Content Management System (CMS). With millions of users opting for WordPress as their CMS, there are now endless tutorials available that can help you with your website.
Whether you need help setting your site up or you're struggling with your site's SEO – there is a tutorial to help you. This article will summarise some of the very-best WordPress tutorials available.
Straight from the horse's mouth
WordPress has created a 'Lessons' section on their website and this is specifically targeted at beginners. Lessons should be one of your first stops if you're looking for assistance with installing WordPress, using their interface, basic administration, maintenance, and security.
Getting off to a winning start
There are masses of WordPress tutorials to help you get your new website or blog up and running. One of the most popular tutorials has been created by WP Beginner and is designed to help you build the foundations of your website using the very best practices. The tutorial has been shared over 50,000 times so you know you're in safe hands!
If you're in a hurry, why not check out Theme Isle's tutorial that is designed to help you create a WordPress blog in only 15 minutes?
It is an excellent tutorial but due to its depth, your 15 minutes may be used up reading it! Or how about creating WordPress theme for your restaurant business?
You may be approaching your new WordPress project with plenty of time on your hands. If this is the case, why not follow the WP Beginner's tutorial that will teach you WordPress in one week? This tutorial will help you understand the language of WordPress, including PHP, HTML, and CSS.
Hosting is important
Using a reliable and respected website host is critical. But, how do you know where to look? A great start is reading up on hosting and the Fast Web Host tutorial is a good place to commence your research. However, be warned, the resources are biased towards their services, as you would expect. My Theme Shop also has a useful tutorial that will help you understand hosting.
Uploading documents directly to your database (FTP)
At some stage in the future, you may decide it is more productive for you to upload files directly to your website's database. This is done via a file transfer protocol (FTP). Sounds complicated right? You are not mistaken, but this short tutorial will explain everything. Relax, using FTP is a breeze if you follow the instructions!
Make sure your website isn't hidden away
Understanding Search Engine Optimisation (SEO) is vital if you want your website to appear highly on search engines such as Google and Bing. This may sound like a daunting task.
However, with the WPMU DEV's 'Your Startup Guide to SEO: A WordPress SEO Tutorial' – managing SEO on your WordPress website is a piece of cake!
Tutorials for your niche requirements
There are some very broad tutorials out there, as mentioned already. However, what do you do if you have a very particular, and potentially unusual issue? Have a search and see what tutorials are out there because you're sure to find one that helps.
For example, there are professional tutorials that discuss WordPress Notifications, adding custom JavaScript, customising sidebars, hiding your login page and using Gutenberg. So, if you're having trouble, simply search for an appropriate tutorial.
Get your head around plugins
WordPress is a CMS that allows you to install additional plugins to build your website. Whether you are looking to install your first plugin or you are trying to create your own – there are resources to help you.
For example, if you're new to WordPress, Siteground has created a short tutorial that will help you install your desired plugins. If, on the other hand, you're more interested in creating a unique plugin, WordPress have their own 'Introduction to Plugin Development' that is sure to help.
Prevent issues before they occur
WordPress can sometimes be a little bit "buggy", even if you're an expert developer. However, one of the best ways to stop unwelcomed issues is to prevent them in advanced. Smashing Magazine has developed a tutorial aimed to help you prevent common WordPress theme mistakes.
Explore video tutorials on YouTube
If you prefer the idea of watching video tutorials rather than reading them, YouTube is the perfect starting point.
There are hundreds of trustworthy organisations and independent professionals who have created video tutorials for WordPress developers of all levels. Learn Web Code and Create WP Site are just two users who create and post valuable WordPress tutorials.
We've found a cheat sheet – but it isn't cheating…
When you're ready to start building your site, you will need a thorough understanding of its structure. Start Blogging Online has created an invaluable cheat sheet that contains a host of useful information for WordPress developers.
It will also help you understand WordPress terminology and could be considered an unofficial WordPress Dictionary. It's had over 400 shares so you know the information is accurate.
Can't find a particular tutorial? Don't panic!
WordPress has one of the largest active blogs on the web. If you are struggling with a particular issue and cannot find help, post your query on the blog and wait for a reply from an expert.
Not only will your query be read by hundreds of interested WordPress gurus, but this method is completely free of charge!
Conclusion
As the WordPress community continues to grow, so does the number of high-quality and free-of-charge tutorials. These tutorials are written by WordPress specialists and are solely designed to enhance your WordPress experience.
If you are ever faced with a task you are unfamiliar with, please do not panic. Use some of the resources referenced in this article and take advantage of the material that is out there.
If you cannot find an answer – don't worry. Use some of the popular blogs out there and post a question for the readers to get their hands on. You'll be amazed at the responses you get.