WordPress Theme vs Custom Design: Which is A Better Choice?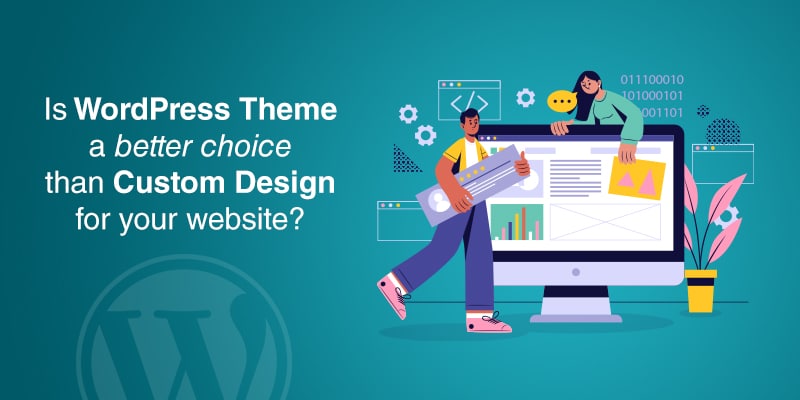 We are living in a digital era, and all businesses are undergoing digitization. With this said, when you plan to build your website, whether a new one or revamping your existing website, the first question that you need to answer is to use a WordPress theme or build a customized design. To answer this, WordPress Theme vs Custom Design is the trickiest job.
About 38% of all website users abandon visiting a website if it's not appealing or attractive. And with this as a fact, you would want your visitors to refrain from doing so. You would want to attract more visitors to repeatedly visit your website, get engaged with your offerings, and turn them into loyal customers.
A recent study by Adobe highlights the fact that 59% of people only read or browse through eye-catching visuals and beautifully designed content instead of boring plain text. This is pathetic but true to the very core. People enjoy well-designed and visually appealing websites. Website
A good investment in the website's design makes you stand out from the crowd. A perfectly designed website will attract visitors' attention and encourage them to engage with your website. A well-designed website will help you create your brand and will be easily remembered. Design and functionality are both interlinked and inseparable.
Let's understand WordPress Theme and Custom Design, one-on-one, and then compare both to get to a conclusion of the best option for your website.
Firstly, What Is A WordPress Theme?
A website's theme is the basis for any design format on a website. The theme includes components like color palettes, background color and design, page layouts, typography uses, header and footer style.
A WordPress theme is a bunch of digital files, like the graphics design, styling sheet, and function code, that decide the final layout of the website or your blog. WordPress files work in collaboration with one another to present the design and perform the functions of that WordPress website. Each theme offers a variety of choices for the site owners to work on and build a creative and user-centric website.
WordPress Development provides you with absolute power to entirely customize the site with your unique functionality needs for that particular website. You can swiftly make changes to the layout of the page and the design template for better visual effects. You do not even need to have any knowledge of CSS, HTML, or PHP language for developing an attractive website.
Secondly, What Is A Customized Website Design?
A customized or custom-made design is specifically developed as per the specific requirements of a website owner. Building a website design from scratch is the essence of custom design. This allows you to choose the designs, layout format, and functionalities as per your business requirements.
To develop a custom design website, you need a deep understanding of the development process and sound technical knowledge. Custom website design needs extensive planning before it goes to the development phase and even takes a longer time to develop due to the complexity of its functionalities.
Difference Between WordPress Website vs Customized From Scratch Design
Here we will count on the differences between WordPress Theme vs Custom Design.
The fundamental difference between a WordPress website and Custom Designed website is very much understood by their names themselves. A WordPress Theme gives you a solid foundation to develop a fully customizable and easily manageable website. While a custom design built is developed from scratch and requires considerable pre-development planning.
A Custom WordPress website can be personalized, developed quickly, easily scalable as per the requirements, with a neat and clean modern design, SEO Optimized, and, best of all, budget-friendly. Due to its dynamic nature, the theme template is flexible to make changes and run on all devices.
WordPress Websites are best suitable for new startups with less functional requirements. Small, Medium, and large-scale organizations can use WordPress themes and design them as per their unique requirements. A Custom WordPress theme is one of the most popular and convenient solutions.
Custom Design websites are best if you have a big budget for development. Because of the long development time, it even requires patience to the core. Custom Design is specifically codded for complex functionality. It has many bugs and requires continuous monitoring and maintenance. Custom design can be customized as per the owner's requirements and is highly scalable.
Wrapping Up
Coming to a conclusion, we now have a better understanding of WordPress Theme vs Custom Design. And speaking about my opinion, I would advise going with a WordPress theme.
To support my preference, I have the supporting stats that explain a lot. A recent survey on the total number of websites on the internet indicates it at 2 billion. And of all the sites built daily, more than half are built on WordPress, and its market is expected to grow exponentially.
And 43.2% of the websites on the internet are WordPress based, meaning two out of every five websites built are on WordPress. While majority of all the websites using the Content Management System are developed using WordPress.
FAQs
Q1 – Should I Use a WordPress Theme or Build From Scratch?
You can choose any of the options depending on your requirements and budget. I recommend going with a customizable Wordpress theme, to begin with. The advantage of doing so is you get a website built quickly, is fully customizable, and do not require technical understanding or coding knowledge.
Q2 – Are WordPress themes fully customizable?
The pre-built WordPress themes are fully customizable as per your unique requirements. You can change the design and structure of the website depending on your business. With WordPress you can build your website hassle free and you do not require to have deep technical knowledge.