WordPress Features That Make It The Most Compatible and Highly Effective for SEO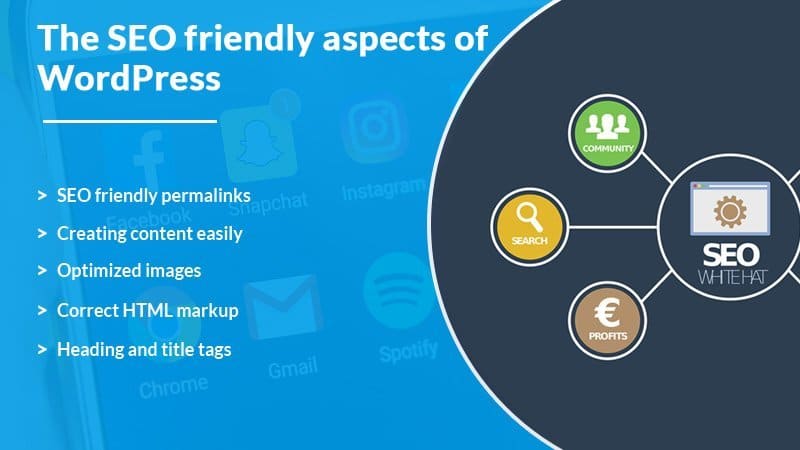 The level and quality of SEO performance depend not only on the adoption of the right strategies but also on the platform upon which your website is built. The site quality and characteristics are critical for supporting the optimization techniques both for on page as well as off page SEO.
Therefore, regardless of the strategies you follow, the abilities of the web development platform to support optimization may limit the achievement. You must set your expectations according to the strength of the platform that you have chosen for web development.
Several web development platforms are available, and all of them claim to be very user-friendly and easy to set up. While this is may be true, you must consider how effective it will be to support SEO because the purpose of creating websites is to drive traffic that ultimately culminates in sales, which is possible only by accomplishing search engine optimization.
Except for WordPress, which is the most versatile, flexible, powerful web development platform, and content management system; the others fall much short in their abilities to support SEO. In this article, you will discover why WordPress is the best choice for SEO.
Where others fall short

The homepage is central to any website because it contains the main text that conveys the spirit and purpose of the site. It helps viewers to develop interest and find reasons for liking the company and its products.

The homepage creates the initial attraction for websites that keeps growing as viewers consume the content of the home page that introduces the company and its products to the audience.

Therefore, it is critical that the template that you choose for your website home page design must accommodate enough text to describe your business in a concise but convincing manner.

Most of the web templates except WordPress either do not have scope for accommodating adequate text on the home page and even if it does, it duplicates the text on other pages. To avoid duplication, you must use codes that further complicate the process. With WordPress, you need not know codes as you can use its features without it. WordPress is much more SEO friendly in many other ways.

The SEO friendly aspects of WordPress

With WordPress, you can take care of several on page SEO optimization techniques with complete ease, and take control of various essential elements.

SEO friendly permalinks – With WordPress, you can use pretty permalinks, as many people call it, for inserting keywords in links to pages and posts. It makes easy for visitors to understand what the page or post is about. Moreover, you can control the content of the link.
Creating content easily – WordPress that began as a blogging platform makes content creation very easy just in the way you would do with a word processor. You can use high-quality content with images and videos without any difficulty.
Optimized images – It is not that you can only add images and videos to content but as the Philadelphia SEO expert would tell you, you can even refine it further with the help of WordPress editor. By using descriptions, ALT tags, and other features, you can optimize the visuals further.
Correct HTML markup – To facilitate search engines understand the page content in a better way, WordPress creates HTML pages. Going ahead, it has started using HTML 5 in some latest themes like Genesis to give more comfort and flexibility to users.
Heading and title tags – Search engines get hints about the content and come to know about its structure from the title of a page. Consequently, the title of a page is of immense importance for on page SEO. Along with other heading tags, search engines gather information about the content. You can set up all of these in WordPress without the need of writing HTML tags.

The above are all in built features of WordPress, and you can expand the capabilities of WordPress almost infinitely by choosing SEO optimized themes and suitable plugins.

Create fast loading websites

Google judges the quality of sites by considering the time it takes to load a page on the viewer's screen, and WordPress websites are fast loading even in their standard configuration. It is also essential for providing better user experience. By choosing a high-quality theme and following the best practices that enhance speed together and selecting good hosting, you can create speedy websites that earn higher ranks in search results.

Great security features

The WordPress platform is equipped with high-security features that protect your website from the prying eyes of hackers and unscrupulous entities that try to compromise your site for making unlawful gains. Whenever any vulnerability is detected, a signal for security update gets automatically generated, and the system gears up to ward off the possible threat. You can even fortify the security by using security plugins, lots of which are available online.

Support from social media

You just cannot only depend on SEO for building organic traffic but have to make use of other channels like the social media, which can contribute heavily to drive more traffic to websites. WordPress facilitates the integration of the website with various social media platforms so that you can take advantage of social sharing. The social media signals generate positive vibes for search engines that consider the website as good quality and this pushes up search rankings.

User friendliness

The beauty of WordPress is that it is so user-friendly that almost anyone and everyone, without any knowledge of codes and programming but having basic computer skills can implement all of what we talked about of till now. The simplicity of using WordPress makes it most convenient to explore its SEO features that you can configure by just a few clicks of the mouse.
Today you can approach a large WordPress community for help in case you face any difficulty. It is a large WordPress world where you will never feel alone but always remain comfortable and confident as you are in good company.