WordPress and Blogging for Enhancing Your SEO Game to Earn Excellent Results!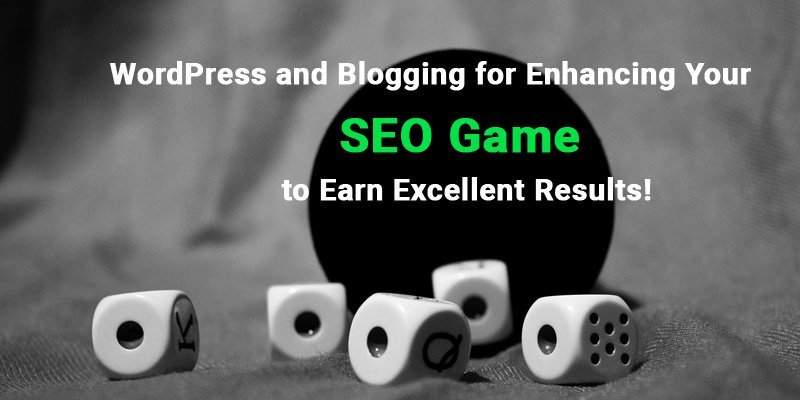 The moment you might feel like you have a good grasp on SEO, Google might change its search algorithm that determines the rules by which to play the game.
As a result, the confidence that you had gained suddenly seem to take jolt as you have to learn new things to master SEO in the way Google wants.
The process of continuous learning and unlearning is the most significant challenge for SEO practitioners, as they have to be on their toes always to keep pace with Google's ways.
The ultimate objective of any SEO is to make money from the online marketing initiatives that reflect increased sales and more profits.
Despite the frequently changing algorithm, one thing that remains constant for SEO is blogging, which is a sure way to support the activities for realizing the online money making goals.
Blogging is the way to communicate with the audience with a purpose that helps to position you as an authority and leader in the industry.
When you can establish your identity as an expert in the field, it generates trust among the consumers that helps to boost search rankings. Let us discuss some of the other ways in which blogging helps the SEO cause.
Earn backlinks
Blogging offers immense opportunities for building relationships with other websites, companies, and blogs by providing links and asking them to link back in reciprocation.
Just as you can communicate with your audience through blogs, in the same way, you can reach out to prospective resources to stay connected through link exchange.
Just ensure that you connect with people who have similar interests that match with your business niche. The method complies with the best practices of the industry because you are focusing on relationship and not taking recourse of any clandestine link building deal.
Backlinks are the mainstay of search engines and the most impacting factor in obtaining good search ranks. The healthier the backlink profile is, the better will be the ranks.
A place for keywords
According to the SEO expert, blogs are perhaps the best vehicles for placing keywords that form the nucleus of any search engine optimization activity. The trick lies in selecting the right keywords that attract high traffic but does not cost a fortune.
Position the keywords at the most appropriate places throughout the blogs but avoid heavy concentration of keywords that lead to stuffing and liable to attract penalty.
Keywords have to be unique but useful to searchers, and it should never happen that it loses its relevance despite being unique. Avoid commonly used keywords because you would not derive much benefit from it.
Use of long tail keywords and phrases is the best bet and providing solutions to problems through the blogs would have a better impact on viewers.
Maintain the freshness of content
While creating a blog is essential it is more important to maintain a steady flow of new content at intervals before it turns stale. Both users and search engines like fresh content and you must have a rich pipeline of blogs to publish fresh content regularly.
The more relevant and useful information you can provide through periodical refreshment of blogs, higher will be its attraction to all.
Whenever you publish new content, the search engines crawl it and index it afresh thereby increasing the possibilities of ranking better in search results.
Focus on building a rich repertoire of content that becomes the prime driver of your blogging campaign that ultimately boosts SEO.
Higher visibility
As the blogs earn popularity, more people click on it and share it thereby increasing its visibility many more times. Higher visibility translates into high search rankings.
The more unique and relevant content you create, more attraction and sharing it earns and the popularity of your website keeps spreading fast. Create content that turns into problem solver for viewers who are always keen to look for solutions.
Include images and videos
To make blogs more attractive, add images and videos in it that are relevant to the topic. Images provide the opportunity of placing keywords in the name of the images as well as in the alt text.
Describe the picture to lend more clarity to it so that those who cannot view the image would at least understand what it is.
For making the content even more attractive, use videos that can complement the content and enrich it. To get a cutting edge in competition, use exclusive videos that are genuinely unique and demonstrate your creativity.
For SEO benefits, tag videos with suitable keywords as viewers would find it easy to locate the content in the search results.
The best benefit of blogging is perhaps that each new blog serves as a new page for search engines that would reward the site with better rankings.