WordPress Automation Tools and Tips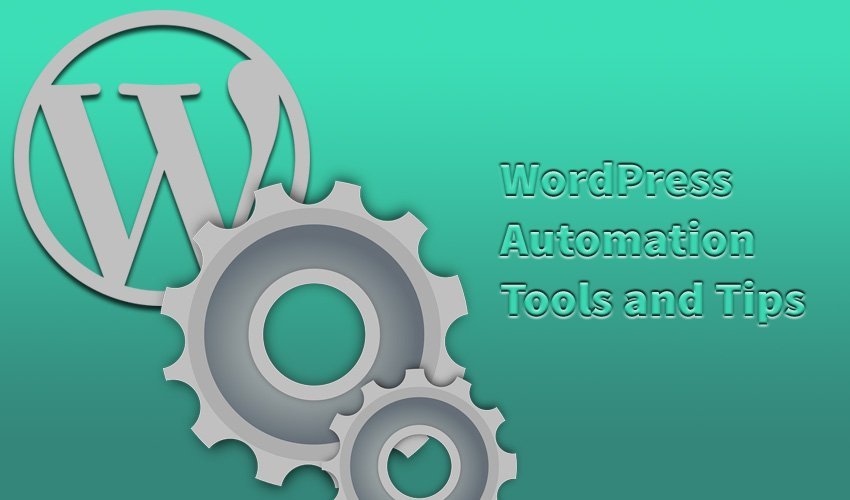 WordPress has certainly simplified web development and made it more accessible to anyone looking to build and manage their own website.
Any website needs to represent its niche adequately, and the creator needs to apply hard work and necessary tools to make their website attractive and successful.
A good website is grounded in creative planning and hard work. The infrastructure of the website is important; however, additional plugins are often needed to save time through automation.
Automations not only saves time but add to the quality of your website as you gain more time to focus on producing great content.
The novice website builder might be overwhelmed by the sheer volume of plugins available, and understanding what works well for their niche.
Identifying Plugins for Your Website
The first thing you need to find out is whether the plugin accommodates your needs and your website template.
Another indicator of a good plugin is functionality, and you can deduce its usefulness by looking at the comments and when last it was updated.
A bad update history is probably an indicator that it may cause problems for your websites due to unfixed bugs. Each plugin has a history of the changelog.
This usually gives you an indication of how much the developers are committed to creating a good plugin to suit your needs.
Even if a plugin is regularly updated and has good reviews, you should conduct as much research as possible by reading in-depth reviews from other authoritative websites.
Plugins translate to the user experience, and the last thing you need is users not being able to interact with your site because of a bad plugin.
Popular Automation Tools
Initially, most people who choose to manage their own websites to choose to do things manually, and automation tools save the day.
Marketing your product on the internet is not easy, so these plugins act as components to make operating your web much easier. Internet marketing can open doors to wider markets. Thus, it's important to gain a grip on the basics by using the right tools.
Here are some recommended tools if you are planning to add some reliable plugins to your website. These tools are either available on your WordPress dashboard or offered by third parties.
While some are free, others are either paid for on a monthly or annual basis. It is advisable to go for something truly worth any amount of money you spend.
Akismet:

This plugin keeps the spam away and it monitors spam effectively so that it never appears on your website.

The plugin is mainly designed for user interaction on platforms like Assignment Man to ensure that genuine people are commenting and interacting with the site.

SureTriggers:

SureTriggers works a lot like Zapier. It enables different apps to talk to each other and automate a variety of everyday website admin tasks.

Select an app, select a trigger, configure an action and leave SureTriggers to handle everything else. You can connect hundreds of popular apps covering every aspect of running a successful website.

AutomateWoo:

Derived from WooCommerce, the plugin is a powerful communication-based tool that allows for user-defined workflows. The plugin allows service providers to remind buyers of annual or monthly service is close to expiring or needs renewal.

This takes away the hassle of having to contact customers directly. It is also an easy way to foster continued support from clients.

Dlvr.it:

If your social media content is distributed across various platforms, then this is the perfect tool for you!

It simply operates by automating posts based on RSS feeds and helps you share relevant information. The plugin offers more options than most social media management services and is very user-friendly.

Follow-Up Emails:

This tool is also by WooCommerce and offers the user a simplified way to onboard new users to buy products or join something like an online course.

If you are offering courses or services similar to thepenstars, it is a great way to keep up with an order after it has been placed.

A plugin of this nature can dramatically increase customer satisfaction. It is also a time saver as it becomes easier for clients to interact with your product while saving time.

Gravity Forms:

Gravity Forms has a reputation as one of the best WordPress available. The developers are dedicated to ensuring that the plugin is up to date.

The interface is efficient for the end-user and it can be customized for different websites. Each theme has its own corresponding Gravity Form that is styled for it.

Gravity Forms (MailChimp Add-On):

You can also use Gravity Forms through MailChimp to automatically add subscribers to your email list, making it easy to grow your email database of users and clients.

Hotjar:

This is a paid-for tool that offers a free trial that allows you to analyze user behavior on your website. It is almost like watching them through a glasshouse.

The tool also allows users to fill in surveys that advise on how you can improve your website and ensure that it is relevant to your market.

iThemes Sync:

If you work on multiple websites, this is an integrated tool that helps you back up all your information and keeps you protected from hackers and spammers.

The app is known to be quite solid, and its developers are behind a lot of other great plugins. It is ideal if you have a lot of website clients.

MailChimp:

This is a popular third-party app that specializes in email campaigns and RSS-based emails.

It is ideal to use if you are working on sending emails to a large group of users and allows automated RSS feeds to feed into the newsletter. MailChimp also allows you to preset distribution times once you are done designing your newsletter.

Simple URLs:

This plugin is ideal for quickly linking to external websites and monitoring clicks on hyperlinks.

It is ideal for referenced information or linking to affiliate sites. It is a free tool that also saves a lot of time in tracking user activity.

Subscribe to Comments:

This plugin is great for engagement as it allows users to gain get notifications on blog comments for a specific post. This allows you to build valuable engagement in your niche and improve end-user satisfaction.

WooCommerce Google Analytics Integration:

WooCommerce has a lot of useful plugins and this one allows for connecting WooCommerce to Google Analytics. The plugin allows you to monitor sales and compile accurate reports based on user activity.

WP101:

This plugin is an excellent way to gain tutorials for custom website creation as it answers a lot of WordPress related queries.

The plugin offers the latest information when it WordPress developments. Having access to this information allows the developer to keep their finger on the pulse when it comes to the latest WP developments.

Yoast SEO:

SEO is at the core of most websites because it affects how many users are able to find your website when doing a search on your niche.

Yoast is great because it provides automated SEO grading per page or post, which allows you to improve on keywords. It also helps with integrated feedback and in producing XML sitemaps.

EasySendy Pro:

If you are looking for a powerful email marketing automation tool, then EasySendy Pro is the one for you.

The plugin helps you send automated emails based on user actions and behaviors. It also offers a wide range of features such as email templates, segmentation, and analytics.
The bottom line
Each tool is devised to make your website development process easier for both you and the user. Finding the right tools is quite necessary for ensuring that your website keeps a healthy presence on the web and that your clients are satisfied with using your website.
Your website is one of the first impressions your clients get of your business, so make sure it's the best in its category.