Will SEO Work for My WordPress Website Built for Online Print Business?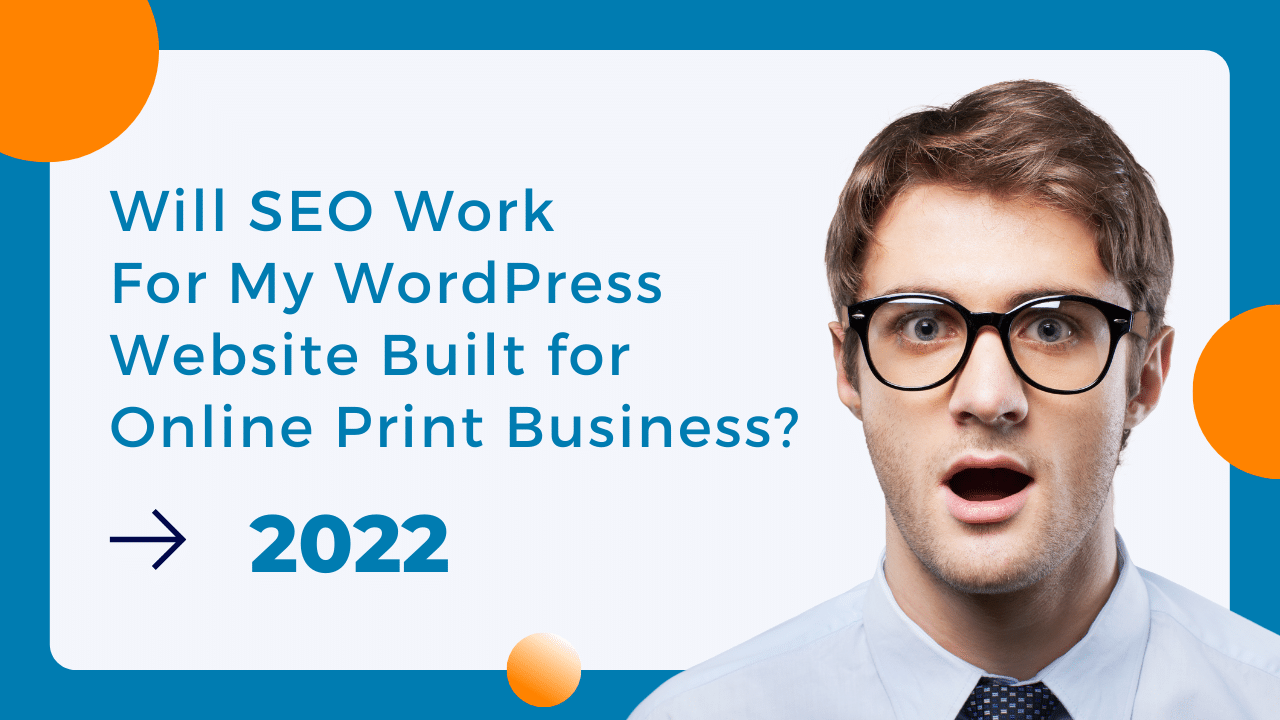 What is SEO or Search Engine Optimization?
Let's start from the basics. You are new in a city and you want to search for a wallpaper printer shop near your location, what do you do? Second, you want to expand your business in a different geographical region and want a print partner for your business, what do you do? You search for it on Google or Bing. When you type that search inquiry in the search tab such as "Print shop near me" or "Business print partner in the USA", these phrases are known as keywords.
The results that you get on the search engine result pages commonly known as SERPs in the virtual world are not random representations. These results are prioritized and presented based on the most relevant results that are identified by the Search Engine algorithms which are commonly known as Search Engine spiders. Thus, SEO or Search Engine Optimization is a service that a business can employ to ensure that when search engine spiders look for relevant and prioritized results based on the entered keyword by your target customer, the results showcase your platform or brand as one of the top results.
How does SEO work?
Talking about the Search Engine spiders, these are algorithms that are designed by search engines like Google to crawl or analyze all the content on the websites that are indexed on their search engine. That content is then analyzed based on its user-friendly nature, structure and information and based on that, the website is given a rank on the Search Engine Result pages for every keyword that is used by your relevant target customers.
The work of an SEO expert or a digital marketer is to identify these keywords, create a relevant SEO strategy and ensure that your website ranks on the top of search engine result pages when your customers search for it in your target market. When we talk about the SEO strategy or SEO activities, they are activities that help you improve your Page and Domain Rank which are also known as Page Authority or Domain Authority.
Also, gone were the days when SEO was all about lead generation. Based on different business goals such as brand recognition, lead generation, awareness and extended reach and other such end goals, SEO activities are personalized and customized for each domain and each business. Thus, when we talk about SEO for printing websites, the Printing Companies can make the most from Search Engines with personalized SEO activities for their platform.
To help you understand how the Search Engine spiders work for the printing domain, we have listed the 5 basic SEO factors that determine the rank of a printing web page or a printing website:
5 Basic SEO Factors that boost your printing website rank:
User-friendly and optimized content:

If you look at all the recent Google updates, all the major updates were about giving a boost to websites that follow the white hat SEO activities and ensure that their website delivers satisfactory and delightful user experiences. One of the most important factors for an SEO-optimized print website is developing user-friendly content. Ensure that you use industry-specific keywords and create relevant and helpful content that will guide your customers in making informed decisions.

Also, it is essential to target external content marketing activities such as Guest Post and other such information-centric content to ensure that you get the trust of your customers and higher Domain Authority from the Search Engine spiders.

User sessions:

One of the ways search engines determine whether your website is relevant for your customers is by analyzing the time they spend on your website or rather a web page. This time is known as a user session and it highly affects the ranking of a website. To ensure that your users not only stay on your website but also takes your desired action, it is essential that you have optimized your user navigation flow and employed technical SEO tactics of interlinking and others to define the user journey of your potential customer on your print website.

Website bounce rate:

What happens when users don't spend much time on your platform and jump to a competitor's website for a similar service? That switch to competition creates a negative impact on your platform and affects your rank on the search engines. This is called website bounce and is based on the number of users that switch to competition from the total number of users that visit your website is called the website bounce rate.

Integrate on-page optimization activities to ensure that your content, website and images are optimized to ensure that your visitors stay on your website and employ keyword optimization and schema mark-up to ensure that you only get relevant traffic for your website. With these simple techniques and relevant content creation, you can have effective SEO for your WordPress printing store and reduce the bounce rate of your platform to the minimum.

Website speed and loading time:

One of the biggest reasons your users abandon your website or bounce to a competitor's website is the higher loading time and slower speed of your website platform. As a printing website, your website might have many different tools integrated into your platforms such as product design tools, marketing automation tools and others that can affect your website speed. Ensure that the tools that you integrate are SEO optimized and that you make ample efforts to create a fast web platform with minimal loading time.

Mobile responsiveness:

Did you know that 87% of smartphone users use a search engine daily? (Source) Also, it was found that 90% of mobile searchers don't look beyond the first few search results. With this information, it can be determined that not only are mobile searches important but having a mobile-optimized website will help you rank in the search engines and get more leads. Thus, you must have a mobile responsive print website.

Also, when we talk about SEO, the work starts way before the business launches! It is essential that you develop an SEO friendly website and to make sure that you have the best SEO for your print company website, below are the 5 most important things to do:

Research your competitors thoroughly and analyze the SEO techniques that they have employed for their platforms
While designing your website keep in mind the site structure and ensure that it is optimized based on your SEO goals
Ensure that you use relevant keywords and generate effective Metadata for your print website
For better site visibility and better content indexing, use Schema mark-ups for authoritative content creation
Optimize your images and content to increase the loading speed of your website. You can also employ AMP for an SEO-optimized mobile website.
SEO is a continuous process:
Since the customer expectations are constantly evolving, you must make continuous SEO efforts to maintain your page and domain rank in the search engines. Create regular and relevant SEO content that is authoritative and employ SEO for different business goals and make sure you create a personalized and user-centric SEO strategy for your print wordpress printing store..