Why you need SSL certificate? Here are Reasons
Keeping your website secure all the time is one of the essential parts of running a successful business online.
It's a no brainer: If you want to make your online presence look authentic and secure, then you must protect it with a strong security. SSL certificate is one of the authenticate way to secure a website.
SSL stands for secure sockets layer that changes the HTTP extension of your website into HTTPS. A website URL bar with a padlock and an HTTPS extension naturally indicate that it is a secure website.
It also ensures your website visitors that any sensitive information entered by them, such as their account/credit card number is safe and secured.
Therefore, if your website does not have SSL authentication, then it is time to buy SSL certificate to enhance the credibility of your website instantly.
If you are still skeptical about purchasing an SSL certificate, read on why you should be buying one without any further ado. There are plenty of reasons your website needs an SSL certificate.
Here are the top 7 reasons why you should buy an SSL certificate to secure your website:
Prevent Information Theft
Any information entered by the website users does not directly reach the server. Instead, it goes through an intermediate channel that is not always secure. Therefore, there is a high possibility that hackers can steal that information easily.
On the other hand, if you install an SSL certificate on your website, then there will be no possibility of information stolen by any third-party.
SSL will encrypt the information, and that makes it unreadable for any third-party trying to steal it during the transfer process.
Take this, for instance: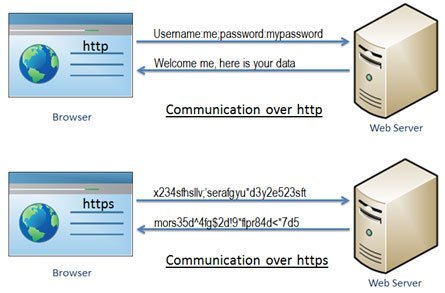 Encrypted data will be readable by only the party it is intended for. Encryption is basically done by encoding the information.
And those random characters will only be decoded with the use of an encryption key, which is done when the information reaches the intended system.
Google wants HTTPS
Google wants HTTPS on your website, and it has made SSL mandatory for every website. Google flags secured any website with SSL certificate, while it also sends a warning by displaying "Not Secure" in the address bar if the website does lack SSL certificate.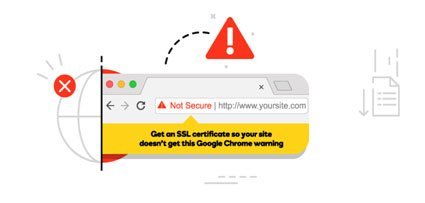 Moreover, Google also sends ranks those websites that have embedded SSL certificate. SSL certificate is a necessity for online payments as securing the sensitive information of users is highly important.
Therefore, if you run your website according to the conditions implied by Google, it is more likely to augment your online presence.
More SEO-Friendly
If you want to rank higher on the search engines, then it is a must that your website should have an SSL Certificate.
Websites with HTTPS extension tend to rank higher on Google, and it also enhances the trust of website visitors.
As a result, they do not have to hesitate or think twice before clicking a website showing HTTPS in the URL. SSL tells Google that your website is authentic and secure.
Plus, HTTPS provides access to HTTP/2, which is a highly important protocol for sending data. On top of that, HTTP/2 enhances the page load speed and therefore improves your Search Engine Optimization process.
Naturally, the better is your page load speed, the lesser will be your bounce rate.
If your page load speed takes as high as 10 seconds, the probability of bounce rate increase by 123%.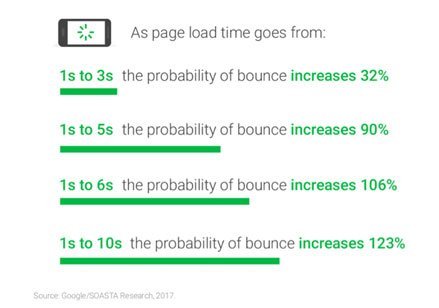 This is a substantial figure that is not to be ignored. So, as is apparent from this point, an SSL certificate is vital for your SEO as well as your bounce rate.
Protection against Phishing
Phishing refers to an attempt made by any third party to steal your personal and valuable information. They try to steal information by sending fake emails asking for personal information.
They usually send fake emails using the name of a well-recognized organization. Personal information asked in emails mostly includes account number, social security number, credit card number, and password.
Phishing attacks are exceedingly common on the internet, and phishing messages always tend to look professional, so much so that it becomes hard to tell them apart from the real thing.
Take this link, for instance: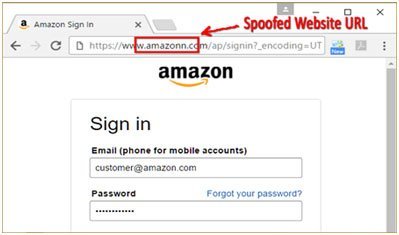 Once you click on such phishing links, then you will be redirected to a familiar-looking website. But beware, there is nothing familiar about it, no matter how professional it looks.
It is a way for these cybercriminals to dupe you and collect your personal, confidential data.
However, if your website has an HTTPS extension, then it naturally ensures the users that it is a secure and authentic website. They can now share their personal information with more confidence and without any cloud of worry.
Enhances Visitors' Confidence
If you want to attract more visitors to your website, then you must earn their trust.
Even if you do the best SEO and design for an engaging website, but if there is no HTTPS extension, then it will fail to attract visitors.
HTTPS ensures the users that they are using a secure shopping or payment platform. These days most of the people are aware of the importance of HTTPS, and they usually take a moment to look at the green padlock and HTTPS written in the address bar.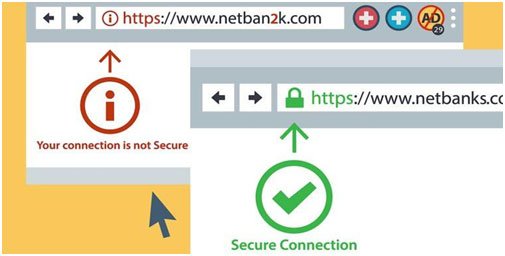 If Google shows a security warning message on the website, then no user is going to hang out on such unsafe website. Google Chrome always shows this warning, and the maximum number of people use Chrome for browsing online.
SSL is Safer
An SSL Certificate and the resulting HTTPS certificate are one of the most vital things to secure your website data in the best way possible.
As discussed above, it can encrypt huge information daily and safely protects your website from eavesdropping and malicious attacks.
HTTPS encrypts data before sending and therefore makes it very difficult for the hackers to steal. It is especially important for ecommerce stores that carry out money transaction and bank portals.
HTTPS also ensures that you are visiting the website you want, not some other fake, blanketed version of that site.
Owing to its reliability, SSL certificate is used by millions of websites across the world.
Makes Website Future Proof
Security methods are always changing and upgrading with the transitioning needs of the internet.
Therefore,SSL certificates do not serve as the ultimate protection from all types of cybersecurity attacks, but it still gives your website the most vigorous defense. You should upgrade Transport Layer Security or TLS version 1.3after having an SSL certificate.
Therefore, you can make your website future proof and experience long-term security. Making your website future proof will save you from phishing tactics, and it is likely to keep running smoothly for many years to come.
Conclusion
So, these were the top 7 reasons your website needs an SSL certificate.
If your website is lacking an SSL certificate, then don't delay and buy one right away.
There are many cheap SSL certificate providers in the market, such as GoDaddy, Comodo, RapidSSL, CheapSSL Store, and many more.
You can choose any one of them to ensure the protection of your website. It will quickly enhance the visitors' engagement on your website and help you build your reputation online.