Why Is WordPress So Popular?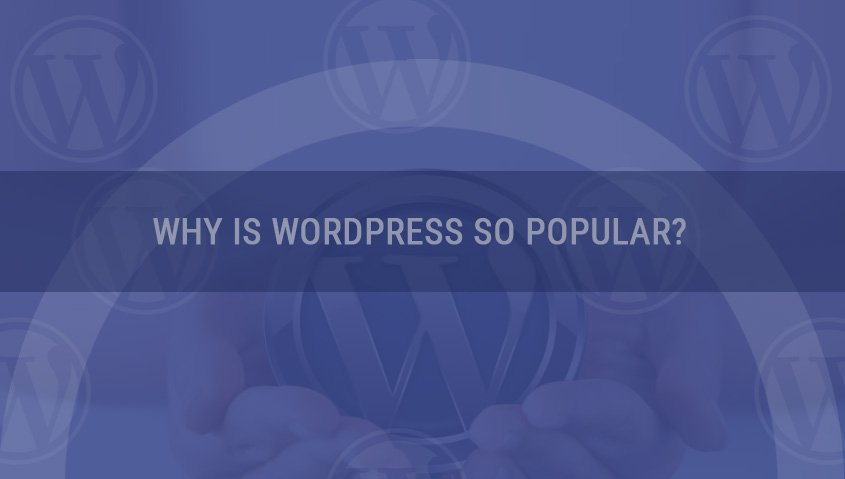 If you are thinking about launching a website, WordPress is probably the first content management system (CMS) that comes to your mind. It is by far the most frequently used website administration platform that currently powers more than 30% of the entire Internet.
WordPress keeps growing year after year, but have you ever wondered what makes this CMS so superior and attractive? There is no one answer to this question, so we decided to show you 11 reasons why WordPress is so popular among webmasters. Let's take a look!
It's a Free CMS

WordPress is an open-source platform that you can change and tailor according to your own preferences. There is no one owner who can charge you for using WordPress because it is the result of countless contributions from developers worldwide.

As such, this CMS is free of charge. People and organizations who want to make money on WordPress sell premium themes, plugins, and many other tools that can improve the functioning of the platform.

It's Easy to Use

The second reason why WordPress is so extremely popular all over the globe is the fact that it's easy to use. You don't have to be a tech guru in order to figure out how it functions.

After all, the entire platform becomes fully operational as soon as you make a click and install it. WordPress offers you a wide range of features and you only need to explore different options. It takes zero coding or learning programming languages – everything is at your disposal with a click or two.

Versatility

Although simple, WordPress won't stop you from building a complex website. Using this CMS, you can create all sorts of websites without a hassle:

Create simple blogging sites
Use it to start an online retail store
Make video streaming service such as YouTube
Launch a booking website
Make an image-focused platform like Flickr
Focus on question/answer type of work such as Quora
Create a knowledge base, a membership site, and many more

Plugins for Flexibility

Do you know that WordPress currently offers more than 55 thousand plugins? It makes the system extremely flexible since you can play with different tools to improve the functioning of your website in a way that suits your specific needs.

Simply put, a plugin is a part of the larger software which enables a set of new or additional functions. That way, you can strengthen your website in terms of security, optimization, and many other functions.

Theme Customization

The number of WordPress themes is almost countless. By definition, a WordPress Theme is a collection of files that work together to produce a graphical interface with an underlying unifying design for a weblog. What does it mean for you as a webmaster?

Well, it means that you can play with the theme and customize it as many times as you like until you find the perfect combination. You are free to change color schemes, add brand visuals, modify the background, etc.

WordPress Takes Care of SEO

Search engine optimization (SEO) is extremely important because it's the only way to ensure a higher ranking in Google searches. As a CMS, WordPress is very SEO-friendly and it deploys state of the art optimizations features.

This is exactly why WordPress-powered websites often rank highly in engine searches – the optimization process is automated more often than not, leaving less room for webmasters to make a mistake and jeopardize ranking.

WordPress Is Mobile Friendly

Speaking of friendliness, keep in mind that WordPress is also designed so as to match the rules of mobile web browsing. It's yet another highly relevant feature because mobile surfing already makes more than half of the entire Internet traffic globally.

WordPress websites look great on all types of devices (desktop computer, laptop, tablet, smartphone), regardless of screen dimensions. In the world where Google penalizes mobile-unfriendly websites, this benefit of using WordPress becomes very relevant.

The Platform Handles Multimedia Files

We already mentioned that you could create any sort of website using WordPress. This is possible mostly due to the platform's capability to handle and administer multimedia files.

Starting from plain textual content and going all the way to images, audio documents, and videos, WordPress can store and display each of these file types effortlessly.

WordPress Is Safe

Nothing and no one can be perfectly safe online, but WordPress is really doing its best to keep clients protected when using the platform.

The system uses state of the art security features to fight off hackers and malware attacks, but there are also tons of reliable security plugins that can enhance the safety of your website even further.

It Allows 3rd Party Integrations

The fact that you run a website on WordPress doesn't mean you cannot use external software and programs. On the contrary, you are free to support and improve your online activities with all sorts of additional platforms.

WordPress won't make any problems in the process because it integrates seamlessly with most of the commonly used 3rd-party systems.

It's impossible to mention all the possible integrations in one article, but you can definitely count on the full functionality of your email, marketing, customer service, or any other program.

Tons of Learning Sources

The last reason why users love WordPress is very simple – there are tons of learning sources dedicated to this CMS to be found online.

You can find hundreds of specialized websites dealing with WordPress only, while the vast network of developers is available 24/7 and ready to help you out in case you are facing a problem. You can also find thousands of tutorials, eBooks, guides, videos, and other types of learning sources on the Internet.
Conclusion
WordPress is the most powerful CMS in the world for a number of reasons. We showed you 11 advantages of using this platform, so feel free to give WordPress a try and build your own website – you definitely won't regret it.