Which Pinterest Video Downloader is Best for Saving Pins?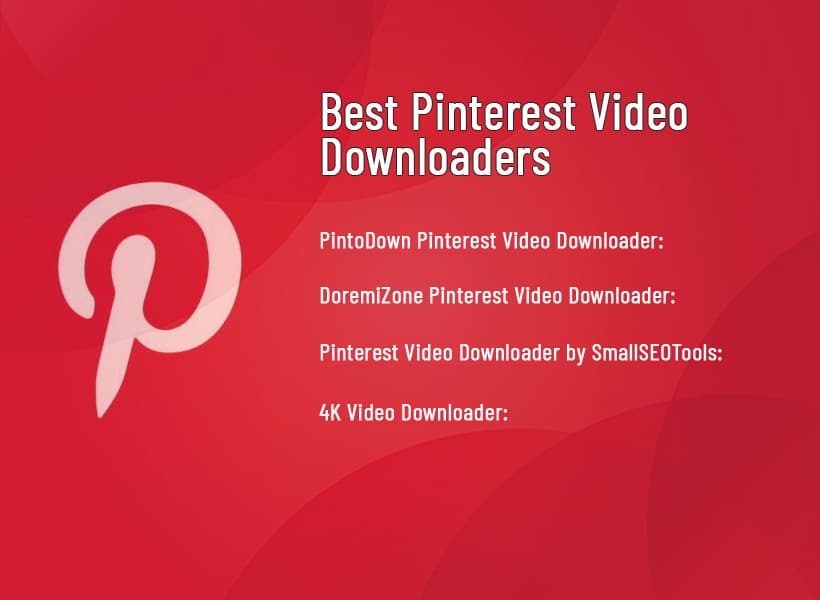 Pinterest is an amazing application we use for getting ideas of DIY, decoration, gardening, fashion, and other useful daily chores. There are many amazing videos on the platform, we tried to download them but stumbled.
For this help a variety of downloaders are present on the playstore. In this article I have discussed some of the best Pinterest video downloaders. Also explain how to use them to download your selected video.
Pinterest Video Downloaders
Firstly let me explain a bit: Pinterest video downloaders are the downloader apps specially designed to download all the videos present on pinterest application, whether it's open in your smartphone or laptop.
They are encoded to save and download the pins for offline watching or sharing it later with your friends.
Need a Pinterest Videos Downloader?
We all know we have little or more stalking habits and we also enjoy doing it. Following are some of our common needs for having pinterest video downloader in our devices:
Offline Watching:

It will provide you a gallery where you can watch your selected or downloader videos while you are offline. Sometimes you may have internet problems so it will work well when you have these videos on your devices.

Sharing with Close Friends:

You can also share it with the friend group you have and have a good discussion about the idea you found on pinterest.

Archiving Idea/Inspiration:

While having lots of ideas collected in your gallery you can think again about generating a creative idea or get inspiration from the videos you saved.

Pins Deletion:

There are many possibilities that the video you saved in pinterest was deleted by its owner and now you have no choice. So here the video downloader fulfills the need for saving the video.
Best Pinterest Video Downloaders
There are many useful video downloaders on the play store. I have enlist the best of them below:
PintoDown Pinterest Video Downloader:

PintoDown downloader is really useful and one of the best that works perfectly on pinterest videos.

How you can use it:

Open the Pinterest video/pin you selected to download.
Copy its link from the button given below.
Now open PintoDown Pinterest Video Downloader.
Paste the copied link on the search option and click download.
Your selected video will appear in the gallery of the application.

DoremiZone Pinterest Video Downloader:

DoremiZone is another pinterest downloader on my best list because it is very easy and friendly to use.

How you can use it:

Open your Pinterest account and find the wished video.
Copy its link from the video.
Then open your DoremiZone Video Downloader.
Paste the link on the search bar and play it.
Download button appears, now hit download.
It will show the option of video quality, select it and start downloading.
Video will be saved in your device gallery.

Pinterest Video Downloader by SmallSEOTools:

Third best pinterest video downloader id from SmallSEOTools, this is also easy to use like the previous one.

How you can use it:

Open pinterest video on your device.
Copy its link.
Paste it on the SmallSEOTools Pinterest Video Downloader search bar.
Click on the download now button.
Choose the quality check and start downloading.
Selected video will be saved on your device.

4K Video Downloader:

The last best downloader 4K Video Downloader.

How you can use it:

First you have to install a 4K Video Downloader.
Next step is to open pinterest and your selected video
Copy its URL link.
Paste the copied link on the search bar of 4K Video Downloader.
The video will appear on the screen, select download and quality.
Now enjoy the saved video.
FAQs
Is it possible to use the same login of Pinterest video downloaders on laptop and smartphone?
Yes, it is completely possible these video downloaders are designed according to modern needs, so you can open your account on both of your devices.
Do all browsers easily open these Pinterest video downloaders?
These different downloaders which are browser specific but for the mentioned downloader, I know they will work on Chrome, safari, and firefox browsers.
Conclusion
Pinterest pins or videos are made for the audience benefits. People enjoy its unique, innovative, and new ideas. Mostly, they want to save videos because they are inspired by them.
So these downloaders help them to save these ideas. As they are made for your help so it's your responsibility to be responsible and never misuse.