WhatsApp And E-commerce: How To Boost Sales With Direct Messaging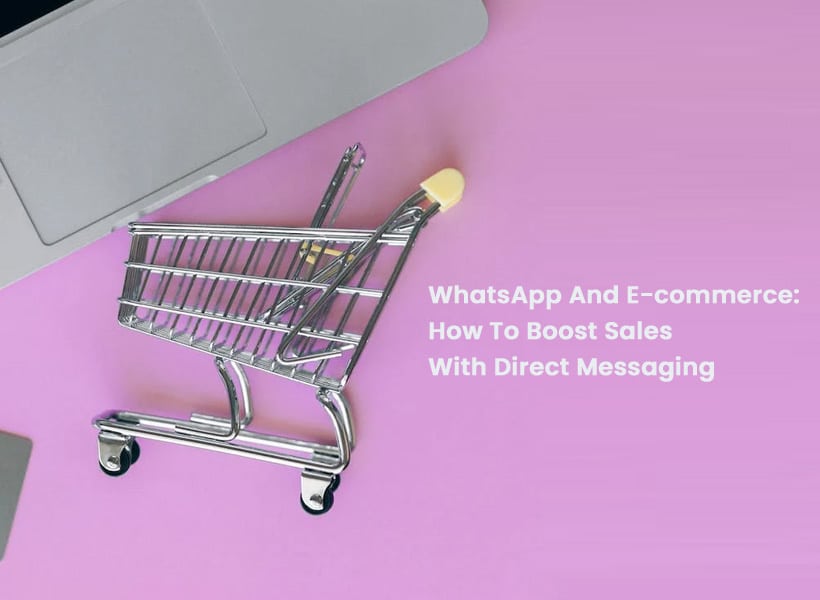 The integration of instant messaging apps into business strategies is not new, but its potential for the e-commerce industry is still being realized. WhatsApp, a mobile messaging service with more than two billion active users, has quickly become a potent tool for online businesses to boost their sales.
Many businesses are leveraging the use of WA Business and other direct messaging services to engage with customers, driving sales and creating lasting relationships. This article provides a comprehensive overview of how WhatsApp and direct messaging can be utilized to boost sales.
Harnessing The Power Of Direct Messaging
Direct messaging, the primary feature of WhatsApp, allows businesses to engage with customers on a personal level. By opening a direct line of communication with the customer, businesses can handle queries, address concerns, and build relationships in real-time. These personalized interactions often lead to increased customer satisfaction and loyalty, which in turn can boost sales.
Customer Support

With direct messaging, businesses can provide immediate and personalized customer support. This capability not only resolves issues more quickly but also creates a positive customer experience. By addressing concerns immediately, businesses can prevent potential sales from falling through due to unresolved issues or dissatisfaction. Customer support not only serves to increase sales but also helps to build lasting relationships with customers.

Personalized Marketing

Direct messaging also opens avenues for personalized marketing. For instance, Businesses can use customer engagement tools such as WhatsApp Chrome extension to create personalized messages that contain product recommendations or discounts tailored to the customer's interests. This increases the chances of customers engaging with the product or service, driving sales and revenue.

Additionally, businesses can use customer data and analytics to better understand customer interests and preferences. This information can then be used to create targeted campaigns, improving the effectiveness of marketing efforts and increasing sales.
Leveraging WhatsApp Business Features
WhatsApp Business comes packed with features designed specifically for small and medium-sized enterprises. These tools, when used effectively, can significantly boost sales.
Business Profile

A complete, professional business profile instills trust and gives customers all the necessary information about the business. Creating a business profile provides basic contact information, such as the address, website, and phone number. This helps customers understand more about the business quickly and conveniently. Additionally, you can add your business logo which further enhances the credibility of your business. Here is a simple guide on how to create a business profile on WhatsApp;

Download and install the WhatsApp Business app.
Once you have downloaded it, open the app and register your account.
Enter all your business information to create a profile.

Catalog Feature

The catalog feature allows businesses to showcase their products directly within the app. Customers can browse these items without having to leave the app, making it easier for them to make purchasing decisions and proceed to checkout. A catalog also helps businesses maintain an up-to-date inventory and increase their reach across different marketplaces. Here are some tips for creating a successful catalog;

Use high-quality product images
Provide detailed product descriptions
Showcase relevant products

To create a catalog;

Go to the 'business settings' section of the app
Select 'catalogs' and click on Create a new catalog
Fill in all the required details about your product.
Add images, descriptions, prices, and other information.

Automated Messages

WhatsApp allows businesses to set up automated messages. These can include greetings, away messages, or quick replies to frequently asked questions. Automated messages not only save time but also ensure that customer inquiries are addressed promptly, leading to higher customer satisfaction and increased sales. For you to send automated messages, you have to;

Go to the 'business settings' section of the app.
Select 'automated messages'.
Choose which kind of automated message to send and fill in all the required details.
Save your message and it will be sent out automatically when triggered.

WhatsApp Groups

WhatsApp groups are a great way to engage customers. Businesses can create groups related to their products and services, allowing them to provide updates and answer customer questions in real time. This also helps build relationships with customers, fostering loyalty and increasing sales over time. Moreover, you can run campaigns and promotions in these groups to boost sales. To create a WhatsApp group;

Go to the 'Chats' section of the app.
Select 'New Group' and choose participants from your contacts list.
Once the group is created, you can add members, welcome messages, or post promotional content.
Promoting Payment Convenience With WhatsApp Pay
WhatsApp's in-app payment feature, WhatsApp Pay, can further boost sales by making transactions smooth and straightforward. Customers can complete purchases without leaving the conversation, providing a seamless shopping experience. By eliminating extra steps in the payment process, businesses can reduce abandoned carts and increase sales conversions.
Utilizing WhatsApp Status For Business Promotion
WhatsApp Status is a feature similar to Instagram Stories, where businesses can post updates that disappear after 24 hours. This feature can be used to advertise limited-time offers, new product arrivals, or company updates, thereby creating a sense of urgency and encouraging purchases.
Also, WhatsApp statuses can be used to promote customer reviews, highlight loyalty programs, or run contests. This helps improve the visibility of your business and build customer trust.
Integrating WhatsApp with Other Platforms
Integration is an effective way to increase sales conversions. You can integrate WhatsApp with your e-commerce website or app to provide a seamless shopping experience. Integrating these platforms also allows businesses to sync activities across the two channels and unify customer data, enabling them to send out personalized offers and messages through WhatsApp.
Conclusion
The robust features of WhatsApp along with the inherent advantage of direct messaging, make it an excellent platform for businesses to engage with their customers and increase sales. With its wide reach and user-friendly features, WhatsApp is a powerful tool for e-commerce businesses looking to leverage direct messaging for increased sales.
By taking advantage of all these features, businesses can successfully boost sales through direct messaging. What are you waiting for? Let's start boosting your e-commerce sales with WhatsApp today!