What Makes WordPress An Ideal Choice For Web Development?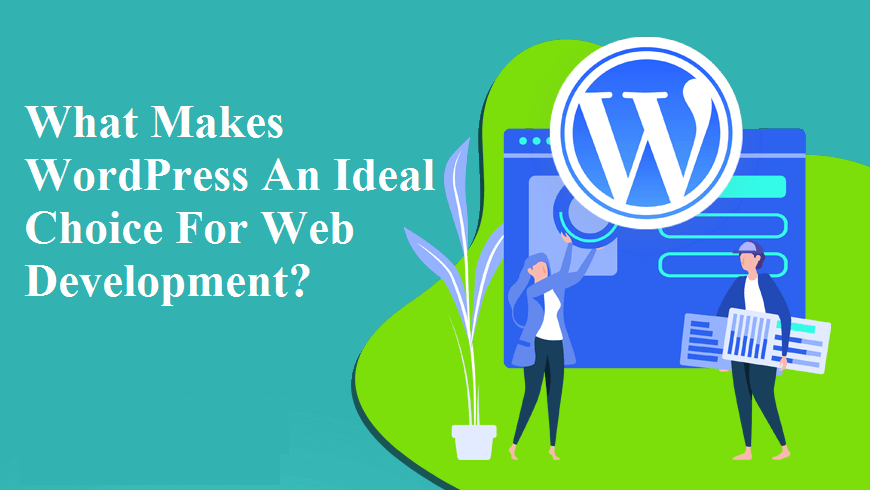 WordPress is a sought-after content management system that is preferred by most enterprises & developers to build websites. And, one thing that makes it very popular is the ability of this platform to fully customize.
Indeed, there are plenty of themes and plugins out there that one can utilize to extend the existing appearance and functionality of one's website.
The web is growing larger with more and more websites getting launched every now and then. In this great pool of websites, you need to build a unique web experience that would provide strong online visibility to your business.
Choosing the right CMS is an important decision in this regard. WP can be a promising platform for developing your website. You can hire WordPress developers to create an excellent website for your business.
The following points describe why WordPress is considered as a perfect choice for web development.
Salient features that make WordPress unique
WordPress is so popular that it holds a significant market share of 60.8% of the CMS market. Although there are dozens of content management systems that boast excellent features and functionalities; there are several reasons that make WP a good choice over these platforms. Here are some salient features of WordPress CMS.
Open-source

Being an open-source platform, WordPress is free to use and can be utilized for any project whether a personal blog or a business portal.

Although the platform is free, you will need to hire a WordPress developer to create a custom website and harness its potential to the fullest.

Since the source code is available to anyone, a developer can use it to develop it further for building customized and creative websites.

Also, in the beginning, the developers do not incur costs that enable them to deliver affordable web solutions to their clients.

Ready-made themes & plugins

You can find plenty of pre-built themes that are available from the official WordPress repository or third-party vendors. Using a pre-built website theme allows you to create your website quickly.

You can also customize the theme in the most suitable way for your business. Pre-built themes are available both free and for some price.

Besides themes, you can also easily find various plugins that enable you to add more features to your existing website. If a certain feature is not available on your site, just find a plugin to add the required feature.

Search engine-friendly

Every website owner aspires to see his/her website rank higher on search engines. WordPress is an SEO friendly content management system that you can enhance further by improving your website and domain's optimization. WordPress enables to create a standards-compliant website with high-quality code.

The proper titles, headings, optimized images, SEO-friendly permalinks, and other on-page advantages are what makes WordPress a platform which is loved by search engines.

Superior customization

Cutting-corners is never a good approach to creating a website. And, you will want to create a fully-customized and feature-rich website for your business.

WordPress offers ultimate customization options that enable to develop custom websites loaded with exclusive functionalities.

You can use a premium theme on your site to give it an attractive look and feel. By customizing the theme, you can enhance the overall appearance of the website.

Further, you can also choose from a myriad of plugins that are useful to add more functionality to the existing website.

Self-up-gradation

Updating your platform to the latest version provides you the advantage of improved performance and website security.

WordPress is self-updating which means when a new version is available, it notifies the user by showing a message that the existing version is outdated and an updated version is available for installation. When clicked on the appropriate option, it automatically installs the new version.

Not only are the updates available for the basic WP installation, but they are also available for plugins. Hence, this platform ensures that the users are keeping their website in sync with the latest advancements in the CMS technology.

Website functionality

WordPress is rich in built-in features and functionalities that allow users to perform varied tasks easily. Being a complete content management system, it offers an easy and efficient means of updating and managing blogs and web pages.

It is easy to change, delete, and update images and content within a few clicks without requiring much technical support from a developer on WP.

It also makes the addition or deletion of functionalities or features easier by adding or removing plugins from your website.

When your business requires advanced functionality like e-commerce, you can use plugins like WooCommerce to extend the website's functionality to meet strategic goals.

Huge community support

There is a huge community that is actively supporting WordPress around the world. The community not only provides guidance but also contributes to the growth of this platform. WordPress users can find answers to their queries and resolve their problems from different forums as help and support on this platform is easily available.

If you want some functionality into your website, then it is likely that someone would have created a plugin to provide such functionality that you can integrate into your site to get that functionality. The internet is also filled with tons of blogs, articles, and other resources that are addressing certain issues related to WP.
Wrapping Up!
It is now evident that WordPress is an exceptionally powerful platform for website development. It offers high-quality and affordable web solutions while creating a website that you desire.
It can create almost every type of website, with authentically pleasing themes that complete the look of your website.
From a blog website to a promotional one, WordPress has got you covered with everything that is required for your website to allure the audience and gain optimum brand presence.
Although creating a website with WordPress is an easy task, it is always suggested to consider taking the aid of a trusted WordPress development company to build highly-customized and professional websites. You can build a website that would give a robust presence to your business on the web.