What Are Google AMP Stories and Are They Beneficial?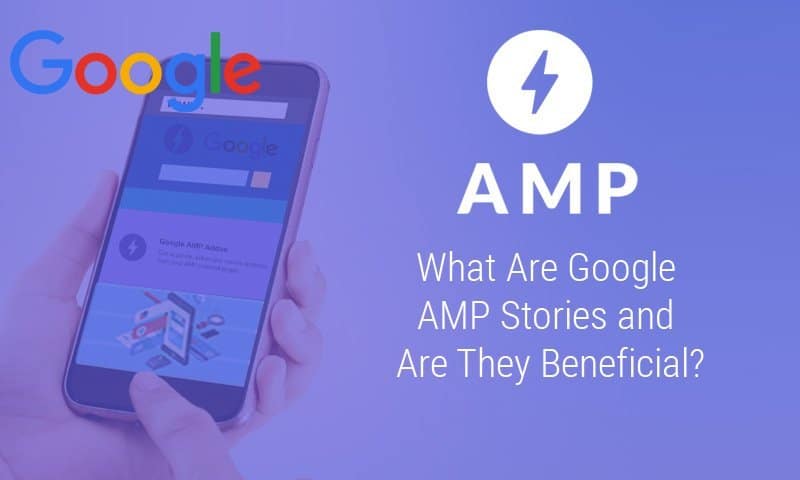 Imagine having the ability to create visual content that is similar to Instagram stories using the same mobile platform. That's what Accelerated Mobile Pages or AMP stories are all about. Simply put, it is visual storytelling.
Because more mobile users are spending more time using apps than websites, business owners can highly benefit from the features AMP stories. If you want to take your content creation to the next level, continue reading below to find out more how AMP stories can help your business.
What Are Google AMP Stories?
Google launched the AMP project in February 2016 as a response to increasing demand for mobile apps that businesses can take advantage of.
Here are quick facts about Google AMP Stories:
It is a type of open-source software, which means that anyone can use the licensed source code for any purpose as granted by the copyright holder.
The AMP story format is free, which is a part of the open web. You can use it and try it on your websites without paying a single penny. The AMP format allows web developers to quickly create products while keeping the original design, form, and content of the site.
You can share and embed it across the internet without being confined to a closed platform.
The three core elements of AMP include JavaScript, HTML, and Cache. While the AMP is being used, third-party JavaScript isn't permitted for faster page loading.
What Is the Goal of AMP Stories?
The main goal of AMP stories is to provide publishers an easy way to post stories, like events, promotions, press releases, infographics, and other visual content on Google so that people can access and read the content directly and easily on mobile devices. How to speed up your Google Drive read here.
Are AMP Stories Beneficial?
Yes. AMP stories are not just trending but are highly beneficial to e-commerce businesses and other types of businesses needing digital online marketing. Google's AMP project is giving targeted solutions to web developers to boost sites and simplify website building.
What Are the Benefits of AMP Stories?
AMP Stories Improve User Experience

You can immerse your readers or viewers in fast-loading and full-screen experiences with AMP stories. With AMP, your content loads extremely fast. Instead of using apps, mobile users are kept on your page.

Here's how AMP stories can improve user experience:

Mobile users receive swipeable stories that are easy to navigate instead of typical search engine results.
The user interface of AMP stories is somewhat similar to Tinder, the popular dating app.
You can link your company pages to your AMP stories, which can improve user experience substantially.
Mobile users experience fast load times because unnecessary JavaScript is not allowed while AMP is running.
Any ongoing sales and promotions are readily seen, saving a mobile user's time checking the details on the textual content of your website.

AMP Stories Allow You to Create Engaging Visual Content

With the open-source nature of AMP stories, you can easily create engaging visual narratives and animations with easy-to-tap interactions. Mobile users can easily see what your company or brand is all about by swiping your stories.

Here are some examples of engaging visual content for AMP stories:

Using a product in an everyday situation by common or ordinary people (like one of your loyal customers).
AMP stories or visual storytelling of how your product or brand gives back to the community.
AMP stories can visually showcase how you meticulously manufacture your products.
AMP stories of your milestones, awards, and achievements.
Let consumers know about the latest news and trends in your business niche or any product-related updated information.

AMP Stories Offers Great Advertising Opportunities

Content publishers can utilize AMP stories by delivering information and news in a mobile-focused format that is visually-rich. AMP offers excellent advertising opportunities for both advertisers and publishers, reaching more users and a unique audience online with immersive and engaging experiences.

AMP stories allow publishers to:

Share and embed stories across apps and sites
Create an immersive experience for readers through flexible design and storytelling
Access on desktop and mobile devices
Tell complex visual stories even with basic technical knowledge
Catch user attention through engaging visuals with an easy-to-tap interface

AMP Stories Increase Your Brand Authority

With AMP stories, consumers can relate to your brand, thereby differentiating it from your competitors and enabling your business to stand out. You become more credible and trustworthy because you're able to picture the needs and wants of your customers, thus increasing your brand authority.

Like how children love storytelling, so do consumers. People are enticed with the stories behind a product, such as a single mother relying on a baby monitor while busy doing household chores or managing a home-based business, or an athlete using a smartwatch to monitor performance progress in preparation for the Olympics.

AMP Stories Can Strengthen Your Digital Marketing Strategies

If you want a strong web presence, you should not miss creating your AMP stories. It's a great way to establish and strengthen your digital marketing strategies with the power of immersive visual storytelling.

Here are some ways AMP stories can help you with your digital marketing strategies:

Social Media Marketing: Your brand or product is prepared to go viral on social media, reaching a wider audience once your content has been AMPlified or when you have successfully created your AMP story. You can integrate your site and share your AMP stories on different social media platforms to strengthen your social media marketing.
Content Marketing and SEO Marketing: AMP Stories is a legitimate content format that can help you deliver information to your target audience in an optimized manner. Users see stunning visuals, experience buffer-free pages, and eliminate unnecessary distractions, providing consumable content that is easy on the eyes.
Conclusion
Take your business marketing to a higher level with AMP stories. It's an open-source software that Google introduced to help you create visual-rich, engaging, and immersive content. Improve user experience, increase your site rank, strengthen your marketing efforts, and boost your sales with the influence of AMP stories.