What are Digital marketing agencies and why you should hire one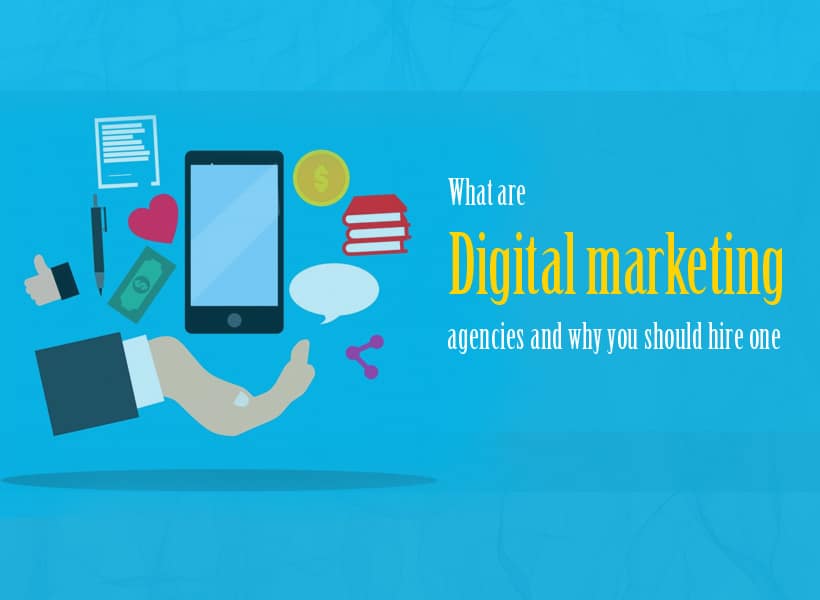 We are living in an era where technology is changing rapidly and businesses implementing emerging technologies to stay competitive and grow on digital channels. To facilitate businesses, Digital Marketing agencies are creating an impact in the online marketplace. These agencies are the key to the success of any business today in the period of emerging technology. Agencies help businesses to grow and scale when it comes to scalability. In this blog, we will get to know what is digital marketing and how digital marketing agencies operates and the services offered by digital marketing agencies.
Digital Marketing Agency
Digital Marketing agency possess high competency and offer a variety of services to increase online visibility and run paid campaigns to grow business in digital channels. The agency hires industry top talent in various domains, such as Email Marketing, SEO strategies, SEM, PPC campaigns, Social Media Marketing, Content Marketing, and YouTube Ads. Agencies work delicately to grow their client's business and increase revenue by implementing the best strategies on all digital channels. Marketing Agencies offer customized services and they do extensive market research to create an impact in the online marketplaces.
Why hiring a Digital Marketing Agency is a key aspect of the growth of a business?
No one can deny the importance of digital marketing in the emerging technology era. Social Media platforms like Facebook, Instagram, YouTube and Google have active users in Billions and people are generating millions of sales. After COVID-19, the trend for digital marketing and e-commerce has gained popularity and continuously rising. Whichever business you're doing, you need to make an online presence through social media marketing and by running a paid campaign on Google, and Youtube Ads.
The following are the core reasons why you should collaborate with a digital marketing agency in this competitive online marketplace.
Cost Effective

As you know, traditional marketing like Billboards and TV ads highly expensive and you get limited exposure as compared to Digital Marketing campaigns. You can bring the best expertise by hiring a digital marketing agency that can save you millions of dollars.

Market Research

The agency has the best resources and tools to do market research and gather data from the market through, awareness campaigns, feedback and surveys. Without proper research audience marketing campaigns are useless. So, agencies can generate a look-alike audience through competitive research and analysis.

New Ideas

You can be an expert in your business and have confidence in your product or service. However digital marketing and customer behavior are changing constantly. So, you need to stay competitive in the online marketplaces and implement new strategies and innovations in the marketing of your product. The agency can help you to strategize your business to the maximum profitability.

Time-Saving

A Digital marketing agency can save your precious time and also can increase the revenue. If you're a startup, or a small business owner and have multiple responsibilities to run your business. Then it's obvious that you will get yourself frustrated managing everything by yourself. The agency will not only save your time but also give expert advice on how to run campaigns and optimize for maximum ROI.

Services offered by Digital Marketing Agency

Digital Marketing is a wide topic to cover and there a plenty of services that are being offered by the digital marketing agency. The following are the core services of any digital marketing agency that can transform your business in the digital landscape.

Content Marketing

In digital marketing quality content has a significant importance in gaining customer's interest and traffic to the website or app. Without quality content, it's nearly impossible to increase the visibility of your product or service. The agency brings talented resources to produce quality and engaging content for your targeted audience. Content is king and without quality content, you may lose lots of leads and traffic on your website or store.

Social Media Marketing

Almost every business owner prefers to publish their content on social media platforms to increase brand awareness or sales through social media. Social media platforms can help you to create brand awareness campaigns and help to gain maximum ROI.

Email Marketing

Agencies also run Email marketing campaigns to turn your website's subscribers into customers through effective email marketing campaigns. Many business owners neglect the importance of email marketing but this strategy can help you to turn your users into high-paying clients.

PPC Campaigns

In digital marketing, PPC campaigns are considered expensive campaign but highly recommended. The agency runs Pay-per-click campaigns for a targeted audience to turn them into leads. This is an effective marketing strategy to target a narrow audience and helps to generate leads in real time.

Data Analytics and Reporting

In digital marketing, you need to be very specific about your targeted audience and data analytics. The agency shares campaign analytics and reports on the paid campaigns to make informed and data-driven decisions. The agency hires creative individuals for data analysis and reporting to grow their client's business.

Designing and Development

Designing a website or social media posts can consume a lot of your time and restrain you from doing other important tasks in your business. Digital marketing agencies provide services for web design & development services, logo designing, Facebook ads creatives and any other visual designing for your website or startup.
Conclusion
Getting a digital marketing agency on board with your business can be a wise decision as a business owner because it can save businesses valuable time and resources. Digital marketing agencies can solve your business problems and bring the best expertise and strategies to grow in the online marketplace. They offer specialized services and have a deep understanding the digital channels and their algorithms. If you want to stay competitive in online marketplaces, creating campaigns, measuring them, and to make informed decisions can be crucial and time-consuming. Hiring a digital marketing agency could be your best investment which can bring the best expertise and resources to the table. Without online presence and brand building, you may miss opportunities to grow your business.