Ways to Speed Up WordPress Sites for Effective SEO and High Ranking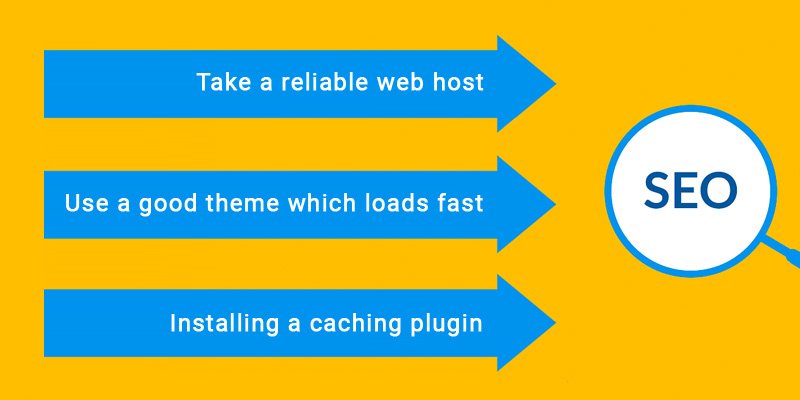 WordPress is a well-coded content management platform. Even though it first started as a standard blogging site, now it had grown to the world's No.1 content management system on which you can smoothly and expertly weave any functional websites.
However, people used to mess up WordPress installations by installing plenty of low-quality and worthless plugins, choosing the most dreaded hosting, and filling up their sites with heaps of irrelevant garbage just for the reason that all of them are available for free.
When you are planning to build a website on WordPress for your business or service, it is essential to know the scope of doing SEO on your site to enhance consumer acceptance.
There is no point in making the most appealing and aesthetic website if there is no scope for the potential users to reach to your site through the search engines.
The primary requirement for planning for a WordPress site is to make sure that it loads up fast and provide a quick response to the users.
For those who are new to it, here are a few sure-shot techniques you can try out to enhance the overall performance and user-acceptance of your WordPress websites.
Take a reliable web host
The first thing you need to ensure on thinking of optimizing your website is that it is now your host which is slowing down your website.
According to a Fort Lauderdale SEO expert there are many cheap hosting services out there which put hundreds of sites simultaneously on a shared server, which naturally slows down your website. You do not want to make this mistake, if you want to speed up your sites performance do your research to find the best hosting provider for your website.
Ideally, you need to evaluate several hosting providers in terms of their speed, hosting method, and of course cost to identify which one may work the best for you.
Try to read some unbiased reviews and feedback from various providers and also talk to the providers about what they can offer.
Use a good theme which loads fast
There are thousands of frameworks and themes offered by WordPress speed optimization service, both free and paid, for WordPress developers to use.
All these as well-coded, but you need to be careful about choosing the most appropriate theme for you. If you are merely picking a random theme packed with plenty of unwanted features which you do not need, it may ultimately have an adverse impact on your site performance.
Only if you are entirely inexperienced with coding, you may have to choose a theme which allows you to change things directly from the theme options to make jobs easy.
However, it makes the tasks so hard for the web browsers and servers, and ultimately provides you less SEO value. Using too much of standard PHP and JavaScript is not good in terms of site speed.
The default themes offered by WordPress are lightweight and well coded. If you can be flexible with a little bit of coding knowledge, make use of it or hire a knowledgeable developer to choose a theme and customize it to the best of your interest.
Installing a caching plugin
The next most efficient mode of enhancing your website load time is to custom install a caching plug-in. You can make use of the most popular ones as WP Super Cache or W3 Total Cache or, with which you can effectively make the site load faster.
When a caching plugin is activated on your site, it the offers the cached copies of the web pages, which mainly reduced the need for MySQL database access.
It also cuts down the volume of PHP requests, static resources to be accessed from servers, and the HTTP queries to combine multiple files into one and display. All these significantly enhance the loading speed.
W3 Total Cache is the favorite choice of the WordPress developers as it offers a wide range of caching features as:
Page cache
Object cache
Database cache
Browser cache
Minify – Breaks down the heaviest JS-based plug-ins.
CDN – Don't enable this unless you prefer to use a CDN.
Using a CDN to speed up the site
The concept of off-loading the static website content such as scripts, images, and CSS files can surely enhance the site loading speed.
Not only that these resources may get loaded faster, with the use of CDN, the server also needs to bear the only lesser load and thereby can have a better performance while delivering the website to the users.
In the concept of CDN, the static resources on the page will be served to the visitors based on their location, from the server which is closer to their destination.
It ensures that a large chunk of your site gets loaded as fast as possible when the users call for a website.
Apart from the above major ones, some other approaches you can consider while doing WordPress web development to enhance loading and speed and SEO value include, but not limited to.
Enabling Gzip compression
Installing only well-coded plug-ins
Ensuring routine plug-in maintenance
Database optimization
Image optimization
Replacing PHP with HTML at all possible locations
On being careful by taking care of the above aspects and developing a faster-loading website on WordPress, you can naturally reap the best results in terms of SEO at one hand, and a high degree of user acceptance and admiration on the other.