Useful Tips for Designing an Interactive and Attractive User Interface for Your Website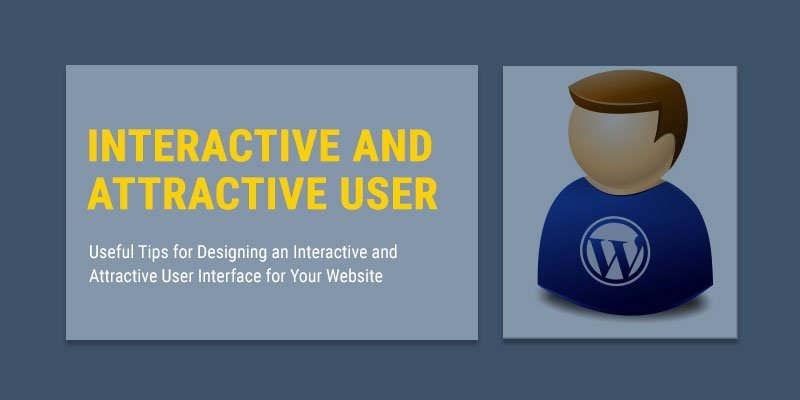 The user interface is a crucial aspect of designing of anything that is created for usage. Although the industrial and some graphic designers may use certain user interface designing principles for their works, user interface (UI) has become very important in today's digital environment as well.
Creative UI designs assure the triumph of apps and also websites by ensuring the user experience is positive and even engaging. With the intense competition to get user's attention, today UI is an important, vital and significant tool to capture and satisfy the audience.
You should have a stunning UI for your business website, and you can start with the essential elements of designing like the colour or the font choice and then go on to extend it to the other components of the design. Or if you have other tasks going on you can also hire a UX design agency, that specializes in designing outstanding user interfaces.
In this article, you will learn about some great tips to make your user interface attractive and creative, while also ensuring that your users get a pleasant experience.
Understand the User

In designing the user interface of your website, the priority which you should focus on accomplishing is in understanding the user and realising what the user wants and expects from the interface and then you must try to anticipate the ways a user will be using it.

Analyze your potential users, you can use either formal research methods or even some informal brainstorming, but you have to set precise goals for your interface in the beginning stages.

You should ponder over questions like whether what you would want the interface to attain, how user-friendly will it be for the user's comfort, and how would any user engage with it?

Following these principles, you must initially plan out your interface, once you have done that you will have to test it on real users to see if the interface is working on them or not.

Prioritize the Clarity of the Interface

Clear and specific features will be crucial to creating a UI which is engaging. Users will tend to ignore all icons and elements of a website if they do not understand what they do or represent.

Users will move on from any feature which they feel serves vague purposes, as they will think that it is unnecessary.

So you have to present the user interface in such a way that it will be apparent for users who browse your website, they must understand what is where, and how they can access the information which they want.

They must not at any point feel lost or overwhelmed by the design of the layout or the overall visual presentation. The visual display is the key to the success of the UI.

Make the Page Layouts more Intuitive

You must ensure that your users are easily able to locate and find whatever they are looking for on your site without having to feel that they are putting in too much of effort.

Intuitive designs are such designs which will direct invisibly and immediately your users and tell them how they should navigate about the website and also use the features of the sites.

It will enable your users to put more focus on how they will complete their tasks without feeling that should stop first and instead figure out how they will do so.

Provide Feedback Instantly

User interfaces are meant to be used by the users primarily, that is the primary goal of the whole thing, hence having feedback messages given instantly to the users will help you to keep them understand their actions better.

Instant feedbacks will inform your users about the nature of the website's interface, the error messages, the loading icons, updates about newer developments and so on.

If users get feedback instantly, then they will not have to worry about what is going on and will not feel the need to move out from your site.

Make Your Defaults More Pleasant and Useful

Plenty of users do not even bother to change the default settings or features on the interface. So you must keep the default interface beautiful, pleasant, functional, purposeful and useful. If it is not so and if users find it objectionable then it can affect your users negatively.
You can Visit Rank No1 UK to get the solutions to all your web designing problems and queries and find a variety of information regarding how you should be designing your website to get the best possible results.
Conclusion
A good user interface holds the key to good design, and a good design will ensure that your users find your website pleasant and keep coming back, overall your business will be positively affected if you have a good user interface.
Conversely, a bad user interface can impact your online business experience. Using the tips mentioned in this article, you should be able to create a beautiful yet practical and functional user interface for your website.