Unlock value by driving data through Analytics and KPIs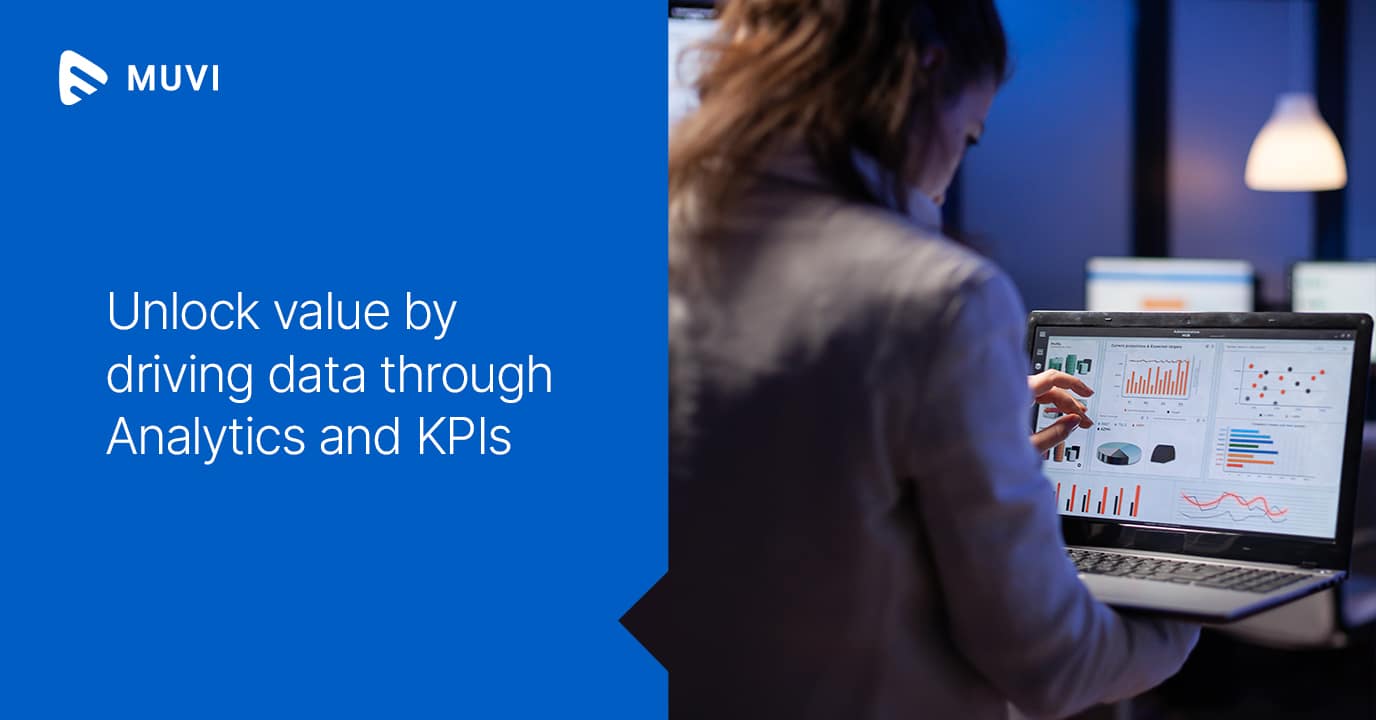 After spending time and money on creating a high-quality live broadcast, it only makes sense to start monitoring key live streaming metrics that will help you gauge your performance. Streaming companies frequently fail despite having top-notch material at their disposal. However, why does this occur? Therefore, you must add a few more to this question in order to answer it. First, how well does your live video feed work? Are you targeting the proper group of people? Do you have accurate information into every operational channel?
The secret to boosting interaction and growing their audience is for streaming services and publishers to understand who you are and how you behave. Key performance indicators, or startup KPIs, are a crucial component in evaluating the successes and failures of your business.
What are KPIs in streaming
Key performance indicators might vary between businesses. KPIs for measuring the effectiveness of your videos and data sets to get audience insights should be taken into account. You would be left with an idle business wondering where the issues were if you failed to record any degree of analytics for your streaming operation throughout. Following are the key KPIs for streaming that you should follow to manage your business smoothly.
Viewership

The quantity of views reveals how frequently your film has been seen. It demonstrates how well-liked your video is and is typically the first statistic in which your stakeholders are interested. There are several insight-related viewers that should be considered, including:

Session duration: This tells you how long on average each viewer spent watching your broadcast. This KPI can also be reported as a percentage depending on the total streaming length for standardization and comparison.
Geolocation: In order to more precisely define your target audience, analyzing the location of your visitors may provide you with useful information about the geographic popularity of your films and live video broadcasts.
Unique and Repeat Viewers: Assuming the same individual uses the same computer/network each time they visit your site, if they do so ten times in one day, all ten of their views will originate from the same IP address. Do you observe a lot of once-and-done traffic, or are people returning to your live stream to watch many events?

Audience Engagement

You could anticipate that streaming websites will behave very differently from other websites in terms of interaction. It speaks a lot about the caliber of your live broadcast if your viewers engage with it! Additionally, it increases the likelihood that they will return for more. You could envisage that streaming websites will behave very differently from other websites in terms of interaction. To find out what other kinds of streaming services your audience commonly uses, you could look at their cross-browsing activity. By using user engagement strategies that help personalize the newly onboarded customer's experience with on-demand video streaming, you may make your onboarded users feel valued.

Platform performance

Brafton, a US based content marketing agency's survey, revealed that the typical session lasted 2 minutes, 17 seconds. The platform's continual excellent performance and quality raise questions as demand rises. Here are a few metrics you should take into account for your streaming platform because they have a significant impact on customer retention.

Start-up time/buffer-time: The duration of time it takes for a video to begin playing is referred to as the start-up time. Before your video has a chance to perform, this is where you risk losing your audience.
Post-buffer lag: It is annoying to become caught in the middle of a movie because the platform begins to lag, which might cause your audience to go to another platform for comparable content. It is the time taken to load a specific content in your platform. With the aid of analytics, it is critical to comprehend the user's experience when they start viewing a video.
Overall Lag ratio: The term "lag ratio" refers to the proportion of total waiting time in a video to total viewing time. The lag ratio must be kept as low as feasible.
How video analytics can help in it
Following the definition of your video KPIs, you must measure and assess them in a manner that both you and your stakeholders will find understandable. Every report should connect together into a single flash for the firm as a whole despite having numerous KPIs. Change your live streaming platform if the information from your streaming stats suggests that you need to make improvements to your live stream. If well-chosen, your streaming solution ought to provide a trustworthy analytics dashboard with information to aid in measuring and comprehending your audience. Joining a reputable platform provider will eliminate all your difficulty by bringing all useful audience data to your desk. You will find it simple to evaluate which area needs improvement once you have this information.
Muvi's Analytics & Reports Section allows you to carefully examine and track the performance of all of your video and audio material. It offers you all sorts of analytics of KPI metrics you can name in the market. What is holding you back then? You only need to sign up for its 14-day free trial to explore all of Muvi's features.