How to turn out to be a Reputed WordPress Professional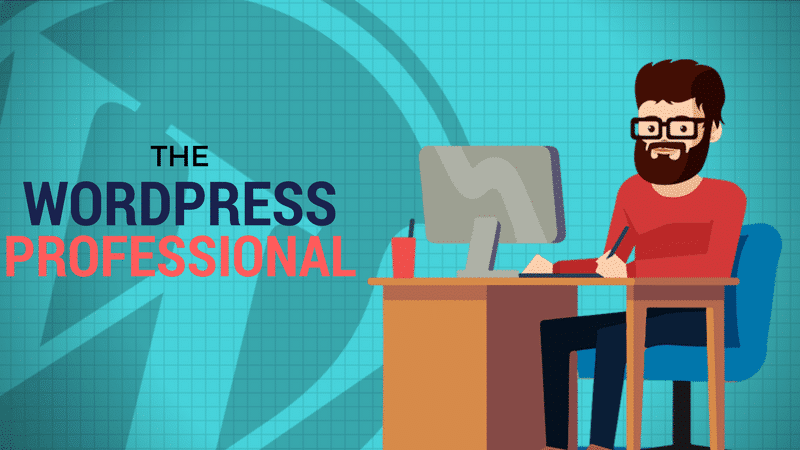 Two kinds of people ask the question as to how you can become a successful WordPress professional. One, who is in the designing or the front-end development field and want to cross it over to work with WordPress. The next are the ones who have been using WordPress in their free time and wanted to make a living from it.
Of course, a career with WordPress isn't just for the developers or the bloggers. WordPress has a plethora of opportunities for educators, designers, marketers, content creators as well as the code writers.
But do you establish yourself as a professional? There are several ways that you can go about it. One thing that you must understand is the fact that it is not the easiest job in the world. There are no shortcuts to becoming a pro at WordPress. As it is said, there is no shortcut in life to success.
WordPress undoubtedly seems rather simple on the surface but is somewhat technical once you start discovering the cogs in the engine; you might feel rather overwhelmed by it. The more you know about its little things, there are more chances of you being able to master WordPress.
Listed below are a few tips that would help you be a pro at WordPress.
Recognizing Your Niche

The very first thing that you must remember while identifying your niche is the fact that this decision would not be permanent. WordPress keeps on changing constantly, and one must understand that the thing that might work now would not work after a few years of time. A WordPress professional must have the capability to adapt to the change. There are several niches that you could choose from:

Designing: This might or might not include the design present in the browser using CSS and HTML.
Development: This could be either front-end or back-end. Front-end would include CSS, HTML, JavaScript and the back-end would include PHP.
Creation of the content: This might include creating content for the clients or simply blogging. There are, in fact, several businesses who are continuously on a lookout for talented writers.
Marketing: This would consist of SEO, e-commerce, and optimization of the web pages.

When recognizing your niche, you might notice that you have skills in more than one area. And so, you do not focus on just one of them. Analyze as to where your experience and expertise lie. You must also consider if you have the required resources which could help you in finding work realistically.

Transferable Skills

Now that you have found out your niche, you need to look at the skills that you would need. For this, you must also identify the people that you would be working for. Coming back to transferable skills, if you have been writing for some time now, you would have skills that can be utilized for the creation of a successful blog. Or, if you have worked in the offline marketing sector, you would have skills which can be used by helping the clients with online marketing for setting up a site.

Take some time and identify what transferable skills you have and then consider how you can utilize them to make some money with it. But, you, of course, might need to learn something extra.

For instance, if you have skills related to offline marketing, you would need to learn the different elements of online marketing. Be realistic and completely sure of what your skills are and never tell the client whatever isn't relevant.

Developing the Skills

Transferable skills aren't just the only skills that you need. There are several other things that you would need to learn. For instance, if you are an excellent writer, you would and want to make some money out of your blog; you would need to learn about advertising and other ways which would help you in monetizing your blog.

Get in touch with people from the WordPress community who have the same niche as that of yours and are good at it. Note down their skills and behaviors which might also work for you. Those skills might be different from your way of working, but you could try and find out as to how these would work for you.

Do a thorough research and identify the skills that you would need to learn to be a pro at what you do. There are several online courses, local WordPress Meetups, blogs and technical resources which can help you.

Create a Network

Before you head on to create a network, you must create a portfolio of your work. After you have done that you would need to find out some people you can show that to.

And, WordPress has a large community of individuals and contacting the people from this community would help you to recognize the opportunities and make a name for yourself.

You could attend the big events or the local WordPress events. The opportunities that you would find there would surprise you. Talk to the people at the events and ensure that they are aware of what you can offer. But, remember to keep it subtle.

You should try to build relationships with people. When you notice that someone is hiring, make sure to approach them. Being a WordPress professional would expose you to several excellent opportunities and a chance to get to know people who would become your future business friends.

Get your business cards printed and ensure that your website has all the information. Your portfolio should be up to date at all times. Even if you don't get work, you would be able to get a huge boost to your WordPress learning.

WordPress is continuously growing, and people who have great WordPress skills are going to be in huge demand in the years to come. Becoming a professional is no overnight task.

You must invest time to develop your skills and make contacts with the WordPress community. Follow all the tips, and that would gradually boost your chance of having a successful career with WordPress.