Top SAAS Brands That Are Rapidly Building Their Authority On Social Media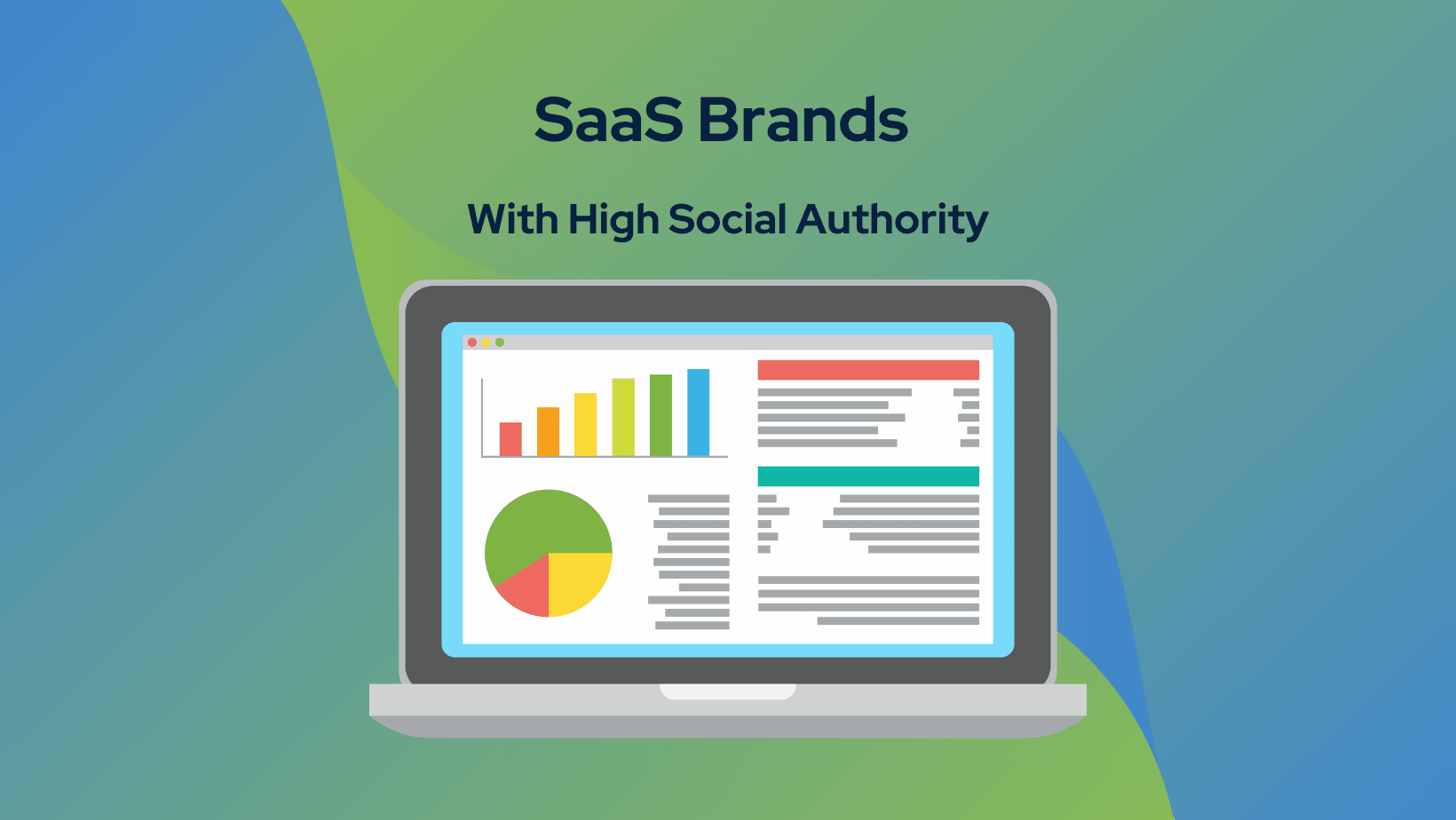 One of the fastest-growing segments in the IT sector is SaaS-based products and services. Software as a service (SaaS) models, which run on a subscription basis and are centralized and situated on a far-off cloud network, are becoming more and more popular among many organizations for a number of reasons, including flexibility and cost, which is boosting the growth of the global SAAS market. If you are interested, buying a SaaS business can be a great way to start or grow your business. But the rivalry is fierce. SaaS marketers today encounter two significant problems:
To stand out from the crowd.
Marketing to compelling consumers.
Social media marketing can help you tremendously in this situation to connect with your audience. After all, the majority of your target audience is probably active on social media. All you need to create your own social media plan is a few clever marketing strategies and a few illustrations of subscription businesses whose concepts might serve as inspiration.
This blog article discusses the top five SaaS brands rapidly building their authority on social media and strategies to grow your SaaS business.
What Is A SAAS Brand?
A SaaS provider is a business that hosts an application and makes it accessible to prospective customers online. This implies that the user uses the software remotely while it is hosted on a server by a SaaS provider.
SaaS is altering how businesses operate. These products allow data to be distributed online and accessed from any web browser on a device. They are still hosting the software and assisting its users.
SaaS providers are likely to have higher security, more rapid upgrades, and better user experiences because they have more control over their goods than traditional providers. They can also offer more transparent pricing since many rely on recurring monthly payments from their clients.
Examples of SaaS Brand Categories
The servers, databases, and software are necessary for the program to be available online by web browsers maintained by a SaaS provider. SaaS users frequently pay a monthly membership fee to access the application. Some of the most popular SaaS application categories include:
CRM (Customer Relationship Management)
Accounting
Project management
E-commerce
HRM
Payment gateways
Advantages of SaaS Products
SaaS solutions provide users with many benefits over traditional software since they are cloud-based software services. Below are some of their main advantages:
Available for every user's membership
The software on your laptop or computer doesn't need to be updated or downloaded.
It can be accessed via the Internet from any device and anywhere in the world.
Reduces subscription fees compared to the cost of conventional software
The shorter time needed to install and run the software
Top 5 SAAS Brands With Strong Social Authority
Adobe

Adobe is one of the strongest and fastest-growing SaaS brands. In digital media and marketing, printing, and publishing, Adobe owns over 50 computer software applications.


Designers, researchers, and many other professionals utilize Adobe products daily. Adobe has numerous social media accounts on all major platforms, including Facebook, Twitter, LinkedIn, and Instagram.

What makes Adobe social platforms so unique? The social media pages of Adobe are flooded with attractive graphics produced by its extensive network of users. All of their social media channels feature user-generated material. It's a terrific tactic since it allows you to engage your audience and foster loyalty without spending all day coming up with new article ideas.

Adobe is most active on Linkedin, with an average of two daily updates.

Instagram- 1.4M
Facebook- 1.3M
LinkedIn- 3.8M
Twitter- 804K

Grammarly

Grammarly is one of the fastest-growing SaaS brands. It is a SaaS application that evaluates your writing and offers solutions to improve it. The primary purposes of Grammarly are to assist users in correcting grammatical problems and to determine whether they have unintentionally plagiarized content.


The marketing plan for Grammarly demonstrates emphatically that content marketing drives 7.8 times more website traffic than any other channel. Grammarly is more focused on building genuine relationships with its community than presenting the benefits of the product or anything related to the idea of selling or buying.

On social media, Grammarly presents itself as an aspirational lifestyle brand by sharing various lifestyle tips, information about productivity, and education.

Grammarly's social platforms connect with the online audience because it uses humor and various topics relevant to everyday life situations. Which naturally translates into a high level of social interaction.

Instagram- 412K
Facebook- 6.9M
LinkedIn- 111K
Twitter- 225K

Slack

Slack is a business messaging application designed to help team members communicate, collaborate on projects, share links, and more in real time.


The most significant social media channel for Slack is Twitter. The 180-character (now 240-character) social media platform was used by Slack as follows:

Increase brand recognition
Describe the voice's tone
Update their users on company life, developments, and improvements
Obtain client feedback
Interacting with customers

The Slack support team from rapidly expanding: Only 18 employees work on Slack's customer service team, with 6 of them managing Twitter around the clock. Despite having 374K followers, Slack's Twitter account is best known for hosting the Slack Wall of Love, where users can share their affection.

Instagram- 61.3k
Facebook- 126K
LinkedIn- 1.1M
Twitter- 466K

Notion

The Notion is a SaaS work productivity tool that enables businesses to alter workflows and processes. The startup is valued at $10 billion, has over 20 million customers, and achieved virality in the B2B SaaS market.


Notion users created their community groups across various social platforms. Notion started supporting their communities and did not force them to use any centralized software.

As a result, numerous community groups of all types were hosted globally in more than 50 languages. There are groups run by the community on Facebook, Reddit, Twitter, LinkedIn, Slack, Discord, Clubhouse, and other applications and community platforms. The concept is currently widespread.

To capitalize on the influence of their superfans, Notion established an ambassador program. The ambassadors keep tabs on Internet forums, YouTube channels, and online and physical events. Ambassadors are required to follow a strict code of behavior, and Notion advises them on the best methods for managing these online communities.

Instagram- 215K
Facebook- 26K
LinkedIn- 223K
Twitter- 317K

Canva

Canva is an online collaboration platform that caters to those who aren't graphic designers and don't have the money to employ one for their diverse needs. It offers graphic design software as a service. The tools and interface of Canva are straightforward to use. Users can select from many templates, fonts, colors, and free pictures.


One of Canva's largest networks is Facebook. A social media plan must be a weapon in your armory to help you develop and thrive in this digital age where clients are connected via various social media platforms. The Canva social team is aware of this. Therefore, they experiment with distinct viewpoints when using photos to explain, in plain and straightforward language, how specific effects, elements, or components of their product may make it simple to design anything.

Canva is aware that its users love the simplicity with which they can design anything without special skills or experience. This is their central theme in all their social media posts, particularly in their Facebook advertisements.

Canva approaches Instagram from a fresh perspective. It invites users to use the hashtag #canvalove while posting their creations online. As a result, a community of individuals who enjoy design and innovation is formed, and others are inspired to try it out. Canva highlights the creations on its official Instagram account.

Instagram- 1.2M
Facebook- 1.9M
LinkedIn- 506K
Twitter- 240K
Social Strategies To Grow Your SAAS Brand
Sometimes, you sit in front of your laptop to brainstorm fresh social media approaches, but your efforts are in vain. You must continually develop new, intriguing ideas to stay competitive on social media. B2B SaaS social networking is not as effortless as it may seem. Many difficulties hinder creative thinking, from coordinating marketing efforts to demonstrating ROI.
Some of the strategies to grow your SaaS Brand on social media platforms are
Build brand credibility managing your google reviews

One of the most acceptable ways of building credibility is to use social media for customer relationships. Social media like Instagram, Facebook, and Twitter works as the perfect platform to connect with your customers. After all, it serves the company's best interests to respond on the same social media platform if customers use it to voice their complaints about a product or service.

Research released by Microsoft stated that their opinion of the brand had improved after witnessing a particular brand respond to customer complaints on social media. Any SaaS brand can leverage this method.

We often type the business name on Google search and look for the business profiles. One approach to inform Google of more information about your SaaS brand, such as who you are, what you sell, and where you are, is to enhance your Google Business profile. When Google has more information about you, you are more likely to come up in more categories of searches. Customers and clients look for credibility today, and one of the most acceptable ways of doing it is by managing google reviews.

Maintain Your Brand Image

Despite applying to all the SaaS branding strategy funnel stages, social media is most effective at the TOFU (Top of Funnel) step. Your primary goal at this time is to spread as much awareness as you can. It would be best if you aimed to educate your consumers about the numerous products and services you provide and the ideals your brand aspires to. Also you can use online reputation management software and tools for the same.

Facebook and Twitter are used for status updates; you can also utilize long-form blog content to show your clients how to use your program works. When you use high-quality content, there is a high probability that your post becomes a sensation. Sadly, as involvement rises, so do the number of unhelpful and irrelevant comments. You can then hide Facebook comments that don't benefit your brand. You can also view old tweets and record the progress of your content quality and reach over a period of time.

Today, Instagram has more users than ever before. If you choose not to use this platform, you will lose thousands of potential clients interested in what you provide. When someone opens your profile on Instagram, they frequently read your bio. As a result, this is your finest chance to introduce yourself and your company, explain what you do and who you offer to your audience, and advise them on what to do next. Create a stunning bio for your brand profile by drawing inspiration from the Instagram bio ideas.

Collaborate with relevant Influencers

Influencers were formerly known as brand ambassadors by marketers, but the idea is the same. Your business pays someone to promote your product to their audience for nominal compensation. Make sure you select the perfect influencer who will assist you and have the most significant reach because, obviously, the greater the audience, the more you'll have to spend for their endorsement.

Instead of continually paying top talent, think about seeking out mid-level influencers having a tonne of interactions with your target market. These influencers frequently seek sponsorship opportunities because they believe they will increase their reputation with their audience.

Likewise, if consumers strongly bond with an influencer, they will also identify your brand with the same positivity. That's only one of the factors contributing to the expectation that influencer marketing will continue to multiply over the following years, as it has in the past. It can give your SaaS company one of the most significant benefits when used correctly.
Wrapping Up!
For SaaS product promotion, having a social media presence is insufficient. It is crucial to pick the appropriate social media channels that are well-liked by your target market if you want to reach your company objectives and engage with potential clients in a variety of ways.
There are a lot of SaaS brands out there building a strong social media presence using various platforms. Social media users are expected to increase as social media platforms gain popularity. Social media platforms have evolved into effective marketing platforms for SaaS companies of all sizes and industries.