Top Reasons For You To Use WordPress Plugins & Themes To Improve Functionality Of Your Website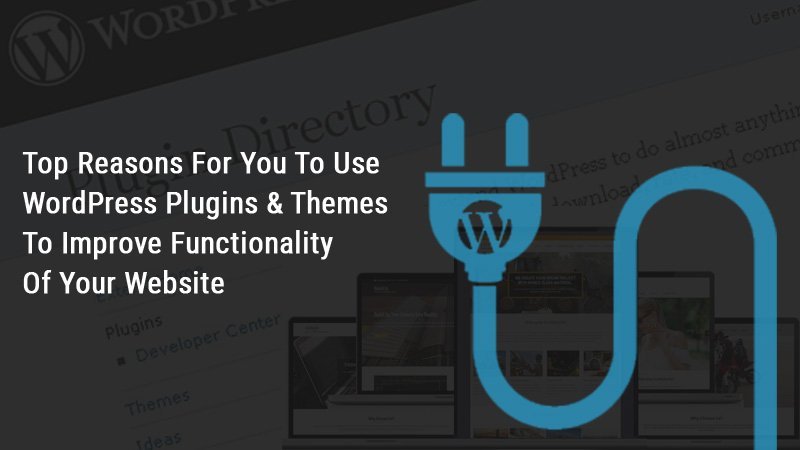 Information technology has evolved to a large extent, and when it comes to WordPress, it is important for you to ensure that you have an awareness of it to enhance the functionality of your website.
Many business owners and webmasters prefer WordPress primarily for its ability to generate leads on the Internet. It boosts your website to be highly functional, and many useful SEO tools help you improve and enhance your presence in the online world.
If you take a look at WordPress today, you will find there are many plugins for you to opt for when it comes to increasing your online web presence and reaching out to the targeted customer.
What are the key advantages of opting for WordPress themes and plugins

When it comes to WordPress themes and plugins, you will find they contain the following key benefits-

The installation process is very straightforward and quick- If you like a plugin or a theme, you just need to click on its link. The installation process is straightforward, and it can be activated with the aid of a link beneath the theme or the plugin you are interested in.
Activating themes- When it comes to WordPress themes, you will find that only a handful of webmasters use the generic WordPress Theme that comes with WordPress. This default theme is elementary and not appealing to many people. Some people also find it annoying in some ways. There are some business owners that design customized themes and upload it to their domain. This allows them to change the appearance and the appeal of the website. There are some WordPress themes you need to pay for, and some are free for you to use. If you want a plugin, you have to download the file and unzip it. Later upload the plugin to your directory on the blog or the website that you own. Once you have done this go to the Admin of the blog or the website you own to activate the software.
WP is an open source platform- if you take a look at WordPress today, you will find that it has a built-in PHP making it an open sourced platform. This enables its source code to be visible to everyone who wishes to take a look at it. WordPress has a broad range of functions, and you can understand its documentation in the WordPress Codex. This helps programmers work in this field. This means if you have a small knowledge of PHP, you can program the themes and the plugins of WordPress without hassles at all.
Upgrades and Updates- You will find WordPress to be a self-updating platform. There is a feature on WordPress that notifies you when an update is available for the primary operating system. When there is an update available you are notified, and you just need to click on the link to start upgrading the system.

There instances where beginners are not sure on the right plugins to install. There are business owners and webmasters that look for the best WordPress plugins when it comes to search engine optimization, social media and more.

Experts state that you should read the review first before you install the plugin. Like for instance, the social media plugin helps you to share information with clients and customers.

Information about business debts and other vital information

Social media also helps people to find out information about the product or service. For example, esteemed company experts from state that social media helps them to provide awareness and education to their clients and people who are interested in business debts and how they can be eliminated. These debts are often incurred by business owners for their operations and functions. Business debts often mount, and they look for practical solutions. One of them is business consolidation debts where these loans are clubbed together under a single umbrella and paid off in smaller installments over an extended period.

Enhanced security and protection

WordPress is the most preferred blogging and website platform for most webmasters and business owners because of its enhanced security and protection features. Security Ninja is one WP plugin that most webmasters prefer for its enhanced protective features. This is the reason why it is widely sought after.

When you have a website or a blog that protects information and data of your customers you effectively can satisfy your clients and visitors. They keep on coming back to your platform as they know that their data and information are safe.

The developers also have high-security levels when they use WordPress, and this is why it scores high on the popularity charts today!

The email and the booking forms are also quite popular in WordPress. They have enhanced functionality, and the best part is you can create these forms without coding at all.

The WordPress platform is ideal for small business owners who wish to create a user-friendly platform for sharing their information.

Search engine optimization and elevated page ranks

WordPress is a platform that provides you with the maximum number of plugins for your business. You will find there are many plugins for you to choose from and they all give you a distinctive advantage.

Search engine optimization is obviously the most powerful technique to invite targeted traffic and elevate your page ranks on Google.

WordPress provides you with increased support when it comes to operating e-commerce websites or sales for your products online. The WP Live Chat Plugins largely help you to interact with your customers and clients.

You may communicate with them in real time and discuss any issues you might face. If you wish to build and create a long-term relationship with your customers, you should communicate with them and talk. In fact, this simple gesture of yours will help you build customer loyalty and enhance customer satisfaction as well.
Therefore, if you wish to make use of WordPress for your business, it is important for you to use the right plugin. Ask experts to help you and watch the reap the benefits of this outstanding blogging and website platform for your needs.