The Top Advantages of Having a WordPress Site from an SEO Perspective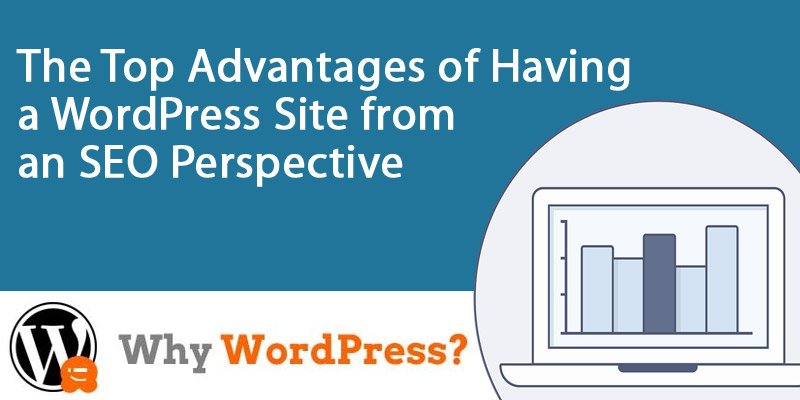 When you are thinking of creating your own website, there are so many things that you must keep in mind, and one of the most elemental and important choices is the CMS platform where you are going to build your site.
One of the top choices is the WordPress website designing CMS. It is preferred and used by millions of people across the world.
While you have many other CMS options as well, the WordPress option is one of the best and popular, and there are many benefits of using WordPress over other CMS platforms which you have.
Advantages associated with the WordPress websites

Here we are going to discuss the benefits related to the WordPress sites, and you can rest assured that you can easily build your own business website when you have a thorough idea about the WordPress settings and the various plug-in and the advantages associated with them.

For many people who are looking for a user-friendly platform and a choice which would have a good SEO reception, WordPress is the answer.

If you know how you can make the most of your resources that you have from WordPress, it can, therefore, ensure that you get a good profit from the WordPress website that you have.

It is easier to administer

Unlike the competitors of WordPress, the WordPress CMS is easier to work with, and even beginners can work out with the settings associated with it.

It is very user-friendly and has many features which are explained on the WordPress platform itself, and you can easily follow the steps and instructions when you are trying to use them.

In other platforms, a lot of works has to be done manually, and you need some amount of basic concepts of coding and website designing software to work with those.

However, WordPress has simplified this process as much as possible, and you can rest assured about the settings and that you can easily work them out since they are very easy to operate.

The administrative interface of WordPress is much more intuitive than other choices that you have, and you can easily install a plug-in for enhancing the features with minimal effort.

The WordPress platform is very self-sufficient, and if you can master how to operate it, you do not have to rely on a website design professional for getting the works done any longer.

The security

No software is completely impenetrable, and neither is WordPress but compared to other CMS that you have for website hosting, WordPress is decently secure. That is a major reason why a number of people choose WordPress for their website.

Compared to other website hosting platforms, the reports of security breaches on WordPress site is negligible, and the reports are sporadic.

While the default security is high, you can easily come up with additional security-related plugins for the website and enhance the security feature further.

It is important that you ensure the plug-in that is being chosen is compatible with the WordPress interface in order to work properly.

There are different types of essential security settings which you can establish on your WordPress account through the settings menu, and these too can protect the website to a large extent.

Since the default security is high, WordPress already have an added advantage over other options that you have from the online CMS platforms.

Creating a website on WordPress would mean that you already have a heads up when it comes to the security of the site.

Variety of customisation and themes

To appeal your viewers the customisation and theme are important, and WordPress has plenty to offer. If you are designing a WordPress website, it is important that you choose the templates for the site with care since each template has their own unique feature.

You can also seek professional help if you are not adept with the settings from the SEO agency Brisbane and they would be able to help you out regarding any kind of trouble that you are facing with the designing of the website and its customisations.
Conclusion
There are a variety of website hosting platforms and CMS to choose from, and if you are new to the working of the WordPress platform, you always have professional help.
However, the advantages associated with the WordPress CMS are beneficial which make them perfect for any kind of website you want to create.
It can be concluded that WordPress does have a number of advantages over other CMS and hence a suitable choice.